Forgot to go grocery shopping? Food delivery can get expensive — especially when you're ordering for a big group during an event like an awards show or the big game. Not to worry. We've found the best grocery delivery services in 2023. These grocery delivery services let you order grocery items, snacks, prepared meals, alcohol and more right to your doorstep in as little as an hour.
But how did we choose the best grocery delivery services in 2023? Read on to find out.
How we chose the best grocery delivery services
We looked at the most popular grocery delivery services in the United States and chose brands that serve the widest areas and offer the largest variety of food and beverage. These top-rated grocery delivery services charge varying prices to bring you monthly, weekly or daily loads of fruit and vegetables, meat and seafood, dairy, pasta and grains, snacks, beverages, alcohol, prepared items and more.
But how do you choose the right grocery delivery service for you? And is it worth it to get groceries delivered? If you lead a busy life, you might not always have time or energy to head to the grocery store. Even if you aren't busy, sometimes delivery is just easier — especially if you're hosting a Valentine's Day party or having the group over to watch the big game. 
How to choose the best grocery delivery service for you 
You might be wondering, what should I look for when trying to select the best grocery delivery service? 
Here are some things to consider: Who are these groceries feeding? If you're having a party, you might want to order from a service with a prepared foods section or get groceries from somewhere that can deliver alcohol. Do you want fresh produce and meat delivered or only non-perishables? Do you want to shop mostly organic and non-GMO foods? What's your budget? And how often do you want groceries delivered? 
We've found the most popular grocery delivery services that you can order from right now. 
What are the most popular grocery delivery services?
Maybe you've heard these names before. See why Instacart, Walmart, Amazon and more have some of the best grocery delivery services in 2023. 
Instacart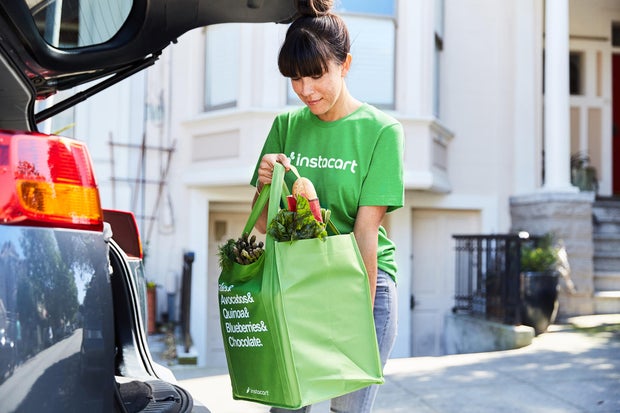 Instacart delivers from a variety of grocery stores (it depends, as always, on where you're located) and in some areas, also delivers from liquor stores, pet stores and pharmacies. You can even order from Costco, Sam's Club and BJ's Wholesale through Instacart without needing to have a membership to those brick-and-mortar stores (though the same items will cost you more than they would in-store for members)—so it's potentially comparable to Amazon's grocery options, without the annual fee. 
Instacart, starting at $4 per same-day orders over $35
---
Walmart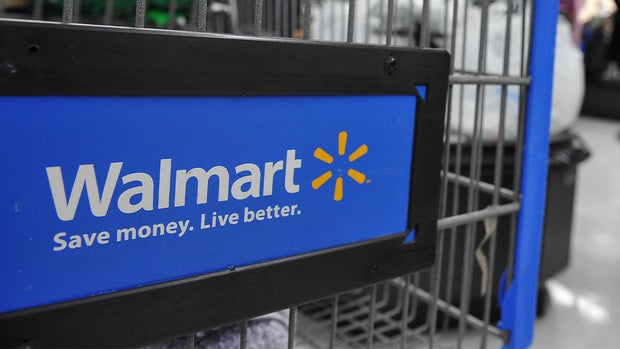 Walmart grocery delivery includes fresh produce, deli counter favorites, pantry items, bakery goods, frozen foods and alcohol. Right now, Walmart has special selections for the big game and for Valentine's Day. The retailer partners with local, third-party drivers to bring your order right to your door.
Walmart+ members that spend at least $35 on an order don't have to pay a delivery fee to have fresh groceries and more delivered right to their door. 
Start your Walmart+ 30-day free trial
You can also order online and pick up your completed order at your convenience anywhere. While it may not be quite as easy as home delivery, it's still quicker than shopping yourself and means there's no extra fee. Either way, prices are always the same as in-store, and same-day pickup service is available.
Get your groceries from Walmart now
---
Amazon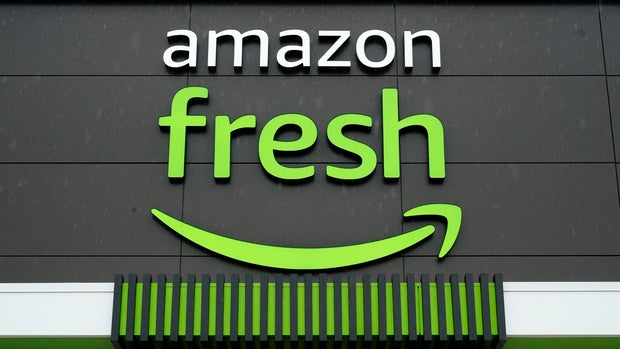 Amazon Fresh, Whole Foods Market, Bristol Farms and more offer grocery delivery and pickup through Amazon. 
Meet all your grocery needs with Amazon Fresh, or have your favorite Whole Foods and Bristol Farms selections delivered to your home. All one- and two-hour delivery orders from Whole Foods Market will include a $10 service fee. Amazon Fresh has retail stores in select locations. At the time of publication, Amazon Fresh delivery is free for Amazon Prime members. 
Amazon announced that starting Feb. 28, Amazon Fresh will only be free to Amazon Prime members who spend over $150. Delivery fees will start at $10 for orders under $50, $7 for orders between $50 and $100 and $4 for orders between $100 and $150.
---
Shipt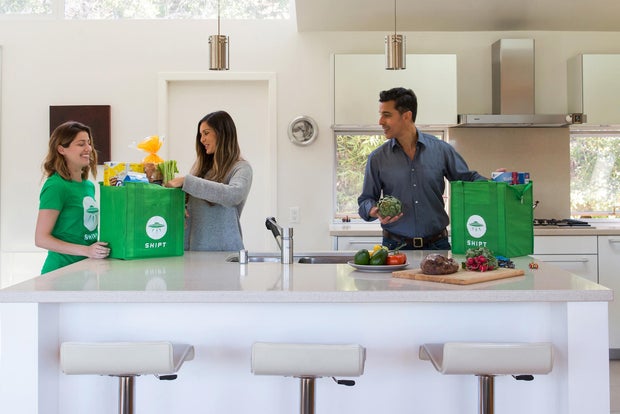 Shipt is pretty similar to Instacart, but it has a less widespread range of grocery stores and requires that you do purchase a membership to use the app, at $99/year or $14/month. 
The benefit is that you basically have a personal shopper whom you can text with specific instructions and requests, so you get exactly what you want. You can even order items that aren't listed in the app but that you know the store carries. They deliver from Target, Kroger and Meijer grocery stores as well as CVS. There's also never any surge pricing and no delivery charge on orders over $35 for Shipt members.
First order, $0 delivery fee. Use code: GETSHIPT
Become a Shipt member, $99 per year
---
Which online organic grocery delivery services are the best?
These grocery delivery services focus on organic produce, healthy snacks and even eco-friendly body care. Learn more about Thrive Market and Hungryroot below.
Thrive Market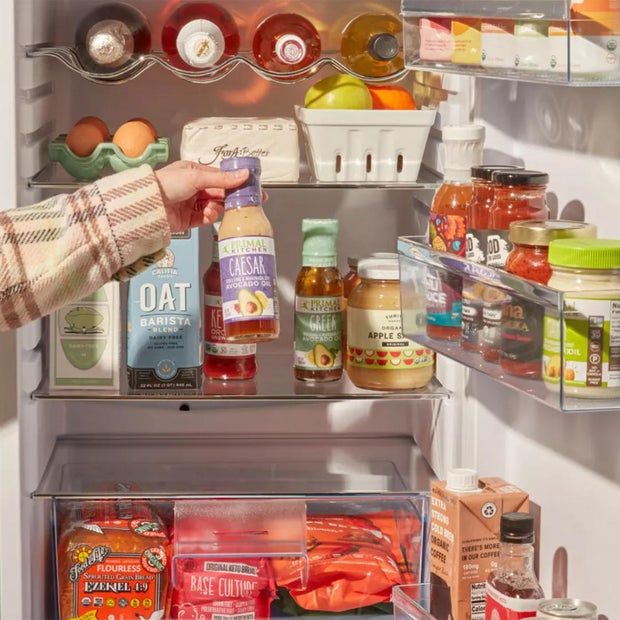 A Thrive Market membership starts at $5 a month.  The membership fee gives you access to Thrive Market's discounted prices and exclusive sales on organic, healthy and alternative pantry essentials, sustainable meat and seafood, non-toxic cleaning, beauty items and more.
To best assess your grocery needs, Thrive Market asks you whom you're feeding, what you like to buy, how often you grocery shop, if you have any special food needs and what food-related values or causes are most important to you — including organic eating, sustainable sourcing, animal welfare, artificial ingredients and more. 
Thrive Market, starting at $5 per month
---
Hungryroot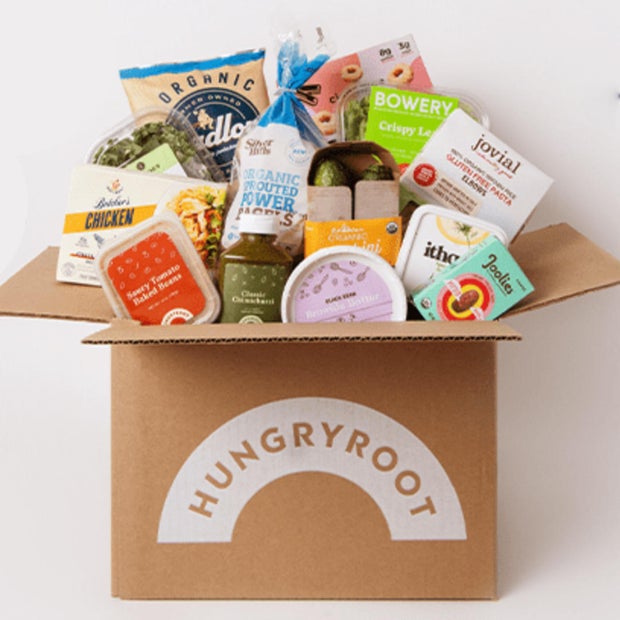 Hungryroot offers "good for you" groceries that can easily turn into recipes.  
Hungryroot has customers take a short quiz to learn more about how they eat and what their goals are. The grocery delivery then recommends fresh produce, sauces and dips, meat and seafood, plant-based proteins, pasta and grains and more. Hungryroot offers a wide selection of organic and non-GMO produce and foods. 
Right now, the brand is offering 30% off plus a free gift for life. All you have to do is create an account and select your free item when you sign up.
Hungryroot, starting at $65 per delivery
---
Related content from CBS Essentials
coin master free spins updated daily pro game guides
coin master free spins updated daily pro game guides
free tiktok coins generator 2023 photographie pexels
free tiktok coins generator 2023 photographie pexels
venmo free money hack coffee academy lazio
venmo free money hack coffee academy lazio
get a 20 free amazon gift card 9 best methods for 2023
get a 20 free amazon gift card 9 best methods for 2023
qr scanner pro app apk download for android apkfun com artictle
qr scanner pro app apk download for android apkfun com artictle