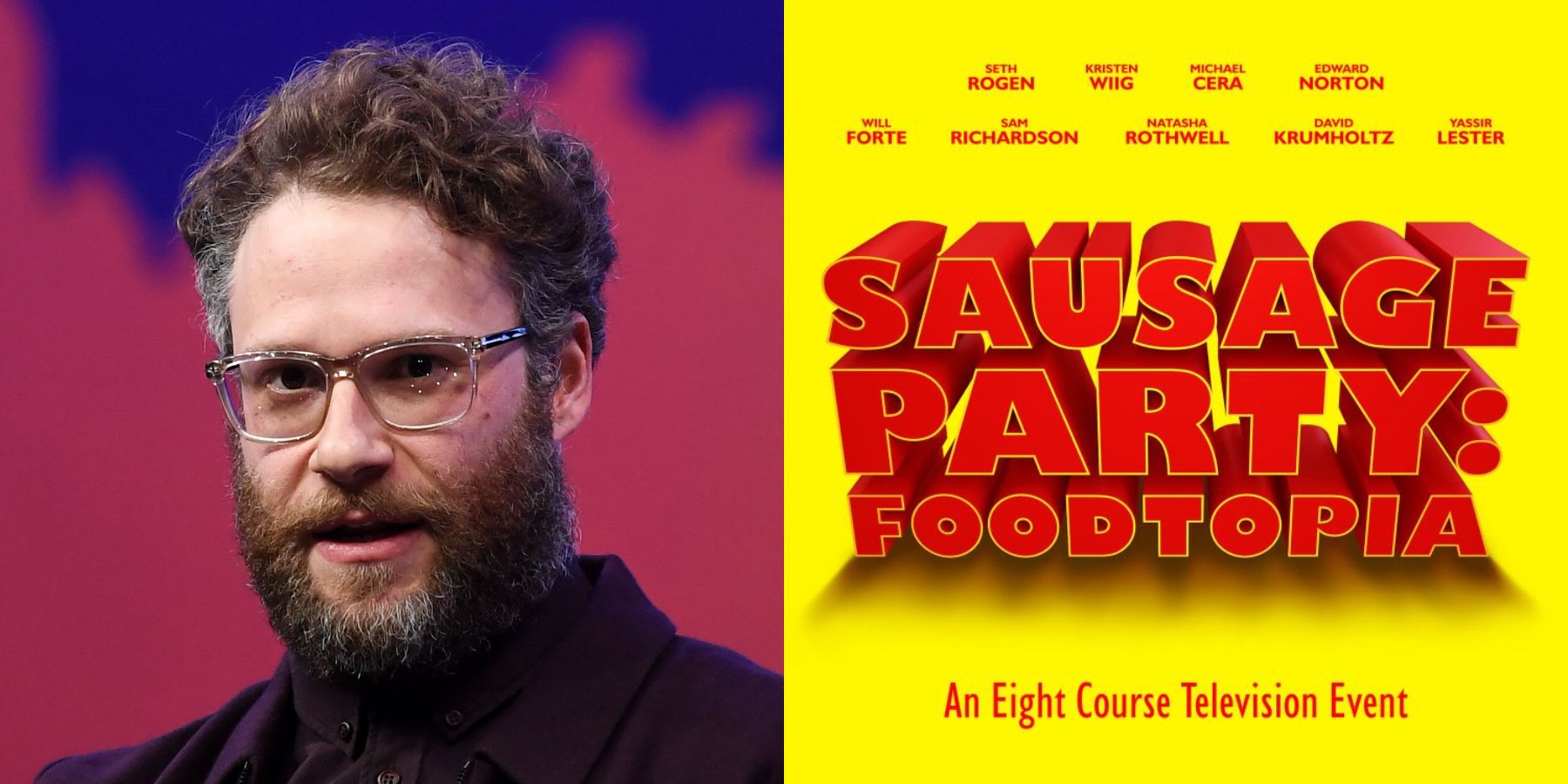 Sausage Party, the raunchy animated comedy about food products coming to life à la Toy Story, is getting a sequel television series. Amazon Studios announced the Seth Rogen series has been picked up with plans to launch on Amazon Prime.
Sausage Party was released in 2016. It was written by Kyle Hunter, Ariel Shaffir, Rogen, and Evan Goldberg, from a story by Rogen, Goldberg, and Jonah Hill. It was essentially based on a premise not unlike Toy Story of food being sentient, though the cast of characters, who reside in a grocery store, are unaware that they are consumed by humans until they're brought home to be cooked. The film featured plenty of adult humor and sexual situations, oddly enough, and is finally making its way to the small screen.
RELATED: Spawn Should Have Set the Stage for More Adult Animated Series
Amazon Studios announced that Sausage Party: Foodtopia is headed to Amazon Prime in 2024 with an eight-episode order. Rogen, Kristen Wiig, Michael Cera, David Krumholtz and Edward Norton are all returning to voice their characters, while Will Forte, Sam Richardson, Natasha Rothwell, and Yassir Lester will also be lending their voices to the production. "Film used to be the superior art form to television, and we humbly reached the pinnacle of what can be achieved with film in our remarkable opus, Sausage Party," Rogen and Goldberg said in a cheeky statement. "But now that film is completely dead and TV is the forever-king of entertainment, we've decided to continue the epic adventures of our culinary crew in the soon-to-be-legendary televised masterpiece Sausage Party: Foodtopia. It's got all the heart, double the puns, and triple the food-on-food sex. In other words, it's exactly what the world needs right now."
"The original Sausage Party was an incredibly hilarious, outrageous, one-of-a-kind entry into the world of animation," said Vernon Sanders, head of global television at Amazon Studios, in a statement. "We are thrilled to collaborate again with Seth, Evan and their team at Point Grey, as well as our partners at Annapurna Television and Sony Pictures Television, to offer a new look into this world that will be brought to life so vividly for our global Prime Video customers." Rogen also posted a teaser poster for the show on his Twitter page, which features the tagline "an eight-course television event." The show appears to be getting the full backing of Amazon at a time when adult animated shows are being cancelled frequently (for instance, Final Space was reportedly cancelled by Warner Bros. Discovery as a tax write-off).
It's an interesting case, to be sure. Most adult animated series tend to be comedies, which is what Sausage Party: Foodtopia will likely be barring some major, unseen shift in the creative direction. While it's always good to see adult animation getting more recognition, there has been a stronger push recently for the genre to get a more serious appraisal and look past a comedic direction.
On the other hand, more adult animation means more adult animation. The genre has little to do with it. Perhaps a high-profile adult animated series, which is being pushed hard by a major studio like Amazon, can lead to more sophisticated fare in the future.
Sausage Party: Foodtopia will hit Amazon Prime Video in 2024.
MORE: Bob's Burgers Perfected The Art Of The Halloween Episode
Source: Amazon Studios Seth Rogen/Twitter

botHomescapes
botHomescapes
botHomescapes
botHomescapes
botHomescapes
tweakelite
tweakelite
tweakelite
tweakelite
tweakelite
zepetobot
zepetobot
zepetobot
zepetobot
zepetobot
botCLUMSYNINJA
botCLUMSYNINJA
botCLUMSYNINJA
botCLUMSYNINJA
botCLUMSYNINJA
bottinder
bottinder
bottinder
bottinder
bottinder
botsnap
botsnap
botsnap
botsnap
botsnap