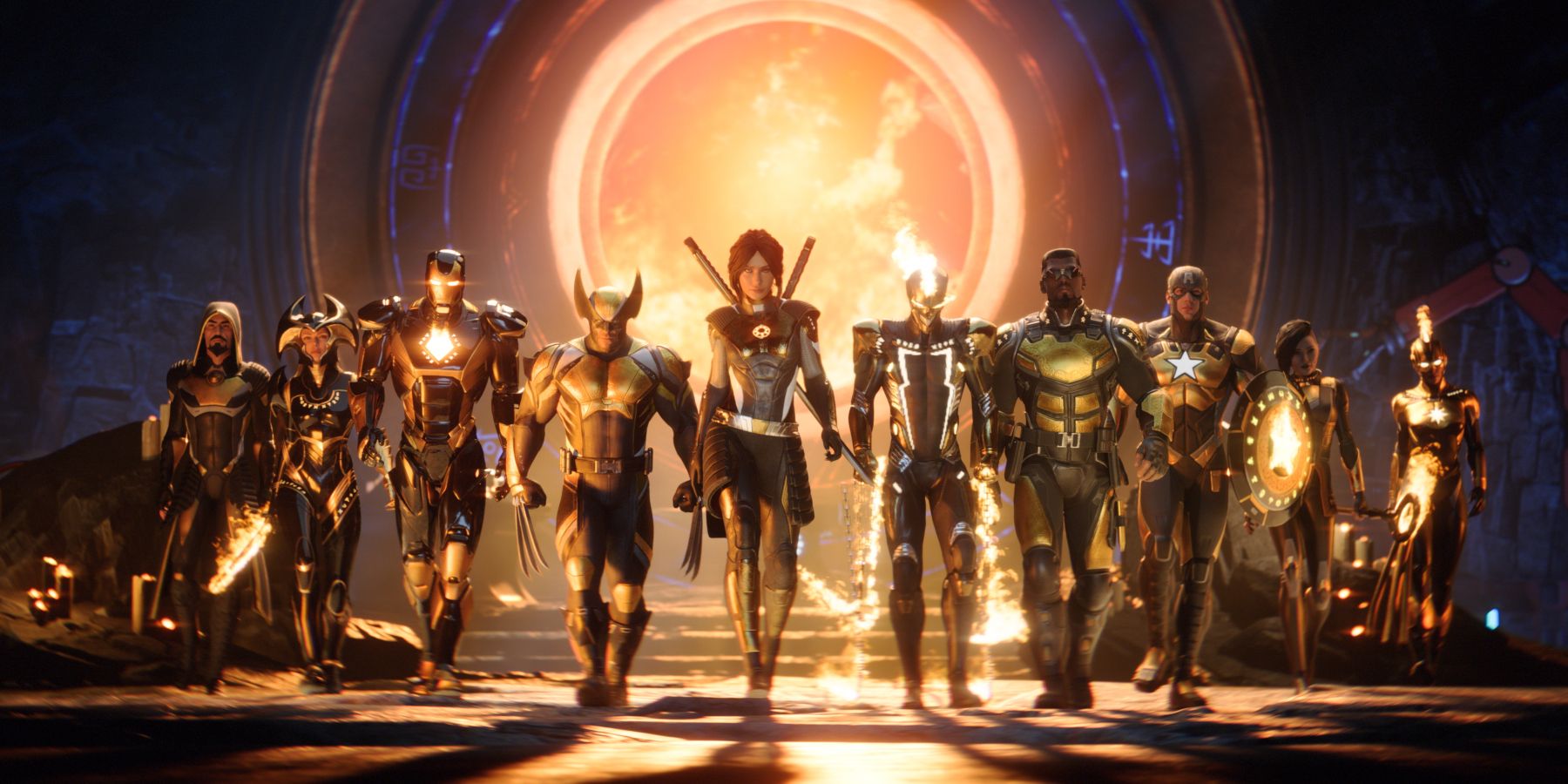 Firaxis Games has revealed the four Marvel superheroes that will be offered in the Season Pass for Marvel's Midnight Suns. The roster of characters currently announced for Midnight Suns is already robust, but there are a lot of Marvel heroes fans have a diverse range of favorites. Firaxis is more than happy to deliver on a demand for more playable Midnight Suns characters, four at a time. The Season Pass will also feature a healthy twenty-three skins for previously announced Midnight Suns superheroes.
Midnight Suns currently features a roster of eleven superheroes, plus the player-designed protagonist named the Hunter. These superheroes include Blade, Captain America, Captain Marvel, Doctor Strange, Ghost Rider, Iron Man, Magik, Nico Minoru, Scarlet Witch, Spider-Man, and Wolverine, plus one as-yet unannounced character. That's a list of characters from many of Marvel's biggest series, including the Avengers, Runaways, and X-Men. Yet there's always room for more.
RELATED: Deadpool Wants to Join the Midnight Suns Roster
In an announcement made as part of a Wednesday livestream, Firaxis confirmed that the four DLC characters planned for Midnight Suns' Season Pass will be Deadpool, Morbius, Storm, and Venom. It's clear that Firaxis, or perhaps publisher 2K, really wants players to purchase the Season Pass. Three of the four characters have had relatively recent movies launched titled with their names. And Storm, despite not having a solo movie, is definitely one of the X-Men's most popular members.
All four characters will be released following the launch of Midnight Suns, one by one over time. To make the Season Pass more attractive at launch, 23 skins will be made available straight away. These skins include a Spider-Man Symbiote Suit, X-Force Wolverine, and Magic's New Mutants costume. It should be rich with Marvel nostalgia for big comic fans.
The Season Pass of Midnight Suns can be purchased as part of the game's Legendary Edition, which retails for $99.99. That's $30 on top of the $69.99 price for the Midnight Suns standard edition. The Season Pass will assumedly be available separately post-launch at an increased price, perhaps $35 or $40, but has yet to be listed.
One question Marvel fans continue to ask is why there are so few magic users in the group, given that Midnight Suns is a franchise traditionally focused on magic-using superheroes. There are none in the DLC, for example. The answer is obvious, of course. Popular characters sell more Season Passes than lore-rich characters that would make fans happy. It's hard to argue those Midnight Suns DLC characters aren't very cool.
Midnight Suns releases December 2 on PC, PS5, and Xbox Series X/S. PS4, Switch, and Xbox One versions will release at a later date.
MORE: Marvel's Midnight Suns: Rogue Would Have Been a Great Addition
bottikcointo
bottikcointo
botcards
botcards
botcards
botcards
botcards
botcards
botcards
botcards
botcards
botcards
botcards
botcards
botcards
botcards
botcards
botcards
botcards
botcards
botcards
botcards
botcards
botcards
botcards
botcards
botcards
botcards
botcards
botcards