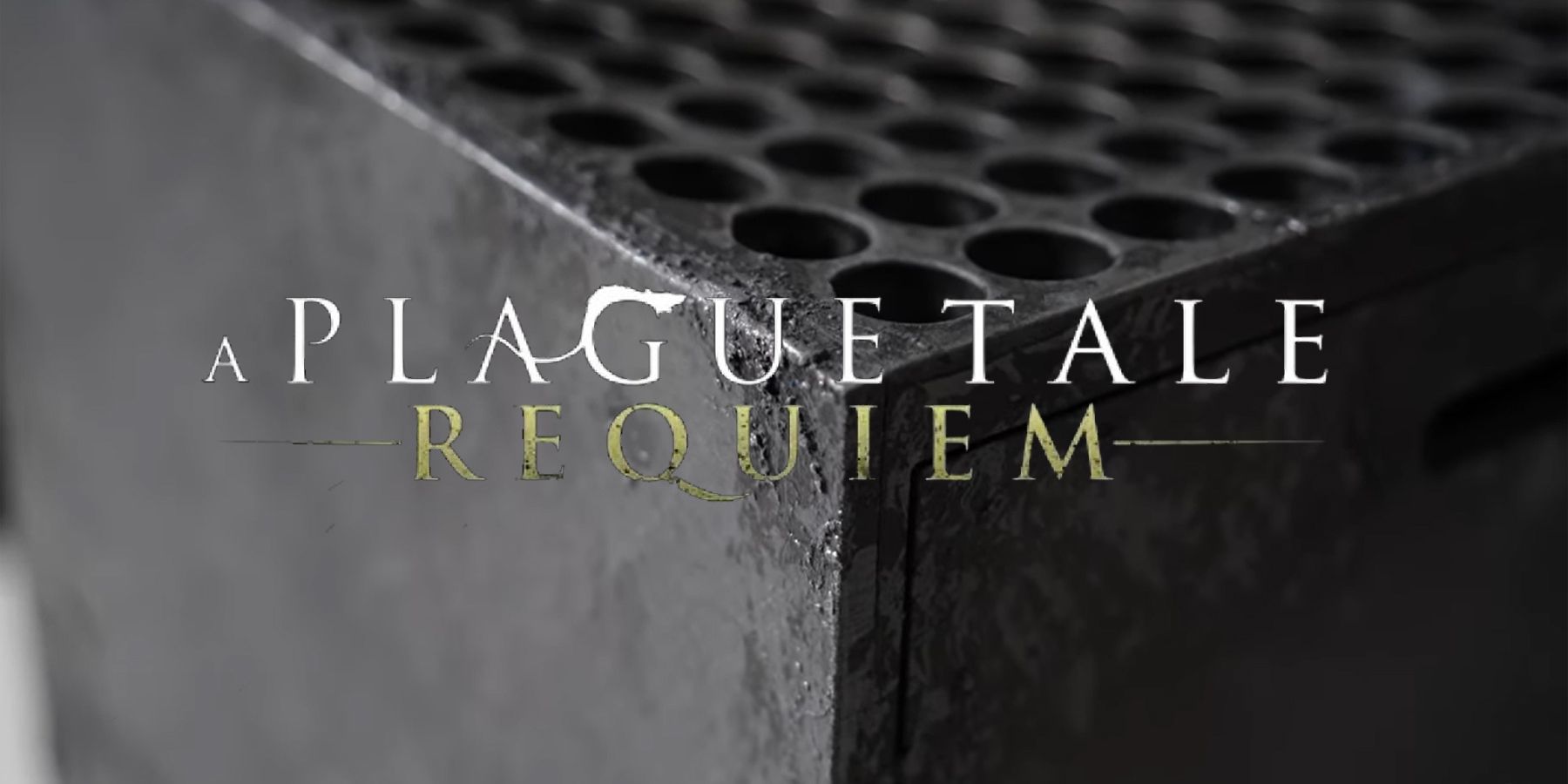 A Plague Tale: Requiem publisher Focus Interactive commissioned a set of impressive custom Xbox Series X consoles inspired by the game. While the consoles, unfortunately, aren't available for purchase, they are nevertheless remarkable pieces of exclusive merchandise.
A Plague Tale: Requiem launched on Switch, PC, PS5, and Xbox Series X/S. Developed by Asobo Studio, the third-person action game continues the story of siblings Amicia and Hugo de Rune as they flee the forces of the French Inquisition. It's earned "generally favorable reviews" on Metacritic, with aggregate scores in the 82-85% range.
RELATED: Xbox Game Pass, Console, and Game Price Increases Possible
YouTuber TheRelaxingEnd featured the custom Xbox Series X console in a recent unboxing video sponsored by A Plague Tale Publisher Focus Entertainment. The exterior of the dark grey console looks withered and rough, with dark vines spreading across bare bricks. The A Plague Tale: Requiem console also prominently features a large rat engraving in addition to the game's logo. The Xbox Series X console also comes with a custom controller featuring a similar design.
Publisher Focus Entertainment commissioned the custom Xbox Series X from Belgian artist and designer Vadu Amka. He has credited a variety of custom gaming hardware. These include a Spider-Man: Miles Morales PS5, a Story of Seasons Nintendo Switch, a Little Nightmares 2 Switch dock, and a set of Scarlet Nexus controllers. This also isn't the artist's first collaboration with Focus Entertainment. The publisher previously commissioned a custom Xbox console based on Sumo Digital's Hood: Outlaws & Legends for an exclusive giveaway last year.
The custom Xbox Series X console isn't the only fascinating piece of exclusive merchandise that Focus commissioned to promote the positively reviewed A Plague Tale: Requiem. TheRelaxingEnd's video also features a Mystery Chest Press Kit. The medieval-style wooden chest contains a variety of items in addition to a letter from Focus Entertainment and Asbo Studio. The most action-grabbing piece is a small but functioning crossbow, complete with a wooden bolt. The Plague Tale: Requiem chest also contains a leather-bound journal, quill pen and ink, a small leather pouch of glass medicine vials, and a music box.
The video also showed off the Collector's Edition of A Plague Tale: Requiem, which is available for purchase, unlike the console and press kit. The Collector's Edition includes the game, a metal feather broach, three lithographs depicting scenes from the game, a two-track vinyl record of A Plague Tale: Requiem's soundtrack, an art book, and an eight-inch resin statue of Amicia and Hugo.
A Plague Tale: Requiem is available now on Nintendo Switch, PC, PS5, Xbox One, and Xbox Series X/S.
MORE: A Plague Tale: Requiem – All Possible Endings
Source: Pure Xbox
botBoardKings
botBoardKings
botHomescapes
botHomescapes
botHomescapes
botHomescapes
botHomescapes
tweakelite
tweakelite
tweakelite
tweakelite
tweakelite
zepetobot
zepetobot
zepetobot
zepetobot
zepetobot
botCLUMSYNINJA
botCLUMSYNINJA
botCLUMSYNINJA
botCLUMSYNINJA
botCLUMSYNINJA
bottinder
bottinder
bottinder
bottinder
bottinder
botsnap
botsnap
botsnap