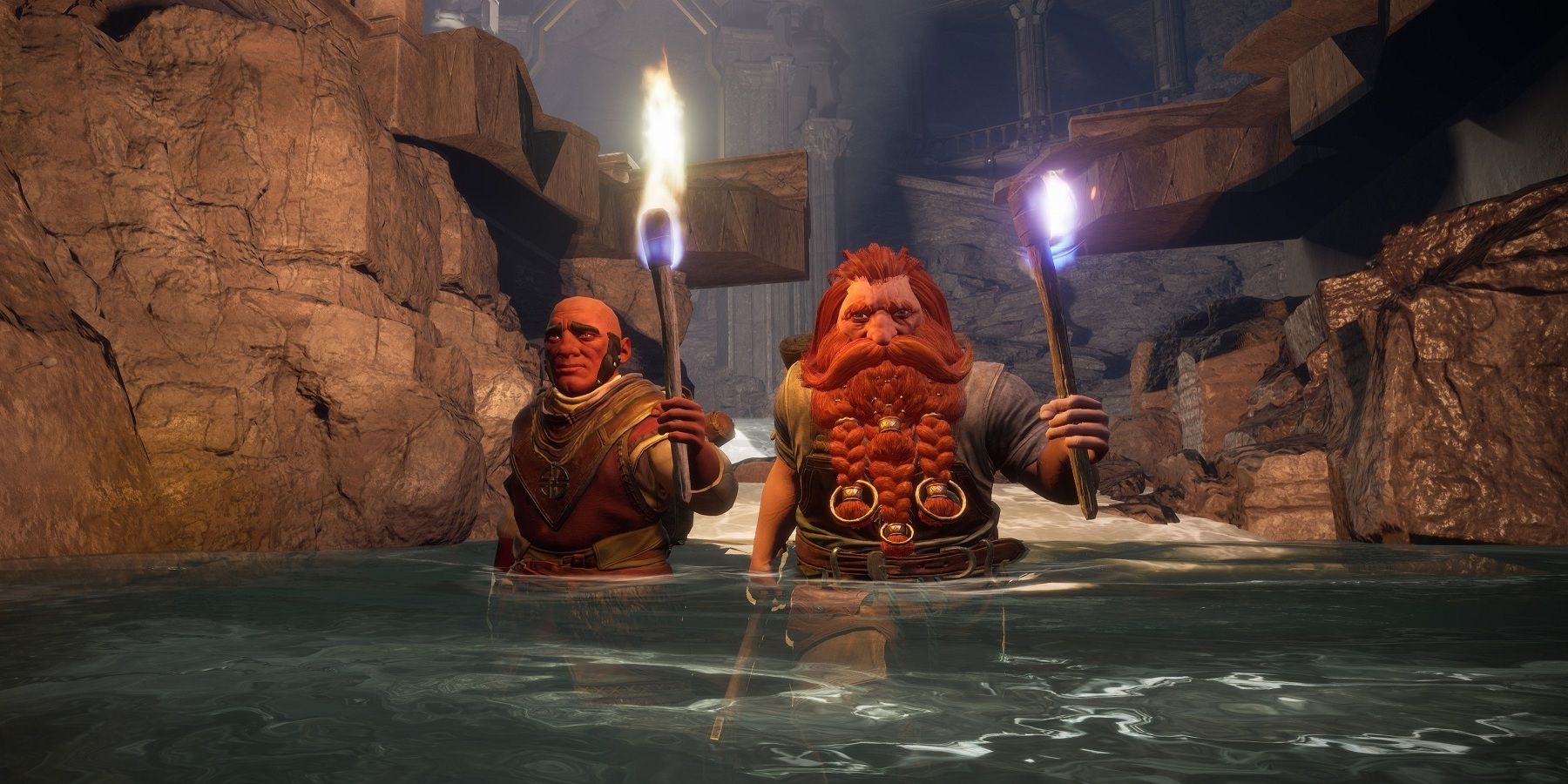 The Lord of the Rings: Return to Moria has received a few all-new gameplay screenshots showing off some of the game's assets and areas. Return to Moria is an upcoming third-person survival crafting game from North Beach Games, where players take control over Dwarves as they rush back into Moria to take it back from horrors that now reside within.
Though it leverages the Lord of the Rings intellectual property, lore, and its stylized design language, Return to Moria is otherwise a contemporary survival game in all the ways that matter. Its main draw is that it will allow LOTR fans to explore Moria and the Misty Mountains like never before, whether alone or with friends in a dedicated multiplayer session. The dangers that lurk in Moria's ancient halls, however, are substantial, and the new screenshots provide a few hints as to their nature.
RELATED: Rings of Power Writer Comments On All Of The Sauron Theories
Return to Moria was announced earlier this year, and though much is already known about the game, North Beach Games has been relatively silent about it ever since. The latest batch of screenshots affirms, at least, that the setting of Moria will be used well. Players can seemingly expect dark, oppressive environments that are filled to the brim with all the usual LOTR threats, such as Orcs and their ilk. Developers have made note of "dynamic light systems" as a crucial element of gameplay, further underlining just how ever-present darkness may be in Return to Moria.
Naturally, there's more to Moria than just exploration and Orc hunting. Some players have hoped that Return to Moria might learn from Valheim, and though this is yet to be elaborated upon by any of the official press releases, the game appears to share many gameplay elements with the indie blockbuster. Key features include difficult, hardcore exploration, expansive base-building, and managing a character's needs, which mirrors Valheim's own gameplay loop.
The specifics of Return to Moria are all still somewhat hazy, but there's still plenty of time for the developers to double down on marketing before the game's 2023 release window. It's a potentially hugely important release because Return to Moria may open up LOTR for future video game endeavors, as the IP has been woefully underused in the gaming industry over the past couple of years.
Not everything relating to LOTR has thrilled the franchise's core audience, however. Warner Bros. launched Lord of the Rings NFTs recently, and though this drew the ire of some fans, the bigger issue for WB itself is that the NFT market is practically at an all-time low. Whether LOTR NFTs live on or not, Return to Moria doesn't seem to integrate the technology in any way, shape, or form, which should help it stand out on its own two feet.
The Lord of the Rings: Return to Moria launches for PC in Spring 2023.
botstumblerguys
botstumblerguys
botstumblerguys
botstumblerguys
botstumblerguys
botstumblerguys
botstumblerguys
botstumblerguys
botstumblerguys
botstumblerguys
botstumblerguys
botstumblerguys
botstumblerguys
botstumblerguys
botstumblerguys
botstumblerguys
botstumblerguys
botstumblerguys
botstumblerguys
botstumblerguys
botstumblerguys
botstumblerguys
botstumblerguys
botstumblerguys
botstumblerguys
botstumblerguys
botstumblerguys
botstumblerguys
botstumblerguys
bottopwa