Ubisoft has provided information on the PC specs, anti-cheat software, and server status for its upcoming pirate game, Skull and Bones.
The game will feature 4K HDR, uncapped fps to help reduce input lag during naval battles, image upscaling through ray tracing, DLSS and FSR, and advanced input settings.
While you can play the game alone, you may want to sail the high seas with others. To that end, Ubisoft has implemented a matchmaking system that places you into servers based on your Infamy level and PvP preference. You can also report or block others for disruptive behavior.
PC specs can be found below.
Physical game servers with modular redundancy and cloud servers will be used in conjunction to support one another through spikes of high activity to limit wait times. There will be Ubisoft dedicated server sites in North and South America, Europe, Asia, South Africa, and Oceania.
With the anti-cheat solutions, Ubisoft will use BattlEye, which will permanently ban players on the first offense if any cheats have been deployed and detected.
Skull and Bones releases November 8 on PC through the Ubisoft and Epic Game Stores and on Amazon Luna, PS5, Stadia, and Xbox Series X/S.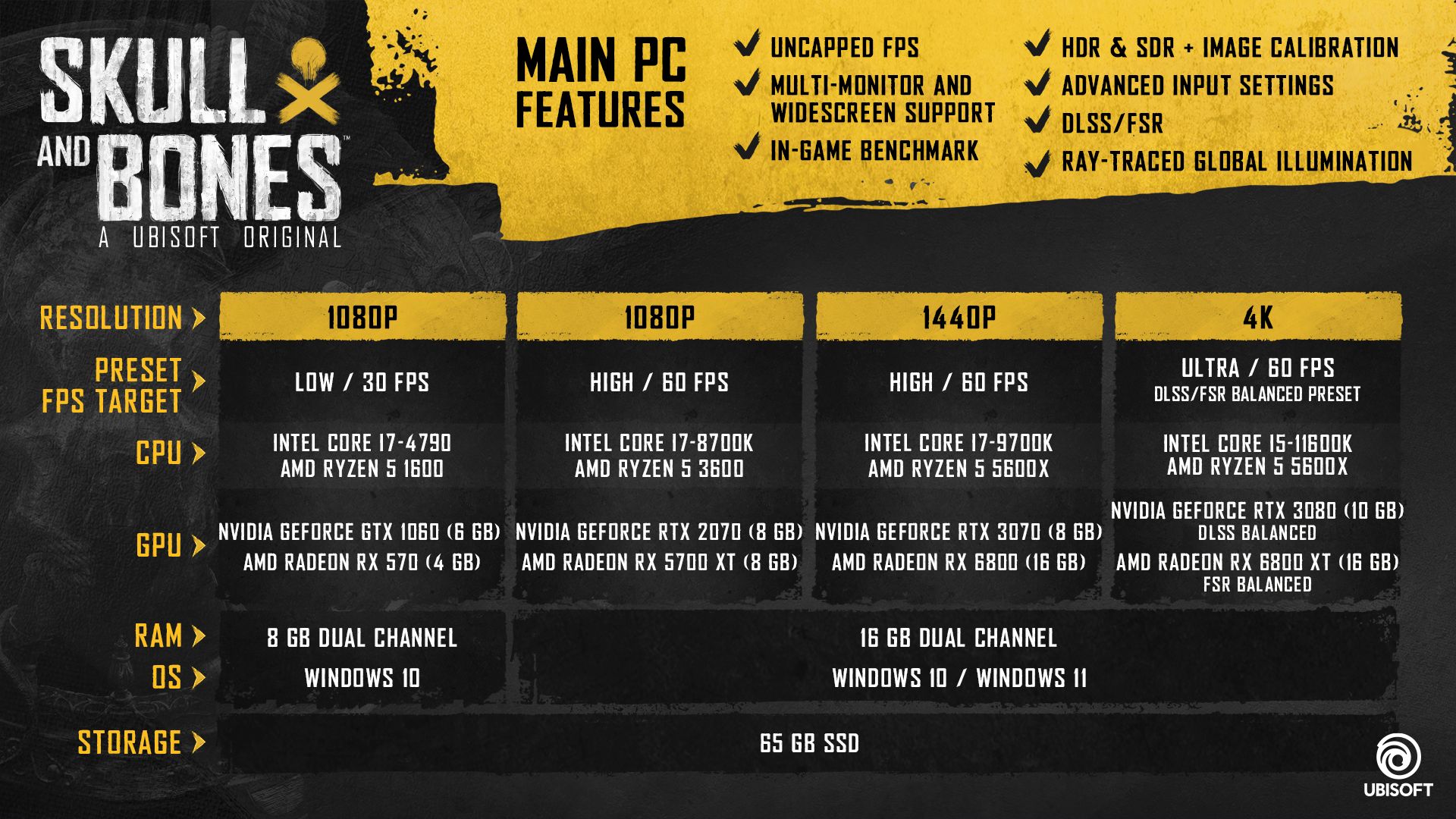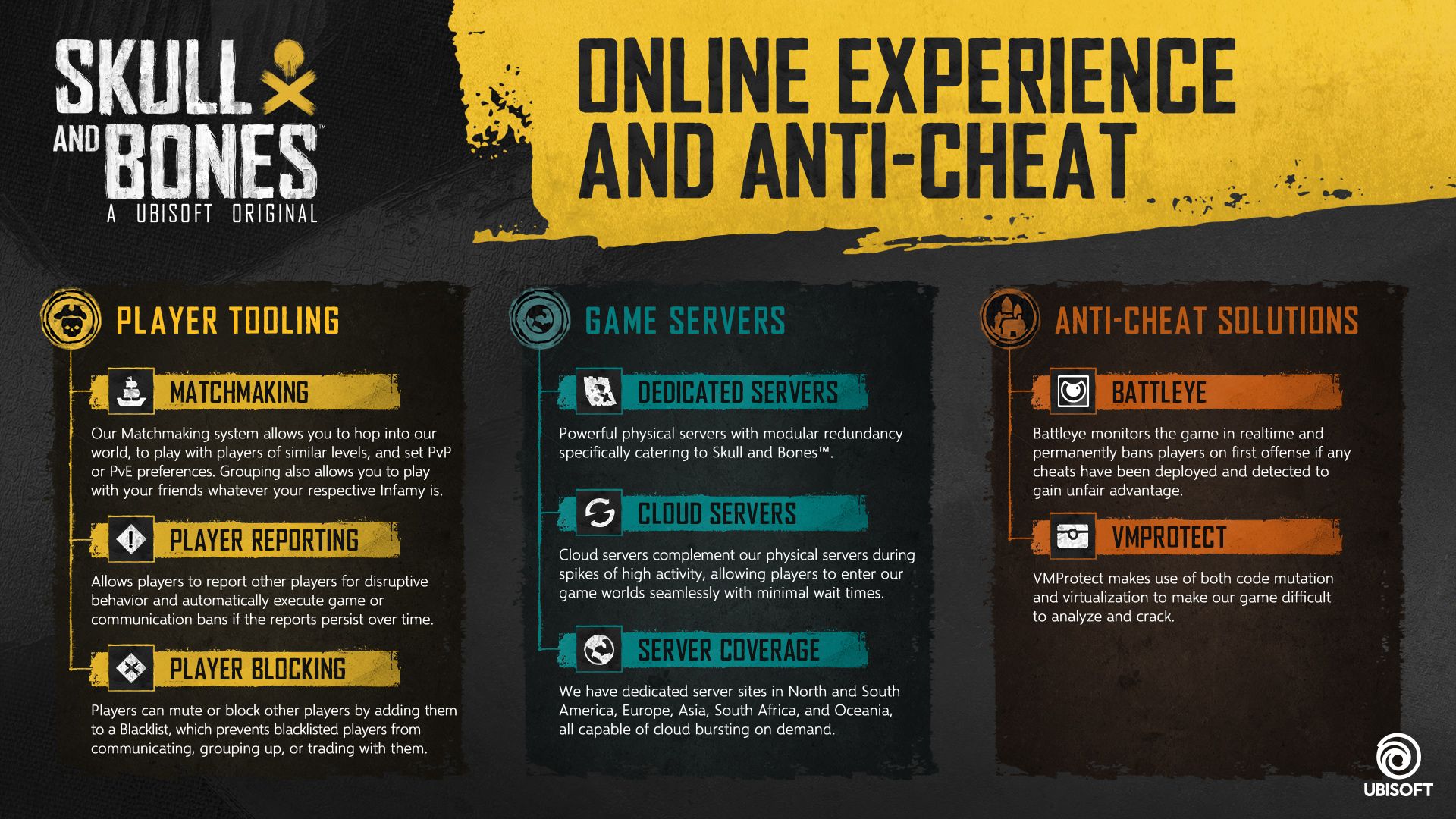 Source link
https://colab.research.google.com/drive/1nYTs_7mEWAHn834xGfh_COhClkphgs01
https://colab.research.google.com/drive/1weBI6jZc0k5R2Yqr8JcE2Y1bk4d9zRLH
https://colab.research.google.com/drive/1a1Sm2wWaf5T6ShXly-A3p8OwZhhR0ZnK
https://colab.research.google.com/drive/1G4EvaWSkRD8pvke5jouctxdjHHvaRHwU
https://colab.research.google.com/drive/1I1Eqk2OpquuVcTyNg491g6uvFZrncwJ3
https://colab.research.google.com/drive/1P2rrTt5cgzzaB5M_dx5FrvkVLTHYrQla
https://colab.research.google.com/drive/1g4c7Sqq0xwgDzs3y1ex1X9mP2M14VWC8
https://colab.research.google.com/drive/1A63bkJE75WBIHB5JeIK2ZBo9QaSF8k6N
https://colab.research.google.com/drive/1E_rAx1DpKCZNFHyz9h2TraMVFVdtrjRf
https://colab.research.google.com/drive/10Hxuy4yIdetj2N29cUSBGJyngp-icMS5
https://colab.research.google.com/drive/1ipN-f6BsiPoyXWuIr4I0quAIQnIiLnRT
https://colab.research.google.com/drive/1NTem8gvBrQmNgKVDaf_hLWwhCuFahogZ
https://colab.research.google.com/drive/1mnnlBLV6gD4FIwuf23_zAKa9c42TTuMT
https://colab.research.google.com/drive/1Mrvrk_eqbw16bbq_sRLs-XJohNlgRDL0
https://colab.research.google.com/drive/1E5zv83UQfDSfTXU8Hwz1P7ryquog94D6
https://colab.research.google.com/drive/1so42labr2mBsSJrWspFCqYJIBeXB9oL_
https://colab.research.google.com/drive/10znjLe8a_9ykZADW8mLtDCsX-bIo24zk
https://colab.research.google.com/drive/11xKuDZdN4_nEMaClg1wN1GI-reLS3gRj
https://colab.research.google.com/drive/1cCMLeshT3aLh7_UdRf8J9QF7R1XXxK19
https://colab.research.google.com/drive/1KjQCfUhXAUEvnF8rsfLM0PPd_ldXu-Xu
https://colab.research.google.com/drive/1Nqr8ByojO3sFTGj4hfMfE-Nun0Q8QAhA
https://colab.research.google.com/drive/1ZAVQhi3ODusJU7VnIDV93qk9FZtyn6ZL
https://colab.research.google.com/drive/1tmXX8NGuM6K8xbexjSJ7I2h-ULHlGkG3
https://colab.research.google.com/drive/1TKnolzAg_xVAt4dltx9lBD753lu1o_0O
https://colab.research.google.com/drive/1V5gCOT0Fx8R4bI2dQsjPWI2W7B3wSFCy
https://colab.research.google.com/drive/179Jh9kstk7yWlf2_n02po_I2EjcUvqPd
https://colab.research.google.com/drive/19hDEVcO8gzib0yG8Gc4yK9PXSXLYyGDZ
https://colab.research.google.com/drive/1y_UjizthEl4DTvAdmWlABsrV6RIPuHan
https://colab.research.google.com/drive/1MGw01pMR7JQdzRzYQyZKw8NZMToo0Vw3
https://colab.research.google.com/drive/18K0PIuUifY842SxlBB5yeluJK39OXdJw
https://colab.research.google.com/drive/1SvueDVmDquezz7lG9eVdl3j0Yv_KsR82
https://colab.research.google.com/drive/1yJylEPCrvz6C5bOSBMyaYDZ287ckMREA
https://colab.research.google.com/drive/1yHE2t8CCEU9-cGBQpNa92D84fomNlaVA
https://colab.research.google.com/drive/1qrhg9xb7F3Jn348cYHrxF9BH25bzqF0y
https://colab.research.google.com/drive/1UQNdgU-G05k0v8je03kRqPiQVBmAngEc
https://colab.research.google.com/drive/1GzYmKLP2qmEsnBtBB1qSk-m4YxN0b4p_
https://colab.research.google.com/drive/1Q3OjGQuqKx-D_PTNIsKCbmP-PtMYPh3R
https://colab.research.google.com/drive/111rcxUiGIUzxTthgaQ_aPShkAV2nbsBF