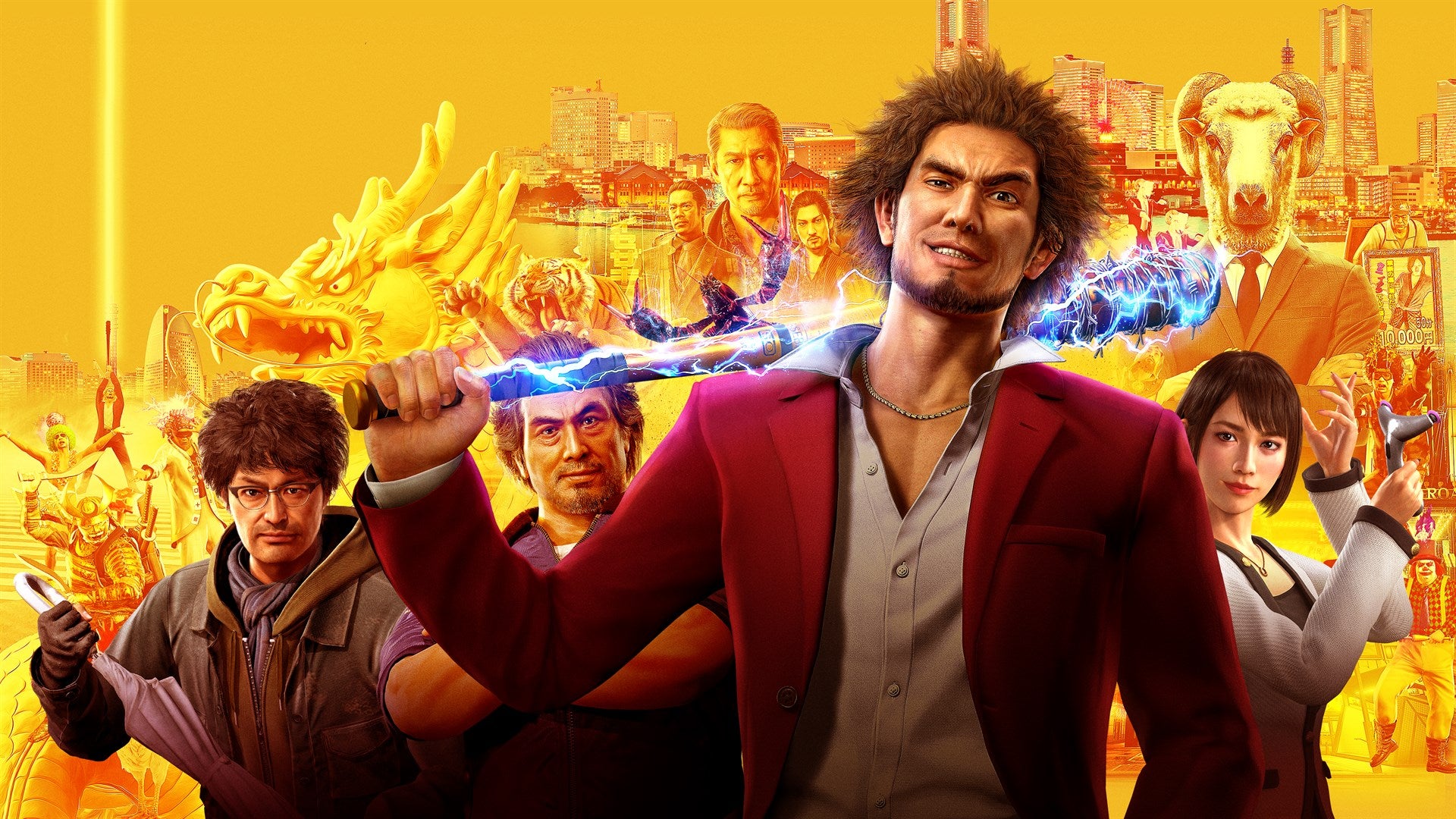 In a recent interview, Yakuza creator Toshihiro Nagoshi said that his next game at his new studio will be "like a Quentin Tarantino film."
Nagoshi recently spoke to German publication 4Players (translations by VGC), where he provided some light details about his next game, a new IP from Nagoshi Studio at NetEase. While he wasn't able to provide any concrete details, he did talk about how he doesn't want to move too far away from his roots.
"Of course, I can't reveal too much about our game yet, but I can give a rough idea: It will definitely contain violence as a game element, but I don't want to go too much in the direction of thriller or even horror," Nagoshi said.
"I want my game to be more like a Quentin Tarantino film – so there can be humour. Something that's just intimidating or just bloody and brutal doesn't suit my taste – I want a human touch, a bit of silliness and a bit of seriousness, that's what I'm in the mood for at the moment."
Nagoshi also touched on when everyone can expect to see something, which he had to keep vague, but he did note that he thinks he will go public with the title "sooner than other developers would."
Late last year, Nagoshi confirmed that he was leaving the studio behind Yakuza, Ryu Ga Gotoku Studio, before announcing his new studio in January of this year. Ironically, when Nagoshi announced his new studio, he did note that the reason he left is wanting to do something different, but clearly there are certain parts of his video game style he just can't leave behind.
While it was only very briefly teased last month, Yakuza 8 is in development, and looks to be a direct sequel to the turn-based Yakuza: Like A Dragon.




Source link
https://colab.research.google.com/drive/1N0_9wpBHGsDmM8M_3qeubdGOO5a9CJEx
https://colab.research.google.com/drive/17hJJNhWMv9Tbkjkgj1S9xVYrfDmQR_iE
https://colab.research.google.com/drive/1FCQxHFcLuLqTLx0luQtcxj4Ewcu4nief
https://colab.research.google.com/drive/1U9dYZ4XoNY42SoV-xGvXSi_4EQ76mSXw
https://colab.research.google.com/drive/1KaRL2prw8Av1GVhku4AJw6_LlEX0lbNd
https://colab.research.google.com/drive/1AMVLHQTlOYN6Uugv5iy9mxZDiRc1X0al
https://colab.research.google.com/drive/1xLihqeD1954jyGW9Vsz1MCwElWCIrwVg
https://colab.research.google.com/drive/1bvQZ-NFJlE87dZMLHQTMNSlSwUT_7kt9
https://colab.research.google.com/drive/1HmCIBP6LOjP3L9Hw6iRaJF8Ggg6oHYL-
https://colab.research.google.com/drive/1d3gXqedGpUs2U6HXTvAiHTi9yjafilW9
https://colab.research.google.com/drive/1rkkhT-c4UN3sEk7vTY5iSYrtUhtKfFM_
https://colab.research.google.com/drive/1bF9y70r7PiSq1JCDRTFcs8PMM_Iwa50I
https://colab.research.google.com/drive/1mSrOoXByXG6-p6WJ1FPvwGK3L07nSFFA
https://colab.research.google.com/drive/18k51tLxz-LRimj6NNEIOWHQB5E2H6uzd
https://colab.research.google.com/drive/1e1bszhBoRyYiY7SzTSJEHafHPQfsQqSM
https://colab.research.google.com/drive/1r_6PjQcEfGMHAOOyAFjUzoN2345ahH8H
https://colab.research.google.com/drive/1lYsQqfpFWpgnIDwWOP2bhHk3QrXNunNk
https://colab.research.google.com/drive/1dsEdNbbhW83dZshi7zn9JjrxEcrSA16m
https://colab.research.google.com/drive/1JwQX0iZPKmmtxHkw30ZHrFFhrHor3Qzg
https://colab.research.google.com/drive/1pomkPAHt0uVy_SnwWq2MeHNz37HzJxA6
https://colab.research.google.com/drive/1q0F9iH6yx0l0_uHK0_zN2LfCrbx6xwqc
https://colab.research.google.com/drive/1NQDx2Bp1v-cmrxK9a3fdU51Hwf7Aaget
https://colab.research.google.com/drive/10DHcus7Q4zyOx_RIPEKd-uLtz-NhX82H
https://colab.research.google.com/drive/11_7Rkt3RvaJ8B5-LGFWmz9fslikeDu5j
https://colab.research.google.com/drive/11702iGPxxo8AiRPWCwraMooI-VmUmK9Y
https://colab.research.google.com/drive/1iulKbuJ8JUR6XLOlQwI46AwzDzL8pPii
https://colab.research.google.com/drive/1Xyv8WFtnr3IEHBez3RA9R75AHVUrSZn1
https://colab.research.google.com/drive/13C1fw2M49bHAAOTf-Y6LVp96nfsXy9LP
https://colab.research.google.com/drive/1FCb5S-3J7RE6ccjtqD17Wu1QD2LYPmGj
https://colab.research.google.com/drive/16a97gY66xjfrFGP-5W_HdNkO9BOeJf9I
https://colab.research.google.com/drive/1NND55Ri8jCN8g3lqDPkx5POzm3PP4j0J
https://colab.research.google.com/drive/1qomq797dezY3dTFecVRMl-P3XvlP8KnJ
https://colab.research.google.com/drive/1btcqM2LNSGnZvIxijCythUuhkq6cBjEi
https://colab.research.google.com/drive/1MYbPG-5rXm8NrBbLMXYEB-GI–FHdH4Y
https://colab.research.google.com/drive/1QPlLQye2xT9WGwMw9Akwxx15EkKOAXhZ
https://colab.research.google.com/drive/1YbBFSgTYKxl3lDYbLcxZK18O4wE7TPkw
https://colab.research.google.com/drive/1T3PTiukIcrwBd1pkP4U1uo5SOxNCrnUv
https://colab.research.google.com/drive/1WU9jyMTJ2JwwWlhq3QWtPl_-YSgXdSop
https://colab.research.google.com/drive/1-IsT9GOgtZ2QUUc72jU-E-Ec0YyIevn4
https://colab.research.google.com/drive/1efk0Uq8JZ7WrlJe3BeQIYw1QTflJFp7z
https://colab.research.google.com/drive/1b0PGkCn6_2dJjqKha5ZN7CidwLiWjwCG
https://colab.research.google.com/drive/1qbOsmVsOGNY21NRl3sYsOhaEqnhrwPg3
https://colab.research.google.com/drive/1q–LKPznHsKrCBnfztnm9ogac_j7yN0-
https://colab.research.google.com/drive/1rqzSuObdvn6C6oHXiunmnSFV2LYNXNbH
https://colab.research.google.com/drive/1veQaTMu6_B2G5QUoDFMb6Sn570Io0ps1
https://colab.research.google.com/drive/1jWu5plX08iBaCU2ChnHfA5Ul8lCtZ9DT
https://colab.research.google.com/drive/1c5677oPESv8FBwf8lAKE273LfDa8Zm5f
https://colab.research.google.com/drive/1P3cSRSq3v68EO0FIXMgEmKbf-jiRfvrY
https://colab.research.google.com/drive/1Gqv4Y-HgLSBu1hlCkF3rN2qTQ4L4rw3I
https://colab.research.google.com/drive/1qISBbqFwcHbNYmv2woprkEMuPTtQgq_T
https://colab.research.google.com/drive/1SI2Hqy9Xofx_oPJV0IoG8AhE7KCMvZOi
https://colab.research.google.com/drive/1fRaElWEMbrFlnwLYjR7-XMV7QHl2Kv3X
https://colab.research.google.com/drive/1kZksSeh6eo0q76u7yQouTLl-nja6rk6F
https://colab.research.google.com/drive/1OXoHF8MZJ_gOlccZHI4EnF4JVR1B5-mq
https://colab.research.google.com/drive/1BGn7Hjz1Yo81GQyEB4Tc5iOhrVGiOwwh
https://colab.research.google.com/drive/1PF4KQC-3oeNACulEsG51R57XuisFs-oU
https://colab.research.google.com/drive/1uD1Sq_ctVyNNbIBb7YDS6wwKM5omnebA
https://colab.research.google.com/drive/1YS10z3pnPopmGYt07xOPWpUB6g8bc8Uq
https://colab.research.google.com/drive/1l11RUdsa1MNTC7ifaE8cG29zlD4yEDTB
https://colab.research.google.com/drive/1f6BEucOjq7d2MOUONLMxrl4AHJGyfLod
https://colab.research.google.com/drive/1j3-rdbUQ0SFbFCkxqUsGtNAFqpY9UFDy
https://colab.research.google.com/drive/1moqwl2prURcdaiP739dcnFL7jEJuN75x
https://colab.research.google.com/drive/1KS1onaZ3h-8Drs-MoUflwEEnuFcnquwi
https://colab.research.google.com/drive/1MhbnH3khJQnvEohiKBLtHfQsv7C9HyTj
https://colab.research.google.com/drive/1JEor4cwSMXSX-CeIJ5AXVL-_MWj9htEL
https://colab.research.google.com/drive/1Y_sIrCD1bQkkPh74UWDzt7pIotAmFExN
https://colab.research.google.com/drive/1h8hjdPziHoSb5K3JVb5qAxRpATyMee4A
https://colab.research.google.com/drive/1XKCyfBJTUqo74XBTAyqjlfFwxC_8Xa0n
https://colab.research.google.com/drive/1ZpFMMD4cbU5nEjRTEhMXw-au6F3D8glo
https://colab.research.google.com/drive/1FyQ0aCYrvt378vVQCNYio7GM8n9MlzWd
https://colab.research.google.com/drive/1m066oPe9Zj0WB7yK9cditqgmbxsL_CBm
https://colab.research.google.com/drive/18fYMaDcdyNSYu9tsK9AhlNkN4s-iGrnh
https://colab.research.google.com/drive/1WexFinyA7b2Tu_1DoHPSz0okRENU1niX
https://colab.research.google.com/drive/1uS6MkBwRtDQZsaXg9pLDRZz0vSu8jtpX
https://colab.research.google.com/drive/17-qsgf9qSk21NdBI62VM3Mj0vk-ceYJQ
https://colab.research.google.com/drive/19QTtr4TjFIRy-i1GwqK3L4bHl1cYYy7q
https://colab.research.google.com/drive/1zroeATZhRCpBQceJQ14Z2FW9erMKI_ZX
https://colab.research.google.com/drive/10Qd4n40LfBlaLEramAUBbJtvISI3YN8e
https://colab.research.google.com/drive/1zdVp4yZKtrzvMfLpWdj0tY02DbMXSzun
https://colab.research.google.com/drive/1Fy1-x1MnqmaIanGHtx2ouxzD-saUEyy_
https://colab.research.google.com/drive/1Xi2eAjllLwiBBMWXPTmN1aPx_V33RChg
https://colab.research.google.com/drive/1i1ZUhtSAV9PUdkOfAXge2GrAoC6jgeJM
https://colab.research.google.com/drive/1GLl-RbSIYMs328hDaZdKJ_w4Ij_8sZYY
https://colab.research.google.com/drive/1HI35lCunr_rsnREQpTB5REtdH2Y02uWG
https://colab.research.google.com/drive/157QVAE5Rw702tc_LmA31GcRf5VUeDi02
https://colab.research.google.com/drive/18cKAg3Y8RTFDZujFvDtZXfcCEi-loBUq
https://colab.research.google.com/drive/1CFFLlDUSAqAD1i5j3BaiQC5f5uOHyTRW
https://colab.research.google.com/drive/1Ve6vfC6_3uaauUOQ4nJxsqeoqsDdnIr1
https://colab.research.google.com/drive/18VskHIP-6IuGN1YHUJRkD-OzkIenGazT
https://colab.research.google.com/drive/187VgMVoRWLhngpH-a1YvNn65aIByQMC8