Destiny 2 datamine shows off Fortnite crossover skins, zero mentions of best-fruit Peely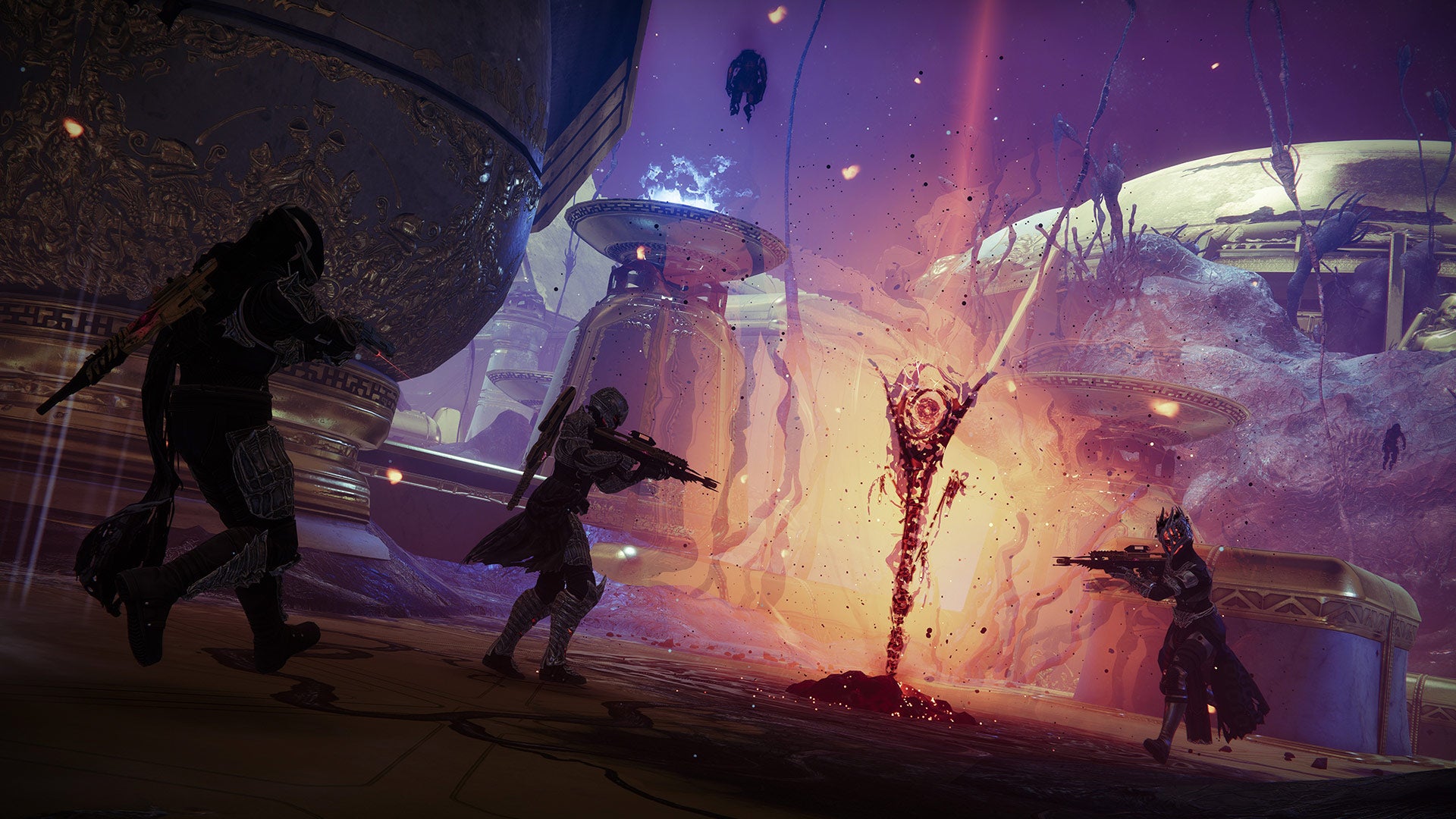 Destiny 2 fans that feel like the game is missing a certain chug-jug flair might be happy to learn that some Fortnite crossover skins have leaked online.
While both Destiny and Fornite are both shooters, in general their tone is quite different, with one obviously meant to be taken a bit more seriously than the other. So when you hear 'Fortnite x Destiny 2 skins,' you might rightly think 'oh no, are they putting a giant banana man in Destiny,' but as shown by dataminer Ginsor, the skins actually fit the bill pretty well.
This weekend, Ginsor posted a tweet showing a screenshot of three skins that will be coming to Destiny 2 at some point in the future, showing what looks to be a Titan, Warlock, and Hunter donning some new cosmetics, inspired by the Black Knight, Drift, and Omega skins in Fortnite.
Because all that was found so far were these three skins, it isn't clear how the collaboration might expand beyond that, or if any kind of Destiny 2 cosmetics will appear in Fortnite in return.
A showcase is set for tomorrow (August 23) that will show off the future of Destiny 2, providing details on Season 18, the Arc 3.0 subclass update, and more as-of-yet unannounced plans.
While we don't know if anything Destiny related will come to Fortnite any time soon, there is one current crossover that'll have you rockin' the dragon. Skins for Goku, Vegeta, Bulma, and the deadliest cat-god around Beerus are now available in the battle royale, including some other fun activities too.
The event is running until August 30, and has a number of cosmetics to collect, including the Shenron Glider. Similar to the Spider-Man web swinging mechanic, there's a unique move that's been added to the game – the famous Kamehameha, which for some reason Vegeta can also do, which is just plain wrong.




Source link
https://colab.research.google.com/drive/1HBkEz_iZNHnE-xEqElr5MfASzEZtaNiR
https://colab.research.google.com/drive/1GwOlCRemMteFDd0KV1yk8wlpQEj7tJJT
https://colab.research.google.com/drive/1_MMlZ-1vsPZjaAq3ZYH4qb_zbYE9X-na
https://colab.research.google.com/drive/1Nhyb9jUwuuHS2Ij7IL6J_CtqkjkB5YE4
https://colab.research.google.com/drive/1zETqBwk14pENOOrA_MDoaPQoLvDTPS_9
https://colab.research.google.com/drive/1-ZMY1pI7LDxmNvn5sUqtwblnwlsPnNbM
https://colab.research.google.com/drive/1WkrWHi0nUBJ_lVblustUNoY6BYXfIcHg
https://colab.research.google.com/drive/1GL9nlxulOcxlmvzPMxI3otunzUKN73A1
https://colab.research.google.com/drive/1ntq4n3yLetg1Z6miKvMbnXMc9F62NuT8
https://colab.research.google.com/drive/1L7Cfzj3zEYgfyf0FGxqEBbdq9J2b47ej
https://colab.research.google.com/drive/19bNBrwcFg50gpQLcAzkJJ_vM2RG4CLGq
https://colab.research.google.com/drive/1iql9ZqtQgmbJGNOvUCDMu-L0oRK42leg
https://colab.research.google.com/drive/1EiMCHwB7XtlrfETSVzeSImm_EIZtSxw_
https://colab.research.google.com/drive/1dN53yDkIHYunTQP72n5p1iqmz5-c22M4
https://colab.research.google.com/drive/1u8xw5Rjx834NRO1bDC61oJXspejDZf-S
https://colab.research.google.com/drive/1geA38pnjV361Mni8ONCHRx9sPOewjUvh
https://colab.research.google.com/drive/1lZSNf7eqZHCw3qqG_xhwRGeyuGiPmQt_
https://colab.research.google.com/drive/1p5-VomUtNaOLRBgG4vNJ2HhyzweqCCX7
https://colab.research.google.com/drive/1G5ZlmHfA4TxlpHEluEPC9dzc7z1MSB0I
https://colab.research.google.com/drive/1cYJFXbx1fEqXRQZwCVfNSR-i5UqzE0sD
https://colab.research.google.com/drive/1VCSGUGZFN_TP9HTGoqPT-_m2–dEnWEP
https://colab.research.google.com/drive/1oWUYdoB1m_7C1cTYT2THbEtm4gjJfICu
https://colab.research.google.com/drive/1tph6neQlZmNVPcRcmT9isOQdtizlkR46
https://colab.research.google.com/drive/1dYo6zWitGs7lDCXTpqT6QIk-qvN6Loz-
https://colab.research.google.com/drive/1VNPlYRnqDqEtyB8P0w6zz5-r7OY-dTdB
https://colab.research.google.com/drive/1xecVqBqI-3A9y4K9MsASujj_8-K-1p0v
https://colab.research.google.com/drive/12qFVff7pHrbH_iSq1qJySb2Q6MVfcU_Q
https://colab.research.google.com/drive/1d3PspliJa-LABgh-xrBzKzp4vV_C_T2s
https://colab.research.google.com/drive/1ECQBLKJKXnU6wGTX5tu2F4OgZ9CeTwsb
https://colab.research.google.com/drive/1KIppNvMS6LyITmLF3_LLxl_r0h2r87nv
https://colab.research.google.com/drive/1m1-Xa5_nZXf9DZgTo5oEUzhiuAcyvcwD
https://colab.research.google.com/drive/142nIl5R6DjzkAAQW0nII3AWWtjwJ-9nd
https://colab.research.google.com/drive/14eH2wPtdDu_YdCr5HxEKCarfWAfagvFQ
https://colab.research.google.com/drive/1QadrDcOTFO8PC0eHsIRMJW7ASNcUYqH-
https://colab.research.google.com/drive/1pU_q-SFonGkT6kUpyg2xeRSLWqRVPxh4
https://colab.research.google.com/drive/1IC5XUtZDLOYwOp9V1hsOJHTcHiJwAWUb
https://colab.research.google.com/drive/1KcClE5JbFDSvtx7sT5TcMz5bw7J06DN0
https://colab.research.google.com/drive/1r5JtJ3V99T2c8qAvukgNDawwhVbMkx_x
https://colab.research.google.com/drive/1CfPpKH1yVAx18fCXj_BzJ99miKFonAgh
https://colab.research.google.com/drive/1dsfqt5KbRpODZGqtKOtio6OpTD4NpDod
https://colab.research.google.com/drive/1k8snDUgJmqVg-AMjQz9x_ECrqsRAXQbm
https://colab.research.google.com/drive/1APvNhoB_rgL1cqtejwyBo2Z7CLyGFOy4
https://colab.research.google.com/drive/1yU9o_2CUC8W0EHlUEHMY-9KiW_KCEWXs
https://colab.research.google.com/drive/1ksbvoPSA-ATLYyPuR7YkqFusMkH9TXqu
https://colab.research.google.com/drive/1NcSxSF6ddG7ACaMPCETELUGmcRNWq2B4
https://colab.research.google.com/drive/16xj1N1uVIdUX4oAL1vO88S6eW3J4DmKI
https://colab.research.google.com/drive/1s4vcHOE6_wHFIOsr9uQCjU3n7mDZ0sND
https://colab.research.google.com/drive/1OquXfVDdj1Uo-30lmR_Jji8vBpWIsQIX
https://colab.research.google.com/drive/1dVCWe2XZwtw14q2ey9dFEVW96op38q1R
https://colab.research.google.com/drive/1medek5KiItyuMNNOCYyvFNuhNsWGe3Hj
https://colab.research.google.com/drive/13P0M5yCx4DHN9ZQqTc7d3A071cuR8423
https://colab.research.google.com/drive/1kQQljmBijmQ8EjBtitZt3n21N-U4VFmb
https://colab.research.google.com/drive/1RDjS7bbsGAcujilvA9VgnWWEssRLDAd0