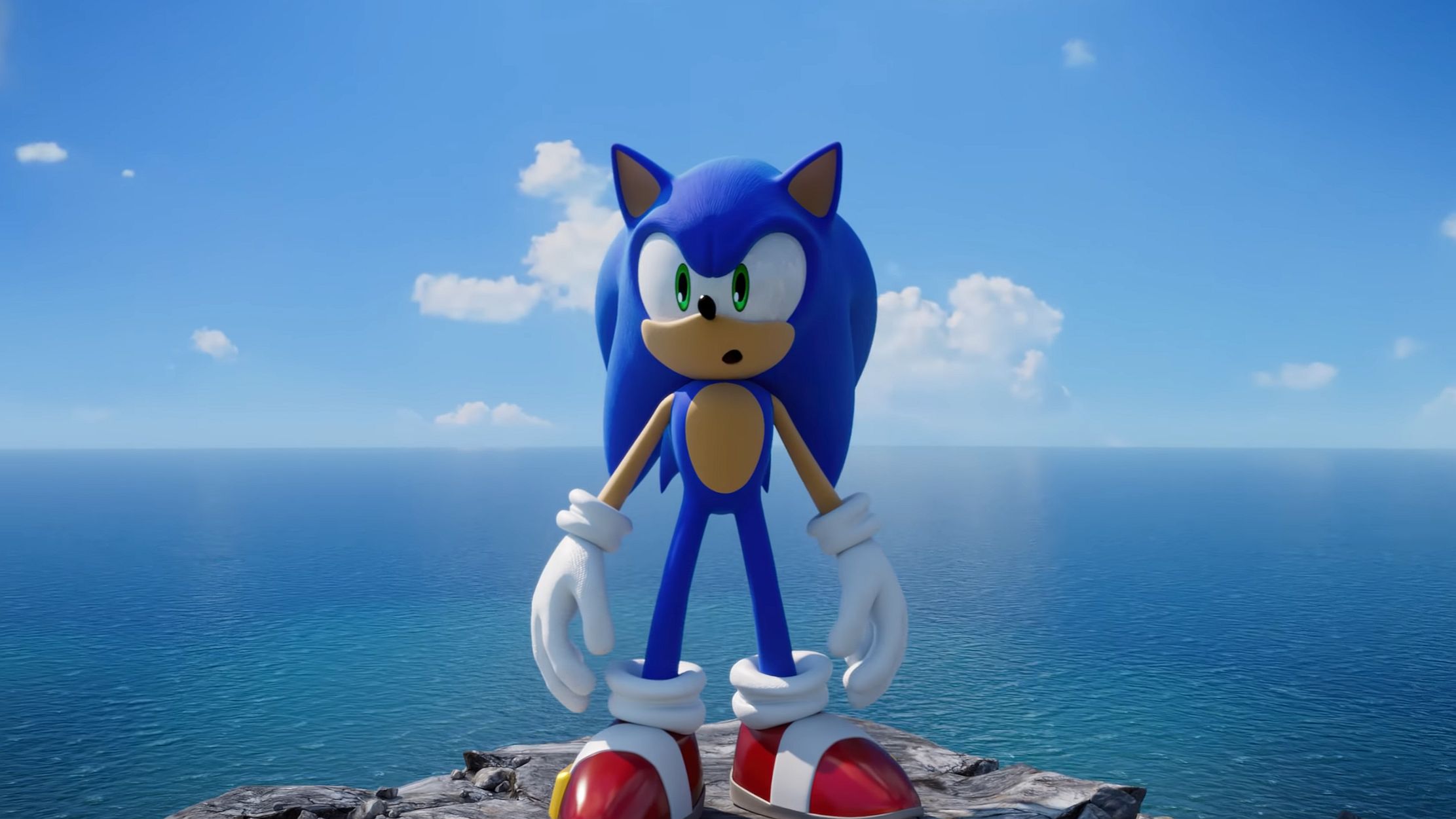 A retail shop in Taiwan seems to have confirmed a November 15 release date for Sonic Frontiers.
Furthermore, the listing states the game will receive a batch of DLC after release (via reddit).
If the date sounds familiar to you, it's because it popped up in the PlayStation database at one point before being removed (thanks, Nintendo Everything).
First glimpsed at The Game Awards 2021, SEGA stated at the time Sonic Frontiers would arrive this holiday season on PC, PlayStation, Switch, and Xbox.
It's the latest 3D entry in the Sonic franchise and follows the blue blur and his friends as they go after Dr. Eggman, who has lost control of an "ancient technology."
It will feature an evolved gameplay experience where players will be able to explore lush and expansive landscapes with Sonic's signature speed and abilities.
SEGA said to expect many "twists and turns around every corner," and that additional details will be revealed ahead of the game's release.
The game will make an appearance during gamescom: Opening Night Live next week, so hopefully a release date will be confirmed at that time.
If you are heading to EGX 2022, you will be able to get your hands on the game. EGX takes place September 22 – 25 at the ExCeL centre in London.




Source link
https://colab.research.google.com/drive/1BLGliEZ8CektHUvU557ib160loKkGzSu
https://colab.research.google.com/drive/1Ox3VF3Ai6aEVu0H_KSyEEUo0kN_Zkqd7
https://colab.research.google.com/drive/1FEwY-Te2J7oggPj8Muk7XGHZbIx-Ep5q
https://colab.research.google.com/drive/1aYGrWOURl_KZkz93fKpx6Ge79Wd1Xn7D
https://colab.research.google.com/drive/1HB9SiSzqP2pfZD2CV2EFpq3yQ3-63lz1
https://colab.research.google.com/drive/1f2p8ID75p1QU9RiNETi2UITyJNxL4hpU
https://colab.research.google.com/drive/1ypzPBxknik7hxdBfU-pYPF4ND6o-u9a6
https://colab.research.google.com/drive/1LYsplb_ha_KB2rKTeQtDCCIDk6j8I-kV
https://colab.research.google.com/drive/15bobeGbZXYEJ-YDlL7oEc6HHlIpSa_tq
https://colab.research.google.com/drive/1S9AXt7yzyWanzfoDfXvzQqSfEl0h5tG1
https://colab.research.google.com/drive/1TB57aBNyCau_Vu5Vfgd2aZzlGnnkhA7O
https://colab.research.google.com/drive/1EEZk8b_hgDhbzzwN34dQyf1D6LTrQ3_F
https://colab.research.google.com/drive/1vuiCtzGPWrYmjSkZu8IncyZSQLEyjqbQ
https://colab.research.google.com/drive/1gUGm1COKW74poPojmMn5TCLZAdxruyDZ
https://colab.research.google.com/drive/15do5p5eW6kuVHxuhdrJ_KYwmaE5FFrhA
https://colab.research.google.com/drive/1XYIg09WUkAZXoYU_ghei56Or-o0qZBsh
https://colab.research.google.com/drive/10idoBxUNL69qkrohxg2Jw8MUxKb9tnzA
https://colab.research.google.com/drive/19jwpQ8MizceAdGDYq0kuP4Eyfz-hoB7Y
https://colab.research.google.com/drive/1s6f-yAkueMWqLSuxqdPrt6f27U67jBAs
https://colab.research.google.com/drive/1dWAzbV20LWUg-1OMisXcvUigOqFD_8Gc
https://colab.research.google.com/drive/1rXRoGK3zR17b6N8njpGIUhV8XIqZqbc8
https://colab.research.google.com/drive/1Apo_6hQbfkonabeSNLFtcFiJco9tVQG2
https://colab.research.google.com/drive/1dV020BFr5viMdUYYkn_Cl5bgB-RaMUXm
https://colab.research.google.com/drive/1xCPAPIOdhxVPWtUwkLr7nHf5qcBFfR2D
https://colab.research.google.com/drive/1wMqzxEBpUok5jLtZKuqTYs–vUY393U5
https://colab.research.google.com/drive/16rETXXBpao3gFrkvl5Gef2dd4Mg3-lHb
https://colab.research.google.com/drive/1uWO8PmjRWybiqpoeFj-abP2EX1CfI8Es
https://colab.research.google.com/drive/19sGgjLkoaC7WC8Yd1_d4qJGyEaKr4WTJ
https://colab.research.google.com/drive/135_-vIJZFJdshinU4JZf-DHF5r9Qk2d1
https://colab.research.google.com/drive/1Y1C-iubAhZ9H1m7tUJQunmHBOGaBXLT2
https://colab.research.google.com/drive/1OBrICn9broflbWACRu7BULHymrdRGTDs
https://colab.research.google.com/drive/1YbJKngjt6zN9AwUL065XUznctMUVBLpU
https://colab.research.google.com/drive/1dETN3njDzzxsAd7VzHxEO_Ak1g9mKREK
https://colab.research.google.com/drive/1irnmZ6IyP5-QmDajGShxecddcBUfuwUp
https://colab.research.google.com/drive/1YNiga7hyXMvPDNCiCLOrIMqK8k-QhPkq
https://colab.research.google.com/drive/1TY5I-pgba1VsdjzlG7-3PYPkFn12T2iP
https://colab.research.google.com/drive/1Q_dvc1ygfiazO38QRXgsEMnJfsfJSmE9
https://colab.research.google.com/drive/1rrPS28qVN7BLniAsHVWbEea01LB6Tfk4
https://colab.research.google.com/drive/1LeMJ4niAUhBxyKYrVSjtiRUZRe-YmCOk
https://colab.research.google.com/drive/1E56YB1sqjjlAeI6hzcelI6Q-5s7m_o5u
https://colab.research.google.com/drive/1sJffCRU6nRjD08ZedEkL4TjWlT8QOA6Q
https://colab.research.google.com/drive/13L2w93fAOezjdfxwPJ9noFR1HqFITsV1
https://colab.research.google.com/drive/1eDYYXaRV4XicdBqC4R4YtsYiI3UAQbXn
https://colab.research.google.com/drive/1UVyuTEZgnyLz1ilG_mLQhcCYf7ZNMkqs
https://colab.research.google.com/drive/1gPEy20oJVJ1eJVcu4OFEwKmYc_xsdKfH
https://colab.research.google.com/drive/15ogwaeDVtoSoSM8CyvIhnkhX1W44RkTA
https://colab.research.google.com/drive/1Jfw6DCJL6H8G7qmlE8PsfwmnWizKLadS
https://colab.research.google.com/drive/1oRCjn060Rn1bUZYrnZegHlMXe0ICAdnX
https://colab.research.google.com/drive/1M8g9pUIlkFd2IZs8K9F3pfZl8XfTHntD
https://colab.research.google.com/drive/1lBcIPDEZDiyOJnclHxSo7qbCZJccQs6N
https://colab.research.google.com/drive/1bO61q-ffNTuHv6ZhxCCPkaOiVQt2hZMC
https://colab.research.google.com/drive/1wEmfLsqKfBPkhmK2Im4LgtrAd3qkI-fA
https://colab.research.google.com/drive/170ldGgvU4GKz9tVI11WrU-g8kKYn61Cm
https://colab.research.google.com/drive/1oXq_Uo1slqlG5a4e5DMA-4T8sqK7BR7O
https://colab.research.google.com/drive/1SqYEsC9uUZ05SF3AB_W0WO2Gif8JQ912
https://colab.research.google.com/drive/1iCPuNUVblZbFdv7tKc9Xq5ioNBAwel9b
https://colab.research.google.com/drive/1V-43eKhjhZS_-eyK3UENd7NZ8iGUHmIQ
https://colab.research.google.com/drive/15CY9zqQijuWmrcpxeqeOt1rt1BPQRzwb
https://colab.research.google.com/drive/1PhrXblzGonJs14rKFLZy1g3ntPKiJ55y
https://colab.research.google.com/drive/1zFbFAgmP_vHbTBdnizPFgWSb3ZVSro9A
https://colab.research.google.com/drive/19Yh_z30WiAI8xMhl2UEPdDH6QCGfiGyt
https://colab.research.google.com/drive/1kNP4lFw-JElL4rpIRzM2OeMpULGLdeRB
https://colab.research.google.com/drive/13SjtVjWAKyB9nODe4mhUMsLVmlMmegBo
https://colab.research.google.com/drive/1KJ9bxcGSK3AxtlEmy9Rr5AaanVxtzoYh
https://colab.research.google.com/drive/1iFEyN9Et4sRTUXqoivPYCvQchm6iRnGE
https://colab.research.google.com/drive/1ejSyvilVI7MtCkgA52sviwdUEuYn8d6v
https://colab.research.google.com/drive/1AMtnsvuS8FgeYQF-Azhza6KevltJ7Bp6
https://colab.research.google.com/drive/1Druabw9kcPj0kh-_LFWZCel3FEzK4Q_k
https://colab.research.google.com/drive/1EB0SWYjRkLJ2bAjcNT-OVT6meerS31Ok
https://colab.research.google.com/drive/1Q3TOjHACxCWUNlHK_B-J1bCk40hkR-NC
https://colab.research.google.com/drive/1f8mjDRVWBvijCFRxZGWs2OySqbjXwW8S
https://colab.research.google.com/drive/1I2hP2KvY9wa1Vu8mjEF3JJFrR5CUwCeK
https://colab.research.google.com/drive/1JlEn_AQp7QToMNk-aNoTqpSRVdsec-CT
https://colab.research.google.com/drive/17QO7vioZXlZ5cO0DPg9MrPSXtYsYsnbo
https://colab.research.google.com/drive/1Q3Kj4YfX8vioun2iQw1DY-cfSyzGHucJ
https://colab.research.google.com/drive/1_bqwuD5XCIczxd_FlsFD0l61XGWuLt1M
https://colab.research.google.com/drive/1wGNOZYEucd7vEGHio8UA_aNHEBkGwQ2C
https://colab.research.google.com/drive/1fi8docEu05vWV_WCowIJdgsda84Pvx34
https://colab.research.google.com/drive/1ukD7Kmu1G65MtxkG-SFCM434dy_t6Oye
https://colab.research.google.com/drive/1G3c-yUx8LtgMv7iEn0-ln6O4tcwoTUs1
https://colab.research.google.com/drive/1q6EFuj9SidwNy_OLXWkGLuYdp7fRu0Q5
https://colab.research.google.com/drive/1E2HxMrTO3y0Hw6TAGT2Vc8EZZnliC4RM
https://colab.research.google.com/drive/16a4uX4Yhn8f7I_r-2gB-rLBy4GjbStmK
https://colab.research.google.com/drive/1LZi_mZFejfroZcC1IHp2aSiTG6a97AFu
https://colab.research.google.com/drive/1o4fsMziS_vxSr5Kvr-fD47Nhg36htYiy
https://colab.research.google.com/drive/1Y3iK1SkjbVnvIgeaJRG8kxR_qTox54Yj
https://colab.research.google.com/drive/13rAkMYd6arft1Q7fDby8O–_BiW-Kquy
https://colab.research.google.com/drive/1IDEq4pc9DURAbINKSm1RU3p0R42QgtYK
https://colab.research.google.com/drive/1GrQoAYSofE0i3k-8VUQnq9pm3eK1Gd_1
https://colab.research.google.com/drive/1yOhnxwmtr_Xhny6Ccrocy1JOAwz_vYA6
https://colab.research.google.com/drive/1F4QfE_w2wMl6nc0ZdNa0nuytTbkgThJr
https://colab.research.google.com/drive/1sGoGz18iRQAkkvsKcnvzktlvXBAx1ctC
https://colab.research.google.com/drive/1Eh1B4J5WvB3Xpk41aqONU-KWA1YuVIWN
https://colab.research.google.com/drive/1hxMjnrJ4EpRTlxYR4ZstMP6SGFk6dCzD
https://colab.research.google.com/drive/1xvxQw9kbXAhvYwzzrhBCKgEdu4AP5npN
https://colab.research.google.com/drive/17259Bbq8MMngm1hPagK_nY9Ha7Ky9fAd
https://colab.research.google.com/drive/1tIPkqdyk2T7-_Iti3SuwCJoEi44EBHcX
https://colab.research.google.com/drive/16Upa__lQkcOyI-fINNjxim6eHwcnpO1N
https://colab.research.google.com/drive/1m_9SvtBJnCmwYxr8qqiSscsNtMmfXFxO
https://colab.research.google.com/drive/1wjOg3ytdgAujXLSoFuhp31E8rFMu9cA5
https://colab.research.google.com/drive/1Ja9ov6FDaJlemR_khC_Tt20YNieLMRtt
https://colab.research.google.com/drive/102zpevacey7XE79HoiHWbGGRad30nyi0
https://colab.research.google.com/drive/1iuGH8HsLw3DyvXtYtiFZrHjS0MAk-Hsw
https://colab.research.google.com/drive/1TTsSE5dmJ0GKVU9JKg2K9Dop0WnMTXwq
https://colab.research.google.com/drive/1jybEJOooC5l85LnsWr-UGy4K8uOhkOHB
https://colab.research.google.com/drive/1nrbt9VRnEt44CwLL0Gb4VynTYIRsbogQ
https://colab.research.google.com/drive/14ECIOZwy_fYRD7A3RA67Ae5KL1tZtImz
https://colab.research.google.com/drive/1eHyIZNjVic5C4MxeoEORD5oyMcWjk0Hn
https://colab.research.google.com/drive/1VjY2p0Y3rUD0WC-85jgctpnHTs7CaPr6
https://colab.research.google.com/drive/1Mp5QhhYurwFnhiHisoaonSVOph1ORhZA
https://colab.research.google.com/drive/1biCrYEIDzYhVe94-kIbX7MWY-4VNEfKX
https://colab.research.google.com/drive/1QUAmLw1zUnqPCuZz6Ur_xk57TbyUmXb6
https://colab.research.google.com/drive/1MQ8JoWe-uwY53JWk_O5QgUkMNiXKEdYW
https://colab.research.google.com/drive/1igGFyTg_bg1QEIH9Fm3brrp19G7R_ZKn
https://colab.research.google.com/drive/11Vv1svPGm2uXJdXXl10TBOzn2HjT_Sk5
https://colab.research.google.com/drive/12aMxO7NetREE_9wZwRJml7tIhJPVpeaU
https://colab.research.google.com/drive/1O1mHnmL6ga8mOxATGGBc-lehwGc0qlM7
https://colab.research.google.com/drive/11V7vErImFTixAkeG-JWm1BW–0jz53zr
https://colab.research.google.com/drive/1hV7XvFx8OZ5kMIOeTgv6MUykzADRtLI6
https://colab.research.google.com/drive/1MykStk2GbG3vtXLaRfVQyCb3FWEzeT5E
https://colab.research.google.com/drive/1XWbC5CGl0VvJktA08RaTHBL5Pgi6puNh
https://colab.research.google.com/drive/1EHfkbf1g_Y3OGKAjgWEsjvZAGcIfyEYl
https://colab.research.google.com/drive/16rdRqU8uDTR1ZeI-qbX2vdemtVRAhTo3
https://colab.research.google.com/drive/1nPjA7TJxnGYTVX0U01tQbW9gVWxfKT5k
https://colab.research.google.com/drive/1bQgwgfzkPgGzE6zIX2e0alAE-Lsx3tx8
https://colab.research.google.com/drive/1PDYcto1shdv2jMOZc_XDYj_7_JLnXYQI
https://colab.research.google.com/drive/1N48mh0sCqHe7Gej9cURAW1ih8PLdwjtn
https://colab.research.google.com/drive/17dVXkMWhBlYz964R0ck_ZIVToWg7chmf