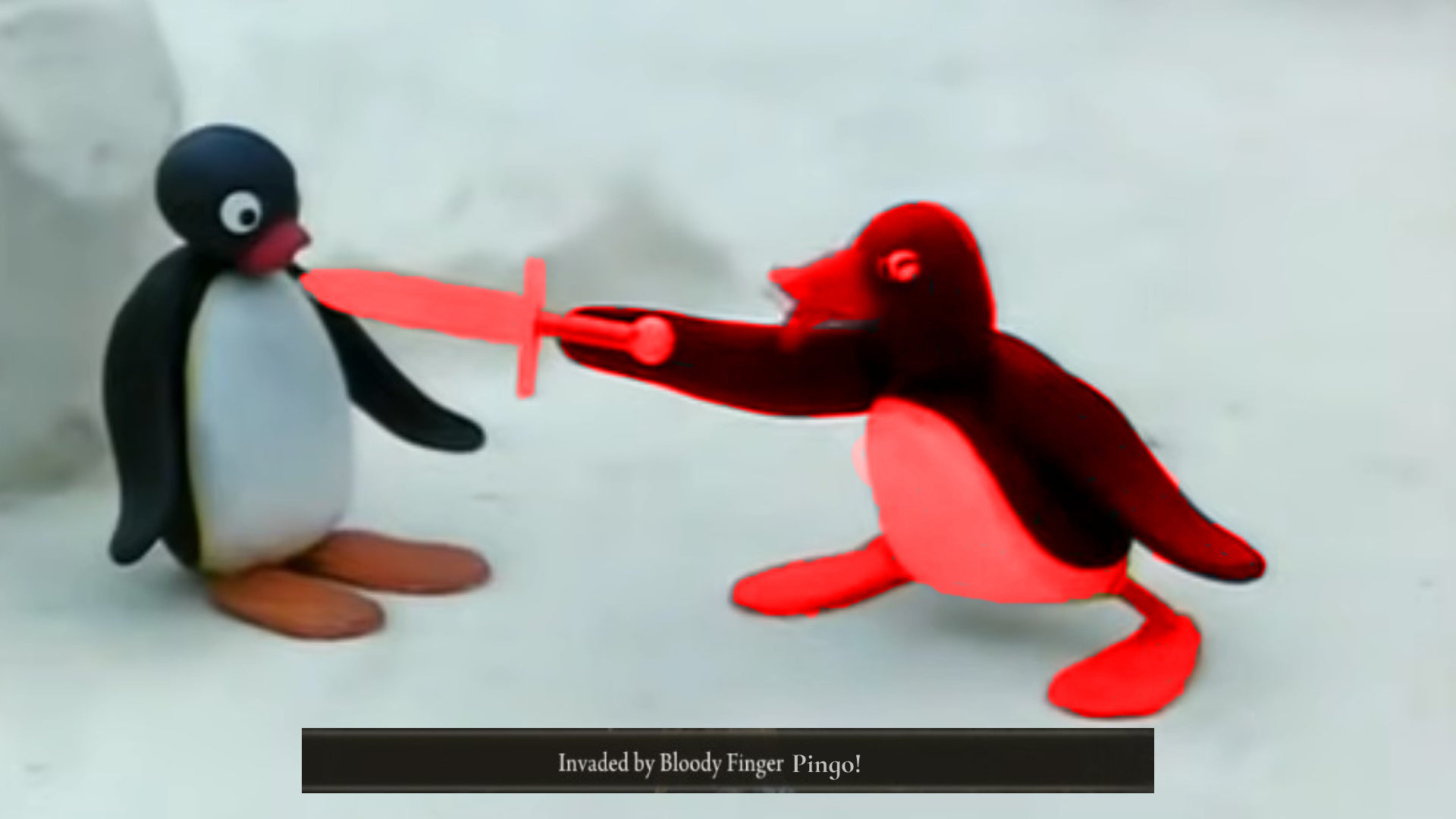 Remember Pingu? The kids claymation program that was on TV years ago, where the lovable penguin Pingu went out his daily life eating fish and getting yelled at by his dad? Thanks to the work of one Unity developer – Adrian Mendez – Pingu has found a new home far from the arctic as a boss in an Elden Ring inspired project uploaded to the creator's channels for the world to see.
In the short video (embedded below) you can see a gargantuan Pingu break through the earth draped in red light. With a deep "Noot noot" he quickly raises a flipper and slaps the player character to death in a single strike in a scene eerily familiar to those with some time invested into Elden Ring.
Tragically, this is not a mod we can experience for ourselves. Instead, Mendez built the scene from the group up in Unity, writing in the description of the video: "This is not a game, just a little project. Sometimes I'm bored…" As for the inspiration for this short but sweet vid, Adrian points to a music mix titled 'Pingu: NOOT NOOT Theme Song but it's DARK SOULS BOSS MUSIC' which alters Mozart's Lacrimosa to better reflect a boss theme suitable for the beloved bird.
For those not tied up with internet meme culture, Pingu has lived on far beyond his expected life cycle thanks to the strange collective mind of the internet. Animations for the character rake up millions of views, which then go on to spawn their own recreations. In addition, praise and condolences to Carlo Bonomi — the voice actor for Pingu and other cast of the classic TV show — were numerous as they sadly passed away earlier this month at 85 years old.
Was taking a 15-minutes-break in between my comic job

Redrawing a Pingu's Noot Noot meme pic.twitter.com/J2xlmX3L6B

— budkalōn /budkaloːn/ (@budkalon) June 11, 2022

To see this content please enable targeting cookies.


What do you think of this fan-made unity project? Would you like to see Pingu live on as a full-blown mode in Elden Ring and beyond? Let us know below!




Source link
https://colab.research.google.com/drive/1SW4HDtXzYVU-FiG2dcBzYGemuXSkqGpq
https://colab.research.google.com/drive/1iP0i5Ca2WXrqhsopH9TdQaETjYf7gRJu
https://colab.research.google.com/drive/1CCXVrV7gCtPB_mRS-1yriNsTNBJpukc_
https://colab.research.google.com/drive/1elEgsN0QhEMSxKxjr1tNdpzhAq761ZBm
https://colab.research.google.com/drive/1yYGJIbl3ONwtrDAUNmRtWiwbC-YS–I2
https://colab.research.google.com/drive/10BzRA9cpkqowOBDO-Rl5nabw20Dk_SRC
https://colab.research.google.com/drive/1d189yLQoXaJ9z9-ptUvQp4c6lqhFT1i7
https://colab.research.google.com/drive/1AwIIj7T6gOgLEijd6r9n6Yu_210AOHxm
https://colab.research.google.com/drive/15lqSxQw1RcmHQ1_UBsWKd7DBeNLGxEw0
https://colab.research.google.com/drive/1rWCCFtkhBlYmvfr74W1yU_iKMT-vrZZx
https://colab.research.google.com/drive/16tFwS4HC9dzRtlPdc3YMjrx0KKs7Rb6u
https://colab.research.google.com/drive/1rplWppNLfjMPxHA6NiEWBXwzpwSORVBV
https://colab.research.google.com/drive/1PQDQlws5Y3DJgZ0eQ8suvcd-INCRIPBy
https://colab.research.google.com/drive/18xdb0u9fZM7-LJHJJmhDDtvfLvwrGvvS
https://colab.research.google.com/drive/1BIZXw07zRTZRAck7GYnwx8cVCrQLgKzJ
https://colab.research.google.com/drive/1qUGPsTzTVE_rIHVxr0Gj_GKJzHbB6Cur
https://colab.research.google.com/drive/1DMRNUNMxPK0rffd1MZf3LbuPms-175C0
https://colab.research.google.com/drive/1qMfp9nDI5HBd52QIkErYAb2iP_YyEisQ
https://colab.research.google.com/drive/19I37T6Y2Y6PYATW8M_Fe8_fo4ZvcQlg6
https://colab.research.google.com/drive/1JmX2lZIhjXReHRYy1dpZ-42QC_RUUsem
https://colab.research.google.com/drive/1UgEJX4XYs8mHpuIWq6xD1jvyumugNROl
https://colab.research.google.com/drive/1wixCv01N60qZ8ZO2JPsnJVeHmqkyz1kR
https://colab.research.google.com/drive/1F0Lr6DxSH9WF-Q8yohO2g_2LpdLRmLQg
https://colab.research.google.com/drive/1a8B_A-kE6fKxIe0t-2D_vzeYIdT5hVsA
https://colab.research.google.com/drive/1VDZCE2ccR9MWBJHSda4BBVRPCbmqFGFU
https://colab.research.google.com/drive/1HPBreO1_1GuilpzKAxyzBogvMCWSguqg
https://colab.research.google.com/drive/1yq5LWd4hNerlgSluA70Dt-DsCO8XUABr
https://colab.research.google.com/drive/130zjmKstJIiV8UBfG3JuALx3NcCZ210d
https://colab.research.google.com/drive/1cTRT-PwFnJpj9VRSLLfp7S-bWcwrEPfD
https://colab.research.google.com/drive/1B67JCiIpRo638xVrla_dLsLkTj9IrhR2
https://colab.research.google.com/drive/1lvMrrIO2Do9HSpxz1Q8FwI318q5Qzjzu
https://colab.research.google.com/drive/1lLAS_PNs_xFB5qubdRR23wX4-mzWcLtq
https://colab.research.google.com/drive/1fg5bMfcrAyllWgQ8IaqjOOPtVPMpJqh_
https://colab.research.google.com/drive/1jp6d4L98EL5Nj0MRTmS8hARU2TSLUkI3
https://colab.research.google.com/drive/1WLUNvsongczwySueS8Z4MQl5ykASFCUY
https://colab.research.google.com/drive/1TrEqa2JTSszKsqXFzvHO5EHc404Tp9FE
https://colab.research.google.com/drive/1R8Y03KpkrjqjKzI9KP2vIpCHtC74xjdm
https://colab.research.google.com/drive/1lWHvR7sz9_9mymWob-X-bk7R8KJCEhov