Ion Fury is the latest in a long and enjoyable line of boomer shooters I've ticked off lately. The two of us were bound to intersect – me, a 36-year-old with a professional sideline in harping on about the '90s for gaming sites; Ion Fury, an uncomplicated corridor shooter running on Duke Nukem 3D's old game engine. I played, I laughed, I rolled sprites of bombs at little cyborg heads on robot spider legs. And then I got to thinking.
Why do we call them 'boomer shooters', anyway? They hark explicitly back to the past, definitely, but did you really have to be there at ground zero when id Software and 3D Realms were putting the first wave of 3D shooters out in order to enjoy games like Dusk, Graven, or Amid Evil? And given that anything 'boomer' is a denigration, however affectionate, do these titles really deserve such lightweight, novelty status?

To see this content please enable targeting cookies.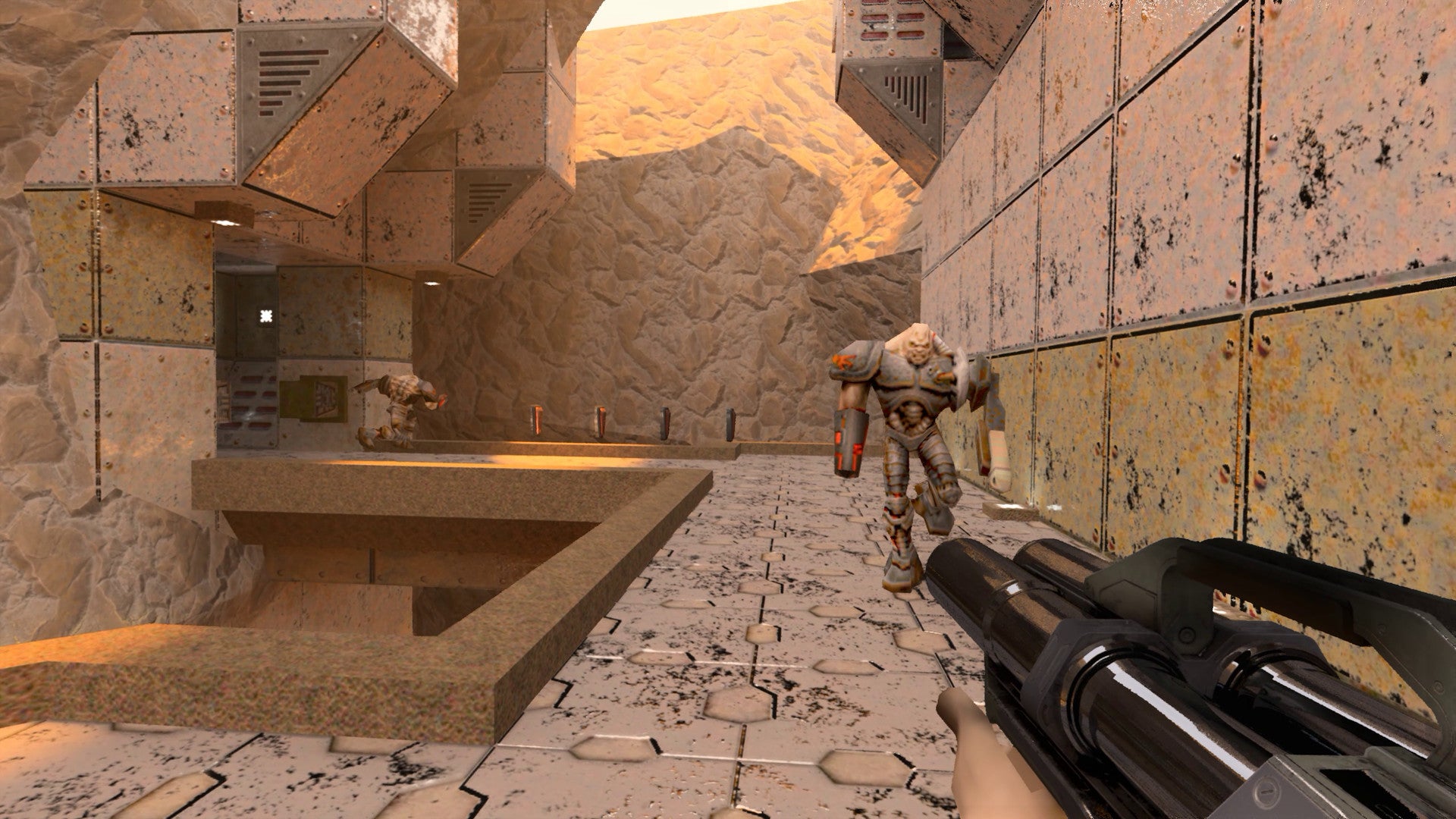 You can hear me saying 'no' to myself as you read those rhetorical/not-rhetorical questions, but then I would say that. I remember Euro 96, and when Freddos were 10p, or something. Probably the more interesting question is why the term is used by developers, publishers, and commentators alike. And I think it's about long tail economics.
At the time of Doom, Quake, et al, there was a cultural monomedia. We all read the same magazines, watched the same small selection of TV channels, and the handful of radio stations available. If a product got mentioned in the monomedia, we all heard about it. Knowing the broad audience it was broadcasting to, the monomedia didn't wander out into the weeds and tell us about niche stuff very often.
Let's stay on-brand here with this metaphor and consider Nirvana's unlikely rise to superstardom in the early '90s. Smells Like Teen Spirit was the breakthrough moment, gathering buzz from radio requests and a massive amount of MTV airtime, and that projected three antisocial Washington misfits to a global audience. That meant the band got invited onto loads of interviews, where they mentioned The Meat Puppets and the Melvins, wore Daniel Johnston t-shirts, wrote 'FUHGAWZ' on their shoes (an intentional misspelling of Fugazi) and introduced kids to a slew of underground bands they'd otherwise never had heard of. MTV was never going to recommend Daniel Johnston to you of its own accord – too niche, thankyouverymuch – but thanks to a bigger act shining a spotlight on them, the outsider artist met the monomedia's audience.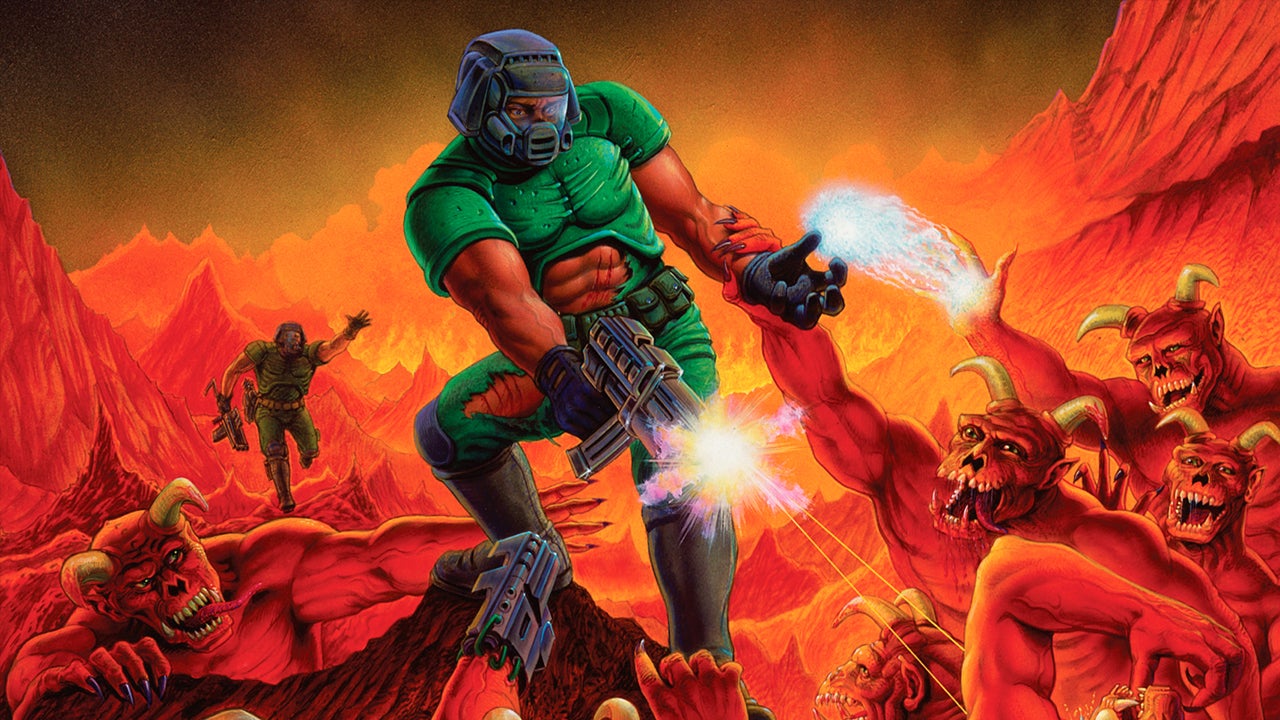 Then came the internet, diversity of voices, outlets, opinions, and services. Products no longer had to get mainstream exposure to find their people, because we now knew how to seek them out. Where musical genres once felt impossibly vague (did fellow 'grunge' acts Nirvana and Alice in Chains sound anything alike?) now they were absurdly specific. Crab core. Minimal house. Simpsonwave. That happened so that the 27 people on the internet who wanted to listen to that incredibly specific musical movement could easily find the entire culture. It could all fit on a subreddit or a Spotify playlist.
Same goes for games. In an era when 30 games are released every day on Steam alone, do you want to market your new title as a 'retro-inspired 3D shooter with classid id-style level design and frenetic gunplay' and hope for the best, or do you call it a 'boomer shooter' like everyone else inevitably will?
Doing so gets your game featured in the 'upcoming games' videos of content creators who focus only on that genre. It gets it mentioned in that genre's small but dedicated subreddit. Simply by being reductive about what your product is, you ensure it finds its audience. Ergo, developers lean into pejorative genre tags like walking sims, boomer shooters, and even more problematic delineations like Eurojank.
But that doesn't alleviate the feeling I get when I see the words 'boomer shooter' and picture my mate's dad in a 'CAUTION: HEAVY DRINKER' t-shirt, pint in each hand, doing the twist at Thorganby Beer Festival. And that's unfair on games like Dusk, and Ion Fury, and Graven, and Prodeus, and Bolter.
Because whether or not you give two hoots about Facebook, boasting about knowing what a floppy disk is, arguing with the GPS or other boomer preserves, the very fact that our medium is now mature and storied enough for a particular style of 3D graphics to evoke nostalgic feelings is cause for celebration. We're on a similar footing to cinema, which uses stylistic elements to look back on itself, as The Artist did in 2011. Or the music industry, where recording to tape and making the drums deliberately sound a bit shit is a valid creative choice in the name of evoking the '70s. Isn't that right, Tame Impala?
It might not seem like it, but the reappearance of sprites with angry mugs shooting at us is an indication that we've deepened the well of gaming culture. That it's now possible to be faux-'90s. To look basic for effect, in a way we find beautiful, and not using a visual language that harks immediately back to the very beginning of games. There are now shades of subtlety within what's considered 'retro'. As a creator, you don't have to restrict yourself to a 2D plane and 8-bit visuals for people to understand you're conjuring some point in history before right now.
There's another benefit to games like this – they're really, really, really enjoyable. Thank you, I know – it's insightful critique like this that keeps me employed. But really, though. They are. And that also reminds us something about the journey shooters have been on over the last 20 years or so.
When I was getting into gaming, shooters were the Hollywood A-listers of gaming. The Olympic 100m sprint final. The magazine-cover-courting main events within which you'd inevitably see the latest jump forward in cutting edge graphics, the best stories, the most riotous sounds. For a few years there, each new major FPS release was proclaimed the new 'best game ever'.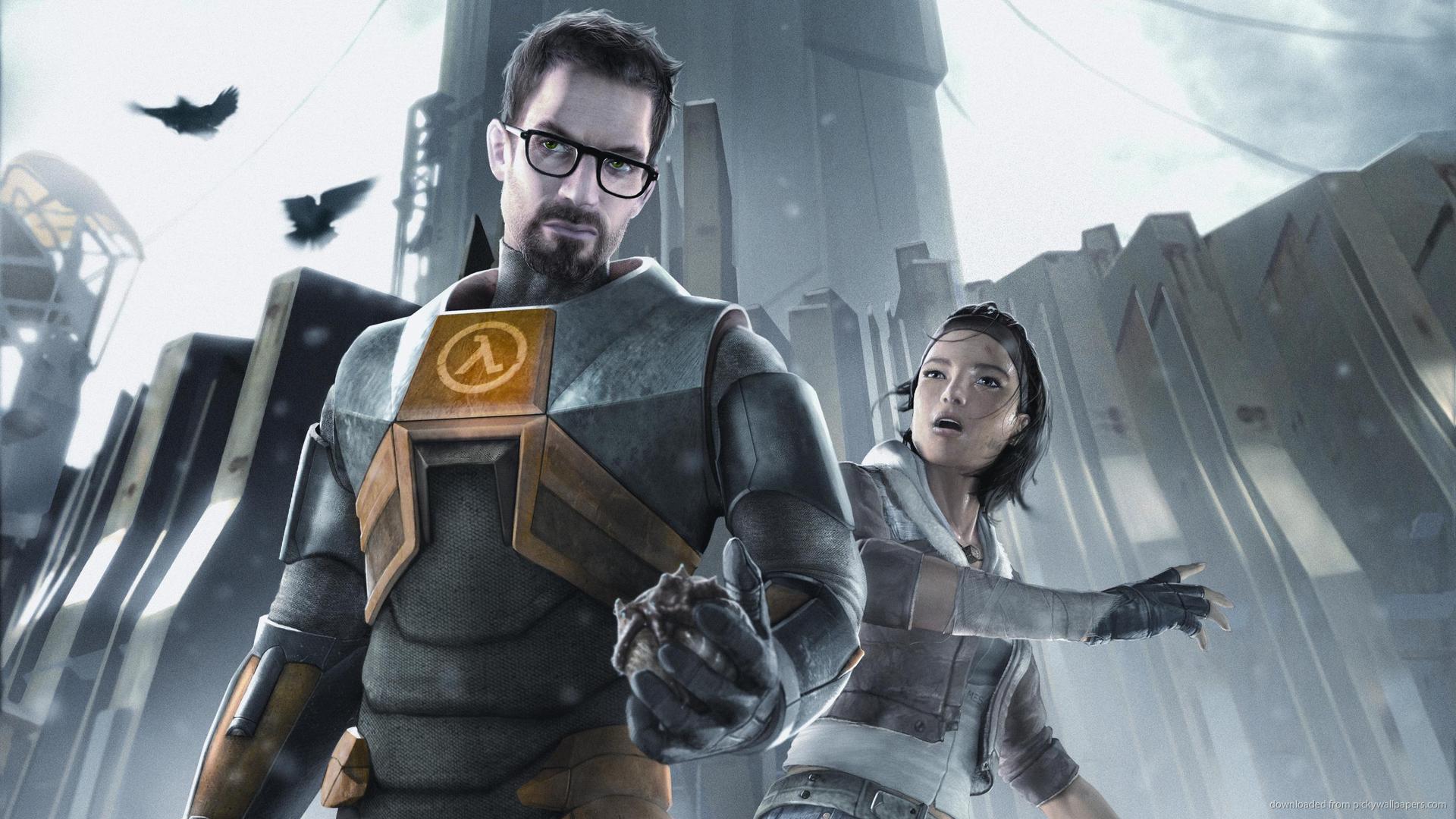 But then it got complicated for shooters. Half-Life told an actual story, in real-time, without cutscenes. Deus Ex looked like a shooter but had all kinds of RPG elements and non-linear level design. Making the new 'best game ever' became a more expensive project over time, and as we ticked over into the 2000s, many shooters tried a bit too hard to tell a story and forgot to make the shooting any good. Or gave up entirely on the narrative and made multiplayer-only shooters. By the 2010s, nobody could really compete with CoD anymore, and even that wasn't stupendous itself. Shooters had become too unwieldy, too laden with expectation and budget and dev teams working across five studios around the world, trying to be everything at once.
So how does Dusk manage to outdo a game like that, without the five studios of talented devs or the multiplayer modes or the co-op zombies or the loot boxes or film stars in the VO booth? By trimming away at the experience, until there isn't an ounce of fat on it. Boomer shooters are reductive for effect, yes, and they encourage us to laugh at what we considered 'badass' or spectacular in 1996, that's definitely part of their fun. But the elements they leave intact are generally diamond-strong.
They remind us that clever level design, good weapon feedback and that magical alchemy of art assets and sound design that creates atmosphere… well, that's enough. That's all we were ever looking for from the genre. All the other bits that got tacked on over time, they were basically a big misunderstanding. Creators added them because they could, because technology was moving at a rapid pace that allowed it, but we were only excited about the new bits because they were new. Not because they made a shooter a better game.
And really, truly, it doesn't take somebody old enough to find themselves on a public freakouts video recast as an Oblivion NPC to recognise that. Boomer shooters are for young gamers just as much as they're for nostalgics. Because they're really just shooters without the fat.




Source link
https://colab.research.google.com/drive/1m2gJpB7m3PJFGm9QD3MmzdmHVb0GF3td
https://colab.research.google.com/drive/1PLB9PC_ouNFdxIGpA54VIoQMfCOtPqJs
https://colab.research.google.com/drive/1J95BCI1S6-RyF3MV3-8JDQxo0YUF-iNo
https://colab.research.google.com/drive/1XM8NAPVB851joLNRKF3aVZMNAMClP6N1
https://colab.research.google.com/drive/1dMerNU0Jq4Kge1p6d-wAJUDzTO3JS0rl
https://colab.research.google.com/drive/110ovjNFTDqXLS5_JXveafxpCDtkDS0ub
https://colab.research.google.com/drive/1hqIV9Usdg_Wd5RYu616JX-5cZT_UiUYM
https://colab.research.google.com/drive/1zdL5kSJMSnku1Nt2P6ST4LFsKuXsH2dM
https://colab.research.google.com/drive/1dqzblHVubVhcfylPqllQ-3gfeIOgEWya
https://colab.research.google.com/drive/1IZI6WWDE7LUHU0PfV9PgXMGQ3VimNpdt
https://colab.research.google.com/drive/10DyEDfkCJReWuGn8sf9olLYhXcX3nR0W
https://colab.research.google.com/drive/1nsbq-80vMqdCoKJpaoOEIovm0wTNVORH
https://colab.research.google.com/drive/175dk9e4xpx_1feJht0K5Z2zYf0NB2v51
https://colab.research.google.com/drive/1HgHlEUzhBJnovrROLknX71a6o2EBQFbC
https://colab.research.google.com/drive/1QvWUa_jTQTVAPYCn2k8ZphnQe2pTKITg
https://colab.research.google.com/drive/1PIZc5LACkHH36tqXJ1-8wFys8qXFfivj
https://colab.research.google.com/drive/1s3Xt2es-EUSdvDHkDDd7d6bPlpQWVcJP
https://colab.research.google.com/drive/13TpnJKPe0kIMWn5QmaVL00YvRTiVKePc
https://colab.research.google.com/drive/1KVPZYpGDUxTETUJRtD6MJSiGGNT4RB2Z
https://colab.research.google.com/drive/1iAj-WWfiZ8W3gCJtgMRsjxpYc1LkKEDy
https://colab.research.google.com/drive/1-8L_48WAPmKVo-AY-GICMVJvck10y14u
https://colab.research.google.com/drive/11Hjvrg6XjZRriIWwiPJzEIIVK-uB1108
https://colab.research.google.com/drive/1zkn8pK9E2X9-fBbJz_lyjhj04dBrecfp
https://colab.research.google.com/drive/1UQh9xNn1ihNQPQNO1IxL7WXoCYh2480Y
https://colab.research.google.com/drive/1PAOgxU67U6ACjjiLQ6GuEIaK21zXhwkK
https://colab.research.google.com/drive/1dppMWcr7eWiuQufSSF-8nbl-NHXqtPWr
https://colab.research.google.com/drive/1WCHYbIfNdXPFmeuaKC_V4U00pbk5DXRv
https://colab.research.google.com/drive/1bxRUNEpo1xcTnGlcwz6jzz-zhB5SG9vI
https://colab.research.google.com/drive/1NcIjn8nnQt3Py96A0G6aMbhuhDtloyKp
https://colab.research.google.com/drive/1CJPOaNhc6-7fuSSRQ6nvvulv9uTh7DJA
https://colab.research.google.com/drive/1LGGG53N8CNpwLy8FHjsHGMZtmFDZL22N
https://colab.research.google.com/drive/1tJahkbpbYaJZbXLc5dmztTrO-VqvYRtU
https://colab.research.google.com/drive/1pV_ormrVOgrglz2mbZhpRGn3v3bBZzrX
https://colab.research.google.com/drive/1cVm6gF9l9Fb63c2iqBCXiNwEP2wk9lWO
https://colab.research.google.com/drive/1as5HClQRtBDXQQwl6TKknn5cQC592hr0
https://colab.research.google.com/drive/1MylpdxwK8k-7tl2DyGd5JCnCkZJiCugF
https://colab.research.google.com/drive/1ntUoEvgNnNBVC0-j6Q7DDawWJgs-_HZe
https://colab.research.google.com/drive/1jdImX0eyWbplAElIeM_f5T60agSNp_2O
https://colab.research.google.com/drive/1_E5IMUpyfB4JhH8m6LDoj1r4-XIStWaK
https://colab.research.google.com/drive/1_mDIjTnlhb1eaImn3Zf7PYZ-Tj0BOJnd
https://colab.research.google.com/drive/1BLhOc144BIXasbwS2BNmX3kUObsYGoIN
https://colab.research.google.com/drive/1b8hR0NrhiBwFQrnjYD5AJdyp5Oe-P62b
https://colab.research.google.com/drive/1-3lvAoikyUft_KFsIwZ5o61yGQ3ya9P3
https://colab.research.google.com/drive/1TCktI2hXx7Dol_iI0hGQ7WOtkrc6kw_s
https://colab.research.google.com/drive/1u46Qv4sWDh2FIL9728SKo59xH9RzenBX
https://colab.research.google.com/drive/1GfUBMKY6d1hvP55RavMDgx8Jyq-InIxf
https://colab.research.google.com/drive/18NhWCg5GFE7fFKdHbdOstluj-vECj2pS
https://colab.research.google.com/drive/1QBYUJEgFG1x9-asphkrTrklZpSATUQqM
https://colab.research.google.com/drive/1e9DnRriuyzdAnuLMmLtZCFdqcZ5vnokA
https://colab.research.google.com/drive/1JO5F73Sxh9NSvH6eh0iLRrNbBu4OvyZc
https://colab.research.google.com/drive/1g9S8N0yD-T4ST1wB6GZ-IusV3ImLQtrl
https://colab.research.google.com/drive/1CklYsuSVztpdCr-LI9gC0c-l54em8quk
https://colab.research.google.com/drive/1uzD_NmB_2FiMvdNQBpOrvlGnTTpWW86S
https://colab.research.google.com/drive/1YHT83YobwonWefaGQNvxKmM5cNRZ7SNP
https://colab.research.google.com/drive/1ZXjuqRFVaMwmGtDJ1WfHigHSQGaQUo3V
https://colab.research.google.com/drive/1pvMNX1ep_OELS9tQpgOxKPQiImgELFIw
https://colab.research.google.com/drive/1QumVbC517kTfQxNnT42GUyNuZcStJqPC
https://colab.research.google.com/drive/1BVfSxZ9cuxiz4ZqSZLVbCq9GyfRgWbGB
https://colab.research.google.com/drive/1h7r7weVlVtGy3vBn4A8vxMN8Ls2RRlWX
https://colab.research.google.com/drive/1114GCqBv4YQVCsRQtlym6jR6b6gLHYL9
https://colab.research.google.com/drive/1lCsNplQCz3zY7IRsaqefoe46oRYfrh2l
https://colab.research.google.com/drive/1o-JwS-cgETVp2x-wo8iL6eqXbE3VzKlq
https://colab.research.google.com/drive/1mDsAW88SbrYCq3irCXA-RpTphnbo0WjN
https://colab.research.google.com/drive/1sdMkgy5qOETdS7n-lZ_4Wpg9NlvBf8fB
https://colab.research.google.com/drive/1uspmJjslddEpsyBl923DnCC2q3v9H5sr
https://colab.research.google.com/drive/1yju-Wr0ADnDVyNb4qrz0Yt5oExztzNlH
https://colab.research.google.com/drive/1_KnuRjv4vQiqmJd8Hx0x5KZPmf3qrrXJ
https://colab.research.google.com/drive/1hkC1KkU5fYvrf_oFYDiWZnnDfFw_nUwY
https://colab.research.google.com/drive/1gddR9JaqGNwX3bLTaS59agZwTjLQoHSa
https://colab.research.google.com/drive/1jxcUR3CbuczBt3mA8Qnp0OqdF85itV0F
https://colab.research.google.com/drive/15fAL2XhG9gePcxrlOW6Ox8sVwChqbGZR
https://colab.research.google.com/drive/1dhGAZvs2gzV-HEESn6v9m5MzrTUkL058
https://colab.research.google.com/drive/1Uk7W1z76KML6yY6SL-DmA_XuUPq3oWyn
https://colab.research.google.com/drive/1OnmbvaWPI7bfwITA0tctkCVNvX94StrW
https://colab.research.google.com/drive/1oEfZuUTqeqAXFb7uJgnyOZLn1cIqn4H0
https://colab.research.google.com/drive/15j3gY4pFx7cEy2GUtx6OJoMTKZkGLZ6J
https://colab.research.google.com/drive/1OfD3bOV62LU34LL0tyryo0EtsvZhoXNl
https://colab.research.google.com/drive/1r6Gr8kd7iK5wAiTI_wJqVm28vNshi7Og
https://colab.research.google.com/drive/15NFPWiWVANdXlBdW5KKjBY7S1UPPwnxl
https://colab.research.google.com/drive/1M6wcigujnX-bbcrDt33TBhL36ghysBmP
https://colab.research.google.com/drive/1IwSWN2W-XH37IwTknKGiDtrnL33Sz9kS
https://colab.research.google.com/drive/1E-cShTWtpXgIGjKRUAjwzwgnsNZu0Wa0
https://colab.research.google.com/drive/1q3s2LPlB_kKjjVIleFSJl42l0QklathR
https://colab.research.google.com/drive/12CZALPzvk25o2y6ZQ1u-eEZwu_XJZKXK