Nintendo's Switch Online N64 service adds one of the best – but perhaps somewhat underappreciated – racing games on the system this week. Released in the N64's launch window, Wave Race 64 was as much of a tech demo for Nintendo's new 64-bit system as Super Mario 64, with the beautiful transparent ocean and realistic waves wowing any gamer who saw it, much like F-Zero's Mode 7 tour-de-force did a generation before it. Shigeru Miyamoto himself maintains that Wave Race 64's water uses '80% of the N64's power' but despite this, the game is more than just a fancy tech demo.

To see this content please enable targeting cookies.


As an N64 first party exclusive, Wave Race 64 was designed to work tightly with the hardware – not just in regards to the obvious visual and technical feats, but how it took full advantage of the then fairly new concept of analog control.
One of the best sensations in any racing game is when you pull the stick down towards you, either slightly left or right, and have the jet ski carve through the water and turn back on itself. It's almost impossible to describe accurately, but it is so intuitive and instinctive. It just feels right. You can jump into the Dolphin Park training course with zero knowledge of the controls and within minutes of just experimenting and playing aroun, you'll know exactly what you can and can't get away with when it comes to the handling and begin to start tearing across the water.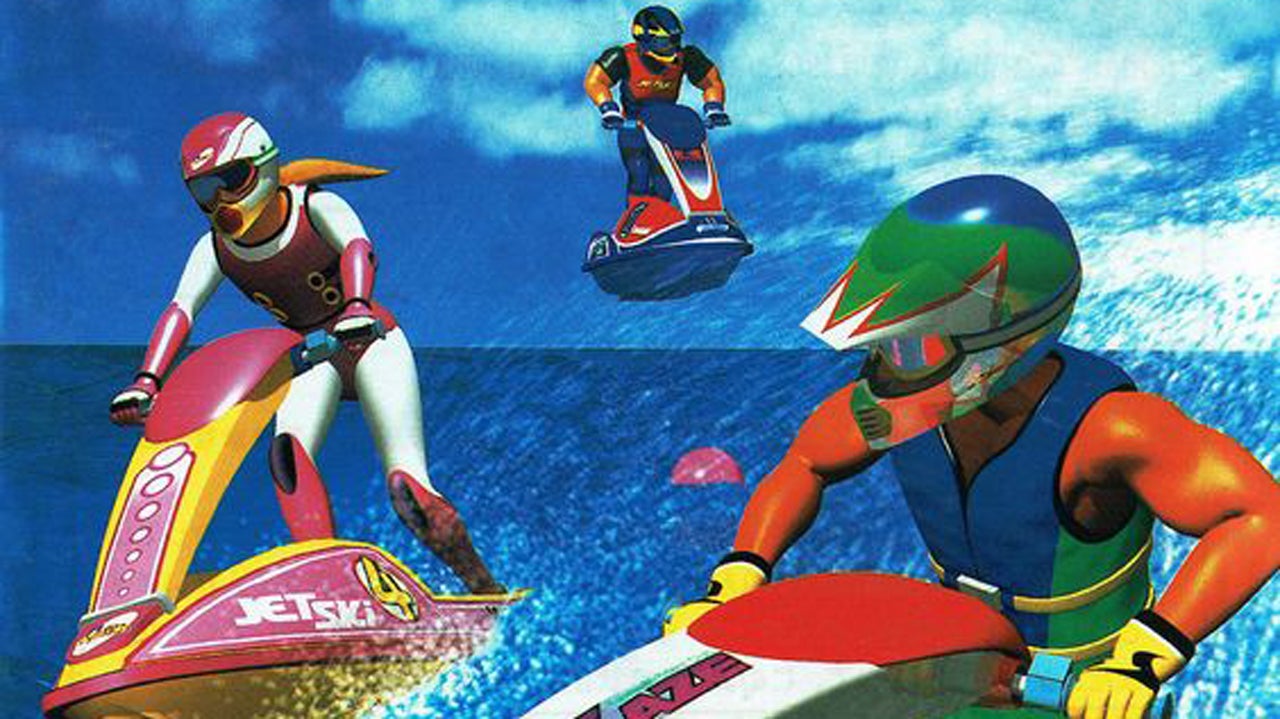 The water. THAT water. The water effects in Wave Race 64 are what elevate it from a merely good game to a really special one. First off, they're still super impressive with very little actually bettering it in the 26 (!) years since release. Crucially, however, they are a key part of the gameplay and mastering Wave Race. They achieve two important things; when you're first playing Wave Race 64 or simply playing it casually, the realistic motion of the ocean gives you something to work with and against as you race around the uniformly excellent tracks. It adds a unique flavour to the racing and makes Wave Race 64 instantly memorable.
Once you dig a little deeper, hit the harder difficulties, or try to go for quicker lap times, you'll notice the waves appearing at similar times on every lap. They're not randomised – they're all triggered at set points around the courses – and you'd think that this would perhaps ruin the magic a bit but it actually has the opposite effect and shows how ingrained into Wave Race's racing the water actually is. You have to learn when to stomp through them and when to use them to your advantage.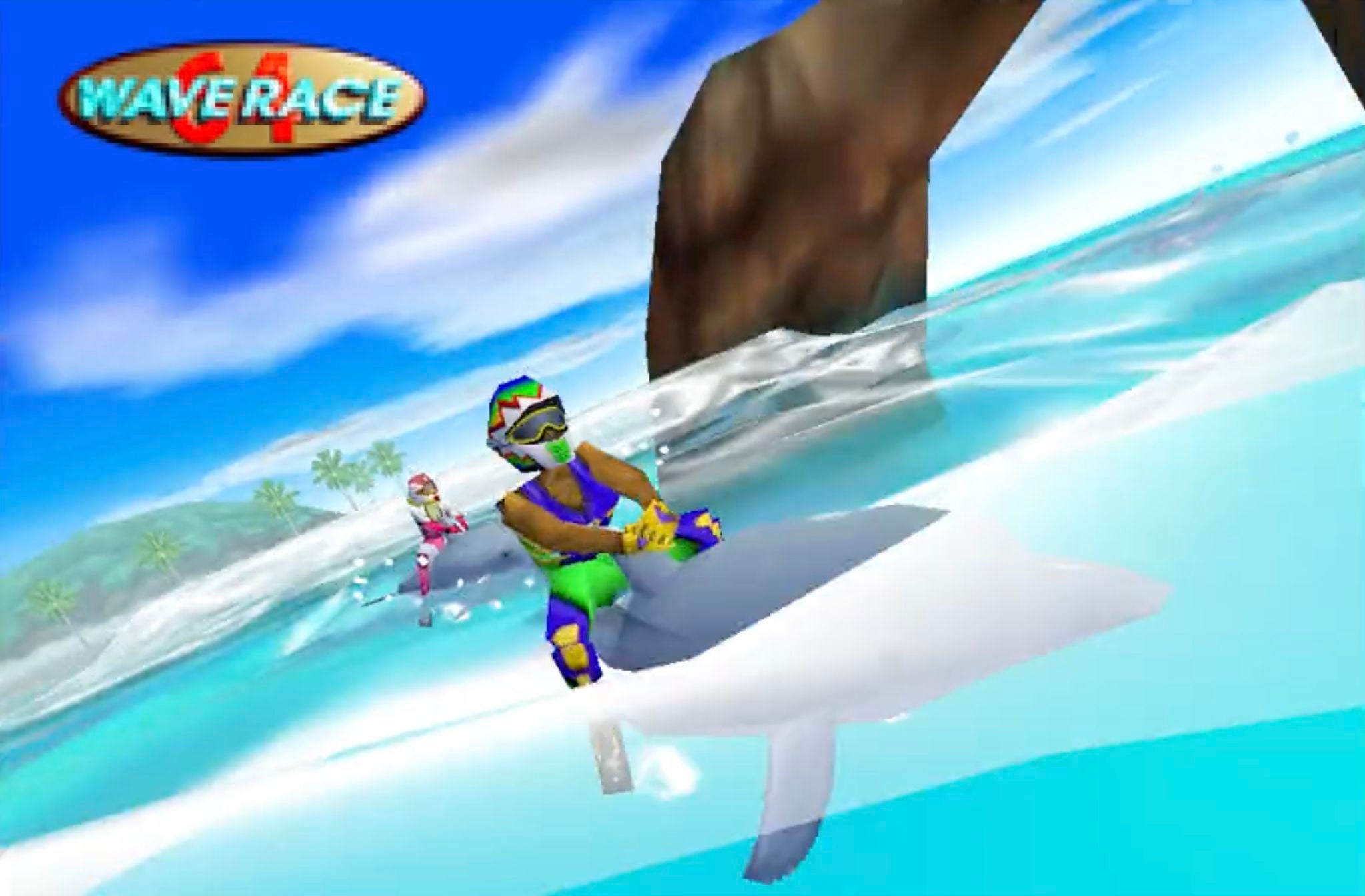 A great example of this is on the Marine Fortress track. Right at the start there's a big concrete sea wall that you have to race around. However, if you're brave and accelerate right towards it, a big wave appears and allows you to leap off the crest of it and clear the wall for a significant shortcut. To avoid things being too mechanical, you have to take into consideration elements like the speed of your approach(going too fast or slow will cause the wave to be in an unfavourable position when you hit it), so there's still some room for in-the-moment adaptation.
The waves aren't always positioned for your benefit, either. Some appear on sharp corners or in tunnels, causing you to take to the air and wipe out if you're not ready for them. The waves going from something you simply react to, to something that you're actively learning and trying to work strategies around, is a very satisfying skill journey.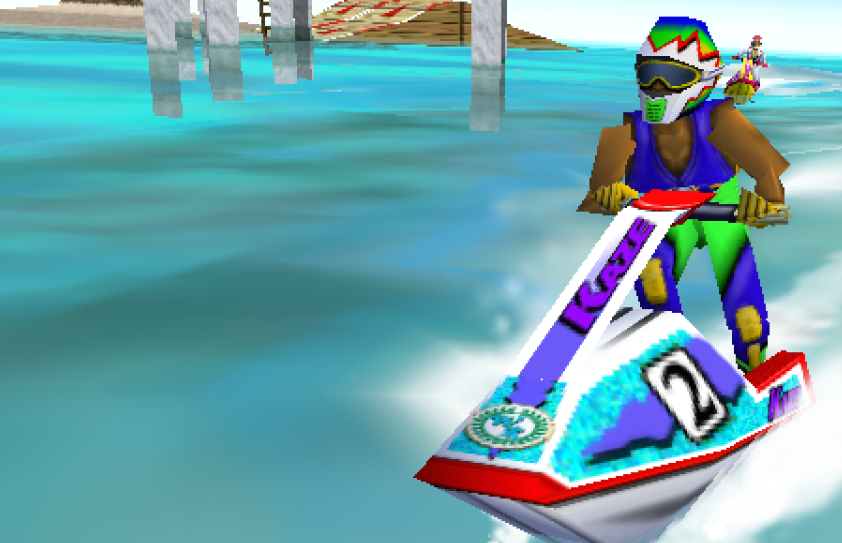 The courses are all excellent. There are eight in total, with six available in the first championship with the other two being added one by one as you go up the difficulties. As well as the usual differences in structure and complexity, they also have variances in regards to water movement, size and frequency of waves. For instance, Marine Fortress is set out at sea and has you dealing with waves aggressively crashing against its walls, while Drake Lake has none at all, acting as a faster 'sprint' style race across stillwater.
The best thing about these courses is how they all have their own unique vibe. The aforementioned Drake Lake, with its beautiful mirrored surface and fog that lifts as you go through the laps. Sunset Bay, a big orange ocean of Irn Bru with dolphins that swim alongside you. Port Blue, an action-packed chase around (and sometimes through) giant tankers. As you increase difficulty, some of the early tracks gain new, more challenging routes. A sluice gate opens in Marine Fortress on the second and third championships that reveals a twisty, turning path that almost halves your lap times.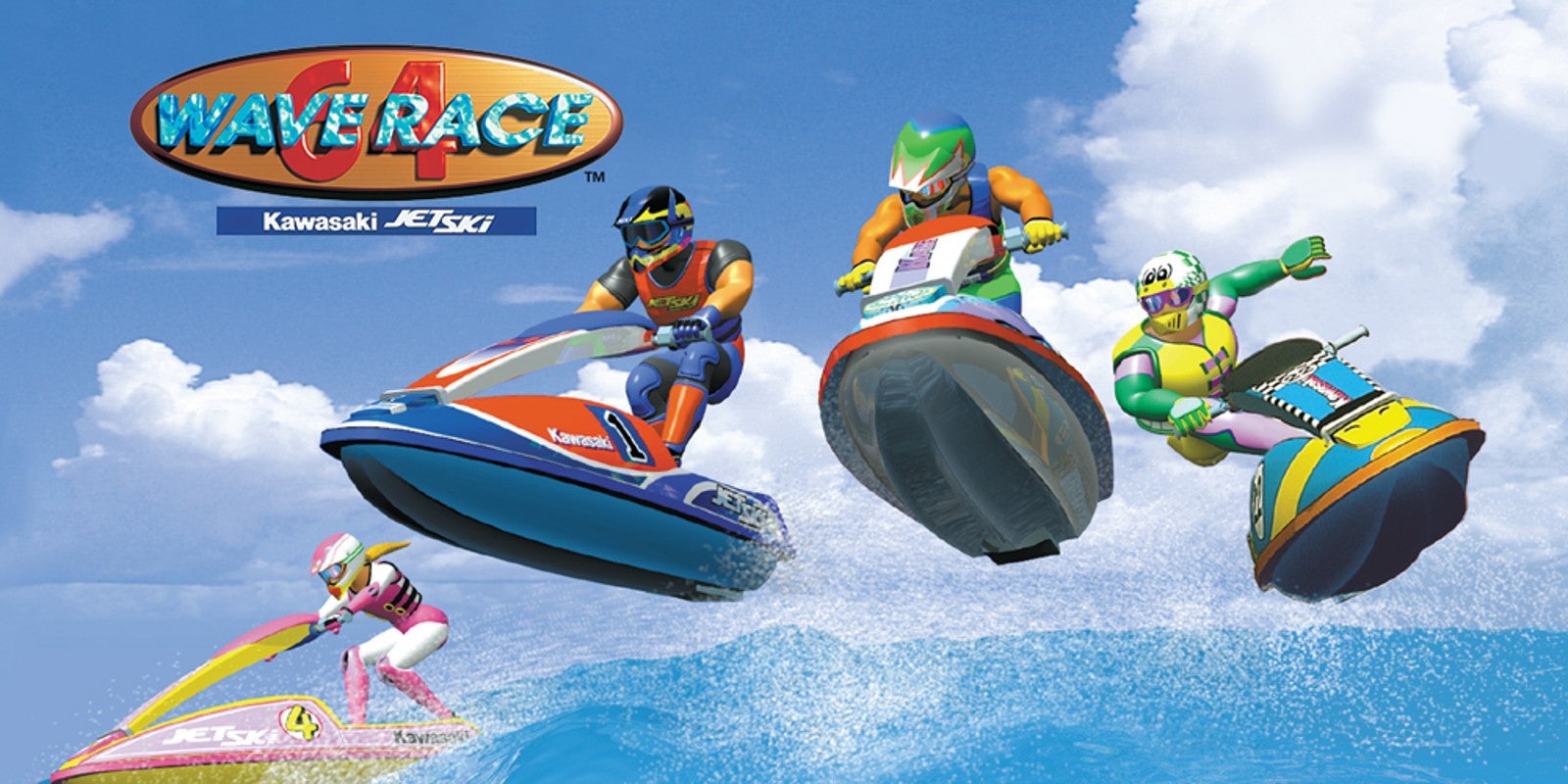 Wave Race 64 is actually made up of slalom races, with yellow and red buoys requiring you to pass either left or right of them. Pass five in a row and you get a full speed boost, miss one and you're significantly slowed down. Miss five overall and you're disqualified. As you move up through the difficulties, the position of these buoys is changed, requiring not only more skilled handling of the jet ski to navigate them all but also allow for a subtle reshaping of the course. It might not be as obvious a change as the aforementioned sluice gate opening a new route, but the buoys forcing you to take wider or sharper corners definitely gives each course a little variance.
As a Switch Online title, there's the usual caveat that there may be some emulation issues that Nintendo may need to resolve and – although you can play a sort-of online multiplayer with Switch Online releases – Wave Race 64's strongest suite was never its multiplayer, which was restricted to two players, no AI competitors and some significantly reduced water fidelity (which is kind of missing the whole point).
Regardless, Wave Race 64 is a great addition to the service and offers a great opportunity to try out one of Nintendo's most unique and best racing games from a console that was jam packed with them.
---
Wave Race 64 is available for anyone with a Nintendo Switch Online and Expansion Pack membership from today.




Source link
https://colab.research.google.com/drive/1KravnCUOUk0kwHMQwJsmrA02r_JAhzIH
https://colab.research.google.com/drive/1X7MAzKX1RnFnE2EivzwdH4BDbB2lSeb8
https://colab.research.google.com/drive/16Ol1eINWXqVvQxHyNR_XbSFjPdQjKjwQ
https://colab.research.google.com/drive/1JE0EOLxUW5JjRpC8kqueS3wyM6l9jKq0
https://colab.research.google.com/drive/1f2PJIWkOD8yeZPGFu-0PZP_coVNdI-cN
https://colab.research.google.com/drive/1kDDUG22OD5hNW-5KcWUKKXSXxGFnLckF
https://colab.research.google.com/drive/14OhugwC3f-8L1e274vAJAk-wuSIRQnka
https://colab.research.google.com/drive/1KT6C89jPwMA7hkiEM6yr_qqoJFSWcy2W
https://colab.research.google.com/drive/1UApbZIHaxeHHgTYbxDdmLNPb_WRcsoNu
https://colab.research.google.com/drive/1S_zzNCktnN9OCvlG3sxmsDdvmyD7ruVB
https://colab.research.google.com/drive/1apb1yqCCle-cQHEMYznlhgEoaG6wFrlk
https://colab.research.google.com/drive/1p1DW_9TkoSJwANFXO2gdVSIOKdNck6bG
https://colab.research.google.com/drive/1mU9IZbqvH5r066cd7Sb5mkNLg_074CTW
https://colab.research.google.com/drive/1Qd7QR4x_rVPBwxgs6TF8ypCALwmipzIl
https://colab.research.google.com/drive/1vYaxS3yk6AZjPS4UnvviVse_ArDAAdEj
https://colab.research.google.com/drive/1PXhfQus1GmpaMoHQJhmAEPlT9JeN0jbs
https://colab.research.google.com/drive/1A2D9ShXEnbFz1a0C66dxuFJzn2YrtnAO
https://colab.research.google.com/drive/176V5wg-vTos2GTCamODjLfFqr_xOSyfo
https://colab.research.google.com/drive/1tV8PQbVRbyK4-VskDA1fccIjd4prC71S
https://colab.research.google.com/drive/1u6ML6WnRfrRzNRGAhGiZHFrijO2LcRF2
https://colab.research.google.com/drive/116520xTKNwCeu57TVpR5on7OGJF81d52
https://colab.research.google.com/drive/14SVLdFWaHo-9X0rwZldTpIlLerKjUHOu
https://colab.research.google.com/drive/1sjIEfvlZYmnfdMM1r0kozp1Vxkz5rsae
https://colab.research.google.com/drive/1wPUloyn1DzuNfdpCU_9opJbdU0f8_-_I
https://colab.research.google.com/drive/1Y2OskC20ISqUbjEI4pzVLGHEhdlcc3r1
https://colab.research.google.com/drive/1gAIjkI_M_fncLe4Nf58-Kx0bRFXy9j72
https://colab.research.google.com/drive/1xYglNodBSprBL32utxzKA-F6WNP_15iI
https://colab.research.google.com/drive/1AW1vfHD3vdnFYCHk5tmUxJsTwXZT2G_2
https://colab.research.google.com/drive/1OO1GeXA6qi_8cHbhdLJZrCCJ7GlQGC2Z
https://colab.research.google.com/drive/1LYBLK9Cq9RKye-ffZbSSgpeEoBPCnajr
https://colab.research.google.com/drive/1gplbkOSdniiPVHQlxPdqPUK-jj2WMrSI
https://colab.research.google.com/drive/11NcBJtQ6hPSgjb26piCoeQTLW31h1KBM
https://colab.research.google.com/drive/1zSMJEa7oPD4rCJcUEkfxd264LKAHjXzi
https://colab.research.google.com/drive/1nsCPbzVHm1Lqry4fQgZHqMOcjm85md2g
https://colab.research.google.com/drive/164s9_F316GBqgChpGJ23QKBa0Hw2NrLs
https://colab.research.google.com/drive/1W9e6WS7T26AodR2BmGcpwFpctX5mzbYO
https://colab.research.google.com/drive/110QNMjQhXz9adaEz_xSbhJ_3N-YkxbOZ
https://colab.research.google.com/drive/1j3OcRQ65uccY3CRONJh6FNfPtu2w5rP9
https://colab.research.google.com/drive/1MUjVGPf2x_sTVlByTu3BdVE71eCc0-kh
https://colab.research.google.com/drive/1qOd9bYqZoZhzTYLH1orM_ocLpY62rASK
https://colab.research.google.com/drive/1FWcrHay80nlaBMWWK_VIqIu9BP8IYcxd
https://colab.research.google.com/drive/1Lxk8QxWyYsRo0LWJYqI-rJr2XfoeFTUS
https://colab.research.google.com/drive/1EWb_4Goqe0D1317vyyRzygofuct5xRq9
https://colab.research.google.com/drive/19Up3JXQXYMNW770FTs9c2lKK2zmifUF3
https://colab.research.google.com/drive/1jVfd3ADNI3vV2mFSe0K2buk26k3CU9am
https://colab.research.google.com/drive/1qLii727qZrmlJchwlKQGbZGSZjwAzNhh
https://colab.research.google.com/drive/1Sv86_v_iWyZXftTeTo1wG_TbPMljFETi
https://colab.research.google.com/drive/1S08vzi-irflnJWHAxi1qJexEP681jTHF
https://colab.research.google.com/drive/1k2ZmmCWkeHPmcgc55DOVeQkeAObEq3Hq
https://colab.research.google.com/drive/1_zKiOR3al6R-7dEdfM5qccZ6sBrzLnMu
https://colab.research.google.com/drive/14a-g6yEq-PJtWb3r8gTAT4sl5jwJfVsq
https://colab.research.google.com/drive/1tve8AboizqiPcR-FWBEWbcS3akYCA79V
https://colab.research.google.com/drive/1psc-u8mNemx8JAXlRlsFJZ6de44t2Sdt
https://colab.research.google.com/drive/1Mtav5r2BzUtvFSvY1dnlbGyJDEKwjTjS
https://colab.research.google.com/drive/15dfIVggXoo2weu_qVedYhRku4RTvycsk
https://colab.research.google.com/drive/16wFuWgfP1KUIIqYVCSR2a-8uiZmNZJ1W
https://colab.research.google.com/drive/1Gr79AFq3thhvK9gjoZUzr-G543gM9ZF0
https://colab.research.google.com/drive/1PpJa_pYE3aIlvsNfqIu-BGpVRvapC3f-
https://colab.research.google.com/drive/1QL-rO2iQfKmMMlAzrpiTmICYT4AAGisI
https://colab.research.google.com/drive/16a9NohAx7smK6uTnh5EEqW03xNU66J_2
https://colab.research.google.com/drive/1Y7fX19H-pigMtqPJHV6RFpqE2GSUlNOb
https://colab.research.google.com/drive/1hgZq8FjA4woamknpZTZp_OJs2GwopKrr
https://colab.research.google.com/drive/1Omz-gqw9IA3qFoCIqanfftyFNs1pcU-P
https://colab.research.google.com/drive/1t8ofVPZF_JqqSi6sgE_ZF7J_EVMAao03
https://colab.research.google.com/drive/1u–KB4aXrVabjx1ONxF73-eIDCPNbDwN
https://colab.research.google.com/drive/1FnC4L41D2i1LfhpxTtywz7iruP-XOXMA
https://colab.research.google.com/drive/12YTd4nPPIEgc5LOtOxhzIdAokuI5dp5p
https://colab.research.google.com/drive/1oHtu7GCsqtyZSqw26jz1PKqswt_7pQOR
https://colab.research.google.com/drive/1Z8iBQl2pHlSu7K8KuSCsiuRy–QgGxhM
https://colab.research.google.com/drive/1wKV4jA0cozdDf8OXNxqBiXwCoPIvPKL3
https://colab.research.google.com/drive/1GNANcAYUyiMY8TRVKsFCJGDzwyoD1kzw
https://colab.research.google.com/drive/1wVCzeJHcK2lgg3N18isd_SzGpoJrcs6D
https://colab.research.google.com/drive/1P7I-uJCECpibf5F48cLpF-HwrIHrHuYz
https://colab.research.google.com/drive/10ge7sIMy32_xsbbj-r_bYMaVv2Vyesd4
https://colab.research.google.com/drive/1Hs_M3KFydFJxeTQwk9HfDxzL946ltYbx
https://colab.research.google.com/drive/14U3ypc3V30TOEhEENvNHXheY0MRRlSUl
https://colab.research.google.com/drive/1qrAjIE7ONgwjMShL9PxvRyquLzCCooiC
https://colab.research.google.com/drive/1LnLsx1r9ZNyHimcNXXFZF05lj95JkAQx
https://colab.research.google.com/drive/1V1Gib8lM65hhYo5v1VHOh-epcSHNx5Qo
https://colab.research.google.com/drive/19uooWHMl7u-p4PvrTEFbRfJXTx_XL5P7
https://colab.research.google.com/drive/1kYwq6JrG5wxGfeHksvlQNMYk1VNM3WGd
https://colab.research.google.com/drive/1SubYZc3Uek7HcQbi7GiYc_Neu_HIcBVd
https://colab.research.google.com/drive/114Zpn5unudFIqzrCTiHCFGdJGB48NjSl
https://colab.research.google.com/drive/1OYKCSrMijB3lzwlf34ACDSZQcIUfwZZG
https://colab.research.google.com/drive/1HeKPq8X-_iR-pI9mpNmsq_mposha4iFd
https://colab.research.google.com/drive/1XEQ9aARd3lPW7pv-5lN-TjbTU7saTkj5
https://colab.research.google.com/drive/1mTD39CsoBnpR0GgSYkZt7kZO_mfqENgV
https://colab.research.google.com/drive/1toJr7Bgtx2pR-Nl_4JzxGZ9TZZXmf1sb
https://colab.research.google.com/drive/1QAGEtFTRN19D-w125O6NqkAJ87RkDUTK
https://colab.research.google.com/drive/1C42u5Ri-lQhbtXHObhjFO3E93UoJtM0A
https://colab.research.google.com/drive/1xeJNuSwUje61yctHjM8lRH8Xi0iJdKEP
https://colab.research.google.com/drive/13aYAvfdJCcArW_beivhAtYQ8MOG6qOa8
https://colab.research.google.com/drive/1Ses94ISCNoVfklMR7LmDt262BkriLKe6
https://colab.research.google.com/drive/1Tg_QIo58HQCLUw8P2C_5tgWrIeGJxZc2
https://colab.research.google.com/drive/1I2ifwOux7LC4Lw_jsI78KdsBYyOVK8xV
https://colab.research.google.com/drive/1MLdDB6ezBHShA7ZBetTPkDKghCYmuyky
https://colab.research.google.com/drive/14okNXGIWTsE9s3pmfuoHvbPBJeRVgmLO
https://colab.research.google.com/drive/13pdQqtSFG5qxiHbI3ajLaZu9o87Lo9fC
https://colab.research.google.com/drive/1iwuHF9tiULZCzbGsgehlG6VoA659j3k7
https://colab.research.google.com/drive/1t7gITprdtax_Od52tGXR8UCh0JgEmXrC
https://colab.research.google.com/drive/1TWWs1pKSw-AbnddxYE2cl3KKF4cCJGVN
https://colab.research.google.com/drive/1xBh_jq4z2eumcfsNWSuFc0zObdUDHZ69
https://colab.research.google.com/drive/1Bri4ODRBs7aqJk2j3PBryr6mPmlDOz6d
https://colab.research.google.com/drive/1SfXTqfVeoKKCSplxPJAe2ixGhknWUcO8
https://colab.research.google.com/drive/1Yl58FZ3-0_XTwUrO9u3YJsJdb4a6n7TZ
https://colab.research.google.com/drive/13w6OHEfBh3ye9mBFwIQIsOy910Nqi1DF
https://colab.research.google.com/drive/1HqVQ8_X77JOtYWoyB0cjovlslQnXb40O
https://colab.research.google.com/drive/1pRdDPe-86Z-tV_nS3aNEYVZTxOkAXEvy
https://colab.research.google.com/drive/1Ik8ciu78vmbO_35UY0kXD0jMztb2yaR9
https://colab.research.google.com/drive/1IDHsY4NHo9ineeIfTaJf5g7s6LI_TbR1
https://colab.research.google.com/drive/1ta1tSMIxdZXJ-NDVUaG7ryHvpRIiaUos
https://colab.research.google.com/drive/1oOUkoHN9vpQOj3m1IUv_6kcs3YqSeWa_
https://colab.research.google.com/drive/1FjEuoujUOvRjOndJ5luwyRHmyhPP3lVx
https://colab.research.google.com/drive/103EU4dzuZ115fO8MwGck2enqgIN3QyMn
https://colab.research.google.com/drive/1s93H-YZ6Nk2XVLqxxEu2NrS31g5u6X4q
https://colab.research.google.com/drive/1j1k78UJKAlck9g3_iy948afdgqFs6kPD
https://colab.research.google.com/drive/1juOMRQ5QcUlF66-_lDkA7PTjpQdv_MSv
https://colab.research.google.com/drive/1JHlUPg_uf6ITWvD2z7_KLXsyT1DOtB2s
https://colab.research.google.com/drive/1psfE9b5Q4Pij3EU5xoCX3KVEdK5E5k5G
https://colab.research.google.com/drive/1OHgpB72cUKRRlb82LWgnKErqr1M-psV5
https://colab.research.google.com/drive/12_dbxOgDbNqXPdh9MWMNusihB_NcIld7
https://colab.research.google.com/drive/1mwFCaanEBhMADiBZNuMKf0wYJsbQ817P
https://colab.research.google.com/drive/12nftfesFIn-3awpFcDlBMZfOWZwLbbom
https://colab.research.google.com/drive/1lbnSvvrS-4F2abILlm4rn-tGwfBcBP3V
https://colab.research.google.com/drive/1ZQagp_WqS5dIH7rb5a_fnacq30RzflUF
https://colab.research.google.com/drive/1iYqcmuINGXyhRVD7G9ZRmhMEahIiRxUn
https://colab.research.google.com/drive/1hOVrWRmbdI_tp1cQmlzTG3aMj1iCBPIN
https://colab.research.google.com/drive/1nUbm1a4krWssl4KzLYf21Q6GNfyzZTl-
https://colab.research.google.com/drive/165ZPXnPzEWFl-9k97KS5lWFL4LZfv5mR
https://colab.research.google.com/drive/17GG6GHIpeXtCOLlJoC2ULVXAPI6fZLBo
https://colab.research.google.com/drive/1vTygxoTyf6Xvf2hUin4O_rw9htjZlz0j
https://colab.research.google.com/drive/1FruRjpXkSpJqQVqqBGpPVQY-o-S4fkBv
https://colab.research.google.com/drive/1g_wcw9hP8V9NIU6qXJsAcqYjNfTni1nT
https://colab.research.google.com/drive/11QXu7Nxw2vzIKD35Y0OOPUl3HaIWMdU5
https://colab.research.google.com/drive/1L7kIqzC6rXit4vlqVcgb7HvFip_y5AT9
https://colab.research.google.com/drive/1R0shuTUjCdAC5Ll2br8R953Gy4mAqumk
https://colab.research.google.com/drive/1VTEWIqFrxEbzKP3xlqGFYSoVlzzcTisS
https://colab.research.google.com/drive/1iwJlxVOZhOY1tYjwLItzySsXn-2nFv_e
https://colab.research.google.com/drive/1w5bTWT_jGB2_AxgpwD1lWdBrlXzwPTcN
https://colab.research.google.com/drive/1Mxo8We8NdUrQswsDdR_BpqWLBUCHKQXV
https://colab.research.google.com/drive/1K28Ws3UmItc_NTUc3vlnNnEdNXyCs0x5
https://colab.research.google.com/drive/1k72sph47CWsHUNbuw4Vl-Ag49O6-hk2v
https://colab.research.google.com/drive/13KhC5WZXpZzjksxtRwRAMeddOa0VAJrM
https://colab.research.google.com/drive/1-CpioStExDPxZE8tq4hP24v_QnUkTDMr
https://colab.research.google.com/drive/1I8GJeDbqSW3tocisdkJj_PtJhmsYcnkK
https://colab.research.google.com/drive/1jZHuaMdYBW4XbZCwl9Dv6jbueHoWlT3X
https://colab.research.google.com/drive/1WNi-MClPIKv3AgnZtzO897TxgmKyQk-4
https://colab.research.google.com/drive/1iWRnJPyXzj28butzIwMH-tAZUh3fKF-t
https://colab.research.google.com/drive/1jq2TpUDkwasfTilOPruhtlTjPDz5_RCP
https://colab.research.google.com/drive/1dCNfbBOGLrN0Ve-ynIulDeIzNmAgmc4W
https://colab.research.google.com/drive/1a_x1gPRn14sB80HJ2SEFO_LsXeWqEnik
https://colab.research.google.com/drive/1WxnW3yu5vklSWKWQadEHo-4XPKTPgdxb
https://colab.research.google.com/drive/1sW3mOlxFdq6CYNUDZt6gNl0mwLsf5JWx
https://colab.research.google.com/drive/1C5QsShCw1yVk9ZXDU8j5EotgezhRGdiQ
https://colab.research.google.com/drive/1cqinyG55xNNil3hA7S2PSu5U4uGIgrE6
https://colab.research.google.com/drive/1uMj2w7g5JOJcNqjgkzBk8c3DrasGJo6c
https://colab.research.google.com/drive/1_D1xwuPECVRrV-Z4t8Hmr1z_XBLhykvV
https://colab.research.google.com/drive/1V8TiPSf_SCihCYXQXdOx4BT7IzjQtbgu
https://colab.research.google.com/drive/1GY8NnmBAWMBvIycZal8WBXJBRBsRHQPp
https://colab.research.google.com/drive/1URTPhLjvGQel6HE7nWOYLTXMjwy2RYxi
https://colab.research.google.com/drive/1yIkaE465YBZ66vkA-t42CPYBXxuVLhOX
https://colab.research.google.com/drive/1wUd4dfXn2HCPKCn1Lbs0YtCuAKKTi7xP
https://colab.research.google.com/drive/1SdXjtkY3NoG1PIype8YcvtpryS70U2YF
https://colab.research.google.com/drive/18ptjNXDPi5q8vYC5X_Zhu9oVby-fH8Ic
https://colab.research.google.com/drive/13xCxhuN0pa_BZC0UZ2_-beUOCnvLqXCN
https://colab.research.google.com/drive/1NqDvQxoa17Meg0AMuc2oTUsUxV2DIy0A
https://colab.research.google.com/drive/1fXggAB79rSXMKycXmPqMUJIym8YiXqvX
https://colab.research.google.com/drive/1gbgJ6TJriL9gxt4B5y9NFGBhyW70WzJl
https://colab.research.google.com/drive/1mRW3JjwBvU8IImSGwMgV9kIN2u18tH4x
https://colab.research.google.com/drive/1OYq6ERAhKJdB6KVSA3zR6bCUb90TworP
https://colab.research.google.com/drive/16StwkxjGRW6EILII3Q6LLjnBjvdcSwid
https://colab.research.google.com/drive/1mpKELKGlNJgaEC15kW-QZYtGsmI06oeD
https://colab.research.google.com/drive/1SX49XvePexQ17TCG46DzfjXxsmfMPOyI
https://colab.research.google.com/drive/1mJFBgaSkhawCHDR6LjH8t6toi4e1CqOE
https://colab.research.google.com/drive/1306ttINyrDSYXJKf5tsYoBVRzfgYyMN3
https://colab.research.google.com/drive/13rsAKy2Ks3p5uge7s6AongYG6Gviqjru
https://colab.research.google.com/drive/1KNWJ5SF-A8vhOwiHc61MaoDFinYqgLSf
https://colab.research.google.com/drive/1PCNPAclSNsxX47y56VFslykzptZ0CMi5
https://colab.research.google.com/drive/1cw3LUa0uXGWY4hkuH448PmpVevxhJP3m
https://colab.research.google.com/drive/1XOWgtp4Ro59uTBFIAOdSB56ocTAtlpaI
https://colab.research.google.com/drive/1b9DLgWu_szK04g7_k4bDtw5uBZIxGFoh
https://colab.research.google.com/drive/1THe48YLAYTF5BvslQnmJmIftfbw2w5Mm
https://colab.research.google.com/drive/1gHkH5cy97iNVMnxrHNap_1vkuCk5lECN
https://colab.research.google.com/drive/1qYx7itcIcLPYBgqmE6p73Z8C-sCvK0qH
https://colab.research.google.com/drive/1yzN6g-Vdg7JKZCgIFsBfXnrAbZQdabg8
https://colab.research.google.com/drive/15wmHrKPEwp63wIIZpRV1zDs-Ey1io7LJ
https://colab.research.google.com/drive/1ZDhw9jvOg2n6u8p3Uox8vNUQSY8Lfnwc
https://colab.research.google.com/drive/18pUbZF94uWUrucHqo0EA5GY-y6ZUEg5Z
https://colab.research.google.com/drive/10ckgaWYkn-N32ej18TheuH4pbbquMa5Q
https://colab.research.google.com/drive/1pe5mFP37M092Y4rgkKLkOtFHfeEincP0
https://colab.research.google.com/drive/1tAOG3EMeoyHSRZAhyTQSdYtXNgq397IA
https://colab.research.google.com/drive/1r1woHhpJm1-GwyjGEKKOXVvFCOqaMEVa
https://colab.research.google.com/drive/1lFTTeq2rwHY-pmy0bSUVV95znF-Il11Z
https://colab.research.google.com/drive/1YDnWcKMPGFg0XBTMoRjOsm9Qu_sbrR8P
https://colab.research.google.com/drive/1Lb_86wmFkYCKiRHRzT0dpsVlIeTsP8t_
https://colab.research.google.com/drive/1JU4aGRwVlgtqH74TRmuT6jJmpuVLWSGo
https://colab.research.google.com/drive/1Kgw886UUOou0Rb_AT_M2dHf9Y9kM1jQ0
https://colab.research.google.com/drive/1JqIJ3ppefjZzqSD4Vc2SLqXXUfLvHU-o
https://colab.research.google.com/drive/1jd_UVPTw7CrviAOzME93_6YxP6qpQaOd
https://colab.research.google.com/drive/1Q32coCpw60ojwIHpvpvgUyiE-DrY9jQa
https://colab.research.google.com/drive/1Z6F1oKbY43fTxrZEheRIhcQuxe4iVhjY
https://colab.research.google.com/drive/1o-TqlXyM5fl3eXymtMX4SLw9vynxl3bp
https://colab.research.google.com/drive/1nzNXw8WVLuRhzd9kfgFHrbDHvmXzXOs3
https://colab.research.google.com/drive/1pdCKSzEwpAxW2X2Fh3mwVzPy_DTppk_J
https://colab.research.google.com/drive/180tqCi09U92iEJz7rdwZa2Ol_eltn7jt
https://colab.research.google.com/drive/1PWoiQapROmDUBmNd4vWWwHV-NRsrSdbC
https://colab.research.google.com/drive/1JHsygZErz7v_FyX56cgCtrDLb5ErbGlP
https://colab.research.google.com/drive/15iWQkqgsgOHCjh6TXDJr-GpI5632Ji0V
https://colab.research.google.com/drive/1BRArN0vxDPVBWPkitZcGAlnMOCOnzjwe
https://colab.research.google.com/drive/1y9ZEgb-hXHBdqCXFKQj3KJ-EjSuUI8fQ
https://colab.research.google.com/drive/1kUS1wefNgaa6h-YePzHrw-oWqCkIkU4P
https://colab.research.google.com/drive/1RnpbPZ5KZXGzN8nGghs5x5c_znJPrxQw
https://colab.research.google.com/drive/1cRtuxCKWQ6MXpJrxj60EJl7gl2Z6E-lZ
https://colab.research.google.com/drive/1SHBxZfAjhfBWcEE3XFt6eGrmZjinKm_i
https://colab.research.google.com/drive/1OkkE6Vlfk7a-CiolmqDMHgyfD1ar1QRy
https://colab.research.google.com/drive/1kK9x6cNodOsrGNaCu2OsyrGZSzgAEib-
https://colab.research.google.com/drive/1fc6ZURKBTL5eVB-5umbraqOJfzd-mbKd
https://colab.research.google.com/drive/1gvbkPSsYl5rKNmiiid6xIM_PnYdJd5lP
https://colab.research.google.com/drive/1BlIV-rh7_dAMUaHPCctepyGWXuJqcajV
https://colab.research.google.com/drive/1DpsmAUFDJZsISP5rQNy0yCveKNdJERxG
https://colab.research.google.com/drive/1P6Gelpx4u_9P8SsiV6zMLTOmkCXDskZK
https://colab.research.google.com/drive/15yCcGPbL9R6_kqFsbQpgEcjJNtrgXn8n
https://colab.research.google.com/drive/1d1ZGuuWO0JF7cJf5sWA9rIzknzF5L108