The Pokemon World Championships has finally returned to an in-person event in London, and all of the action throughout the weekend will be streamed live on Twitch.
That isn't all that there is to be excited about either, given that there are going to be multiple Pokemon GO code giveaways during the stream too.
Catch the trailer for Pokemon's upcoming games, Scarlet and Violet!
The championships have already started, with things kicking off at 9am BST on Thursday 18 August. However, if you haven't had the time to tune in yet, don't fear; the event, and stream, will be running until Sunday, 21 August.
Throughout the tournament, we're going to see competitive Pokemon Sword and Shield, Pokken Tournament DX, and even competitive Pokemon GO and Pokemon Unite, which are new to the lineup this year. Of course, there's also going to be tournaments for Pokemon Trading Card Game too.
Players will be competing for various cash prizes, so there's a lot at stake.
If you're looking for the full schedule for the event, you can find it on the Pokemon website, with matches for each game being held on their own specific Twitch channels, linked below.
Pokemon GO Twitch codes
As you're well aware by now, Pokemon GO codes are going to be dropped into the Twitch chat at regular intervals throughout the championships. So, not only will you need to keep an eye on the Pokemon battle at hand, but chat, too. To help with that, we'll be updating this page throughout the event too, here's what we seen so far:
NSNATBHDNNTDU
R3YJVKBDH5RUH
W0RLD22V1CT0RY
WRGUZRVKRR2M3
TTYKCVDLP7K5CM
When it comes to redeeming these codes, however, you do need to ensure that you redeem any within an hour of the code being shared. So, keep refreshing the above page! You can also only redeem one code, which will unlock the same Timed Research event as other players.
Want more codes? We're always on the look out for new codes, so check-out our main Pokemon Go codes page too.
Pokemon World Championships Full Schedule – Pokemon GO Twitch code giveaway times
Throughout the four-day event, tuning into the Pokemon World Championships gives you the opportunity to earn a Twitch code for Pokemon GO. The codes, given away regularly, will expire quickly and all unlock the same Timed-Research event.
If you're hoping to tune in and grab a code, or simply check out the action, we've detailed the full schedule for the Pokemon World Championships just below.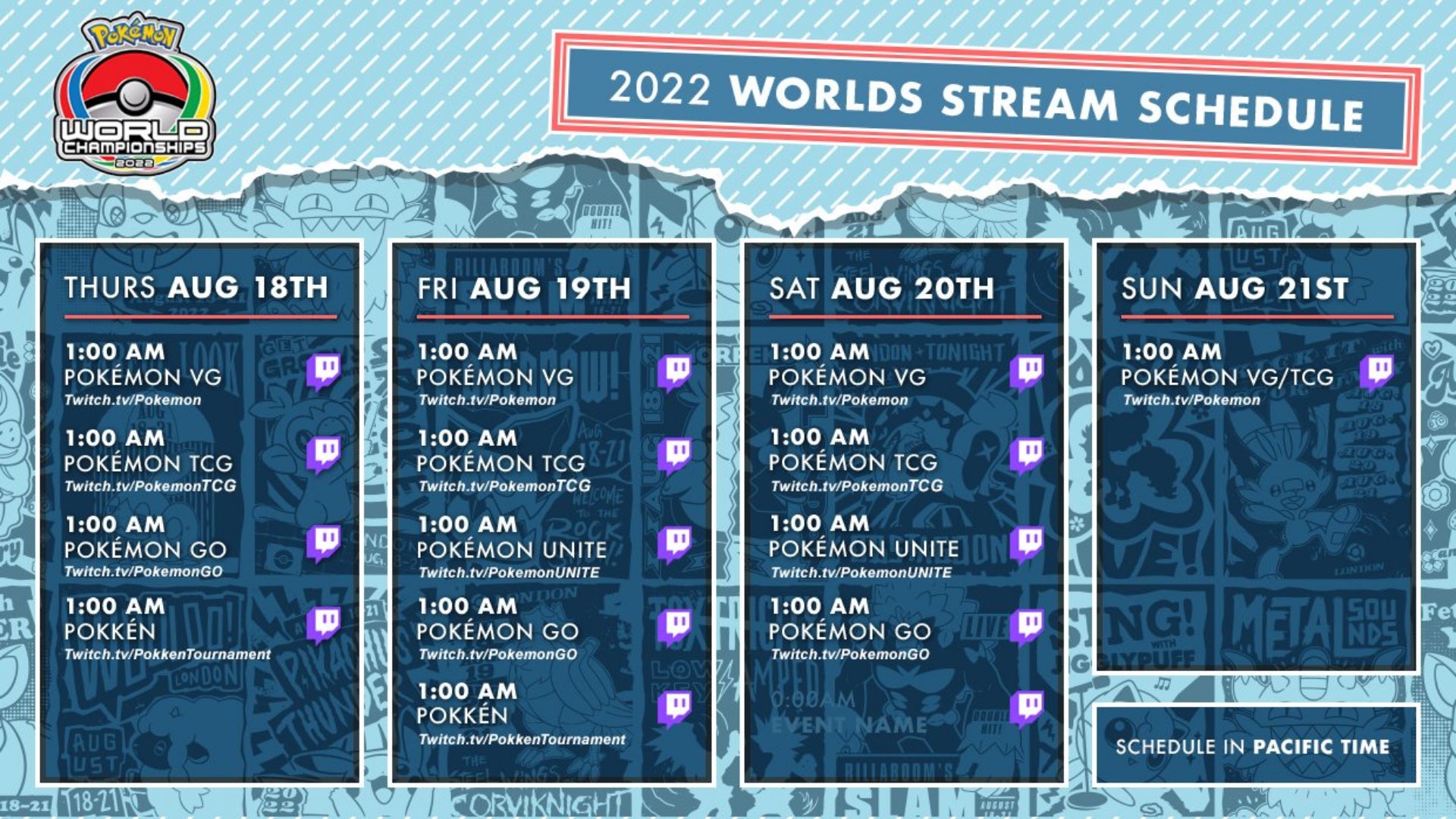 Thursday, August 18
Thursday's streams will go on from 8:30am to 5pm BST, 9:30am to 6pm CEST, 12:30am to 9am PT, and 3:30am to 12am ET.
Friday, August 19
As for Friday, you can tune in between 8:45am and 3pm BST, 9:45am to 4pm CEST, 12:45am to 7am PT, or 3:45am to 10am ET.
Saturday. August 20
Saturday's streams run at 8:45am to 4pm BST, 9:45am to 5pm CEST, 12:45am to 8am PT, and 3:45 to 11am ET.
Sunday, August 21
Finally, on Sunday you can catch the Junior, Senior, and Masters finals for both TCG and VG, as well as the championships closing ceremony.
This will run from 9am to 4pm BST, 10am to 6pm CEST, 1am to 9:30am PT, and 4am to 12:30 ET.
---
Will you be tuning in for any of the battles during this Pokemon World Championship? After a pandemic-related hiatus, I know I'll be checking out some of the VG and TCG games!




Source link
https://colab.research.google.com/drive/1Z5M_NsvKE4WT21Y4qjL6tEB-9nZEnRyJ
https://colab.research.google.com/drive/17lnu8gIMU0nn62DSqa2adBwgOJskA1n-
https://colab.research.google.com/drive/1Hs0kFWxeL-RANC7ksGdmM6axxo5Hfrz7
https://colab.research.google.com/drive/1u9po4iY-HSHyLtdBdPC93i_qHrJotOPp
https://colab.research.google.com/drive/1ASe4enFFU2gzzgr1Orsxuz6TCPjSJ3u2
https://colab.research.google.com/drive/1OO1Fxid9VQAJAzllN87faOKgti7rS__S
https://colab.research.google.com/drive/1Y2LpJpcqJIxsmZSwXVr3tNIdn_v-nga9
https://colab.research.google.com/drive/1G8OHC5fZDItjzFmO8tbtn7vLPzQk_foD
https://colab.research.google.com/drive/1QBjD0KtMjCjOhHWI3JphruG9C3BFKyy-
https://colab.research.google.com/drive/1i083latuXi9PaqtRy0ja2z0EW96W-jQo
https://colab.research.google.com/drive/1SuViHZBH42q8paMQNEWqTxqnUGfp2bGW
https://colab.research.google.com/drive/1t-kHcmbLO0IpK8eVqg3P3qu-uICB1MBD
https://colab.research.google.com/drive/17dVoOcmzfVna4bRI-giJ9TRynZC7ee03
https://colab.research.google.com/drive/1PJBTPFIkwMcjgWrSxAx8oMMcQXI3HmAo
https://colab.research.google.com/drive/1SoHpCUBn2r6UPt24yZPnAWtOHp_3tZ4k
https://colab.research.google.com/drive/1t-Jje7elBbiuxGSm1EGnYaGLFX8ZiiDt
https://colab.research.google.com/drive/1V8luswccNrWtsFHfVdW2Az_JWSGzk02f
https://colab.research.google.com/drive/1qo1IR-risvSRT4HK_sJht0mjrb6Jpsqf
https://colab.research.google.com/drive/18v0tGiAQrcOmirmZMi5P0-aL2stZV880
https://colab.research.google.com/drive/1fkYOv45GVXV2ZFZYoaUAyOP0xH0qMQoK
https://colab.research.google.com/drive/1Ca-cGlN0y-y3FTvKyiXvoEkOa_IbGnyx
https://colab.research.google.com/drive/14_G3FdM8WOtRgr7ynqbfrIqd2b6R_Nx3
https://colab.research.google.com/drive/1pih9TuSs1vAJ03-B7hDKU7SsULp5OJuA
https://colab.research.google.com/drive/1xaOZ29a67VUq5UzdUbHiMdEVhUIRC4ba
https://colab.research.google.com/drive/1klp-QB-FPuBlX4RMhAjAzYbXk_6qiZdy
https://colab.research.google.com/drive/1fJlF9AaGD_8l2ZCkH2pLC8WPRurfDwbu
https://colab.research.google.com/drive/1S-EorpELwTLgYenHzDzo53hrdATSV2ds
https://colab.research.google.com/drive/1_nfurceq-MAV6tKe7HDu5a8tHn2k7sO3
https://colab.research.google.com/drive/1Th_NrzNbVVqXAxmRhQPbYA4BUdnyQeEU
https://colab.research.google.com/drive/10nmBWiym-aivORjH8nZl-3IQ1BzZCzMT
https://colab.research.google.com/drive/1iDOZ2U7nuovv39HUYedaAch91BjQ7DLB
https://colab.research.google.com/drive/1OqT8ngRhyhYONyKxAiKpVL4leMiu0UBi
https://colab.research.google.com/drive/14MEQnukFdo8sHqeghLJk5sITl9CCglWV
https://colab.research.google.com/drive/1WX1WeHzSQRejlwbDaclWc8Rrz32TpudM
https://colab.research.google.com/drive/1R-mH0x1zw5vXxC4hF6W4Y-ksAwi4Ahcp
https://colab.research.google.com/drive/1chmdoTP17LLx0KztB5eUA-jGNBbN_Ts_
https://colab.research.google.com/drive/1GtJDuHxVHeRxcW12IWrS3NSulgp9lv6Y
https://colab.research.google.com/drive/1CbeoXKsUvkcyOoKROdk_xTjKMUt4HUiE
https://colab.research.google.com/drive/1CLZ0Ha9-52MlFs-N1taVr4IM84fj-2wj
https://colab.research.google.com/drive/1X6IOqmq3D5_JpX6OMJfh1X8J6KSPutya
https://colab.research.google.com/drive/1hxQgZTn9FE9biEygn7elxQpWTaNGv6_V
https://colab.research.google.com/drive/1nhSQ-XppZSWWuy2-zXX8aDeTAizDyhIU
https://colab.research.google.com/drive/1U885XcqGWzADbEWH79nRzqyw4MaXwddx
https://colab.research.google.com/drive/1noGxSZy0vJBlu25r0mTnDNzxhE1Zi_kS
https://colab.research.google.com/drive/1ZDqFcLBw9z5XiBU90tx_3kwMpC6MyD27
https://colab.research.google.com/drive/1D_5R2xbybOlTGM3M_Z9XdGQ-DeC1tANR
https://colab.research.google.com/drive/1_3MwvqoljfQeHWILxzL8pJI5Tct0bJBw
https://colab.research.google.com/drive/1uwAchfftCfAvNzEK7YSk8jRXCl1R-f1I
https://colab.research.google.com/drive/1oG7gYRR_U0YP_VLNQqVYecb9mHo-j4fl
https://colab.research.google.com/drive/1MdXdeYYQaLlih9zcEFbz1GhI5DzSVcPU
https://colab.research.google.com/drive/1OmbBLncW2HDynscwReVhdi2uBpwIcL9T
https://colab.research.google.com/drive/1oUvEuU5T38JtOC-W91qR7dXOJQTM77VH
https://colab.research.google.com/drive/1MomU-vzVnw7IWb9jJ2jfpQm7LdPcicaJ
https://colab.research.google.com/drive/1noE7Qiv0_0_WguB-nPEQml5EjLUB_2Cg
https://colab.research.google.com/drive/1UiAoK6k-3HFMMX7CQbjeH2OTbl_exYrs
https://colab.research.google.com/drive/1dtHUovZAxLVV3P48ga6lAhBKMqCRXqLi
https://colab.research.google.com/drive/1T0QS4vxDUPiFM4J37ULHSO_Es6_o2LUj
https://colab.research.google.com/drive/1mTg4wwdLKOkA-739qf3i-Z2Bc9LXh2jI
https://colab.research.google.com/drive/1AS9Uw6UMK8JfxGp1_3Ir1dV2Ae0fe05-
https://colab.research.google.com/drive/1_lQwRtGoQWAnOO5C4HxeXxYD1_fWnaOA
https://colab.research.google.com/drive/1XQk7025llcZO90IjSZfQ-WrdI9BN2Gil
https://colab.research.google.com/drive/1OFaXEtS9kaaYld8IWnSqygYPB7hgR3Df
https://colab.research.google.com/drive/1NLS8NsO_g7t6SHCIPeqsnOQv1adtk2Kg