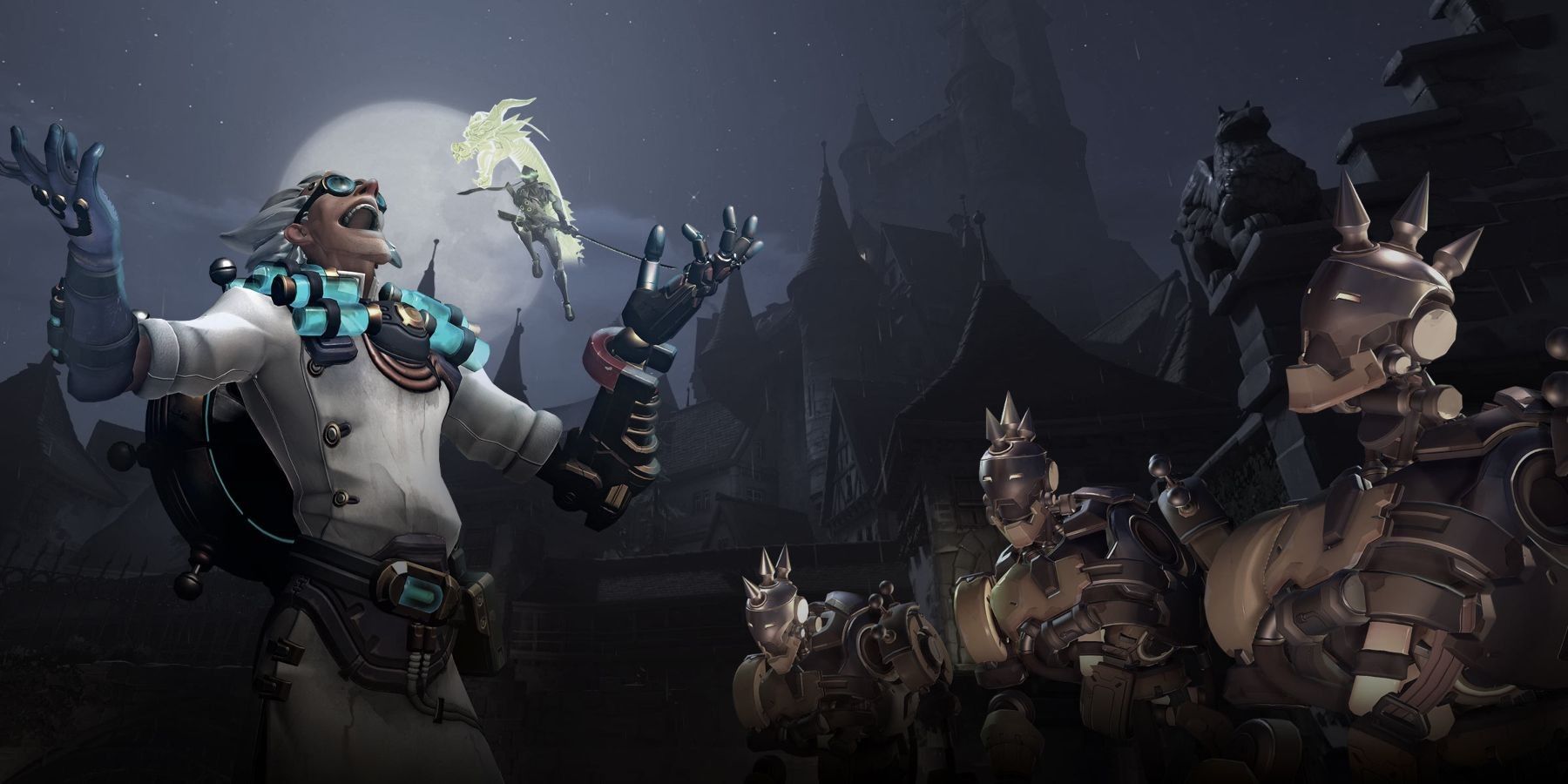 Blizzard shared new lore about Junkenstein's Revenge: Wrath of the Bride, providing additional background information for Overwatch 2's Halloween Terror event. Junkenstein's Revenge: Wrath of the Bride is a time-limited PvE challenge starring an evil version of Junkrat, called Dr. Jamison Junkenstein. The notes revealed by Blizzard today brought new insight into the upcoming version of the Halloween event in Overwatch 2.
Every year, the original Overwatch was celebrating Halloween with Junkenstein's Revenge, a PvE event set in the fictional land of Adlersbrunn. Teams of four players had to protect castle gates, which were under the assault of a horde of enemies led by Dr. Jamison Junkenstein. The mad doctor came with his allies, the Reaper, Junkenstein's Monster, the Summoner, and the Witch, respectively based on Reaper, Roadhog, Symmetra, and Mercy. Players had to repel waves of enemies and take down the bosses to complete the challenge and earn rewards.
RELATED: Overwatch 2 Video Shows a Big Problem With Push Mode
To introduce the new version of its Halloween Terror event, Overwatch 2 shared notes from the Lord of Adlersbrunn. The Lord explained that his town was recovering from the previous battles against Dr. Junkenstein and his allies, with his people finally knowing peace and prosperity. However, at the end of his note, the Lord of Adlersbrunn seemed concerned about strange noises coming from the old quarters of the castle, hinting at new action coming soon to his town.
Blizzard already shared some information about the upcoming Halloween Terror event in Overwatch 2. Instead of featuring the same challenge as in the original game, Overwatch 2 will introduce a sequel to Junkenstein's Revenge titled Wrath of the Bride. Mike Ybarra, President of Blizzard, confirmed that this Halloween Terror challenge would be a brand new game mode that will follow the events described in the original Overwatch.
On top of the original villains featured in Junkenstein's Revenge, Wrath of the Bride will introduce Sombra in her Bride of Frankenstein skin as a new boss to defeat. The new PvE mode will reportedly come with a variety of Halloween-themed cosmetics, including new skins for Junker Queen, Kiriko, and Reaper.
Overwatch 2 will launch Halloween Terror and its PvE challenge Junkenstein's Revenge: Wrath of the Bride, on October 25, 2022. On the same date, Bastion and Torbjorn will return to Overwatch 2 in all game modes, two weeks after being removed from the game due to bugs in their abilities. The Halloween Terror event will end on November 8, 2022.
Overwatch 2 is out now in early access for PC, PS4, PS5, Switch, Xbox One, and Xbox Series X/S.
MORE: Overwatch 2: 10 Pro Tips To Improve Your Rank
Source: Blizzard
free gems and coins
free gems and coins
free gems and coins
free gems and coins
free gems and coins
free gems and coins
free gems and coins
free gems and coins
free gems and coins
free gems and coins
free gems and coins
free gems and coins
free gems and coins
free gems and coins
free gems and coins
free gems and coins
free gems and coins
free gems and coins
free gems and coins
free gems and coins
free gems and coins
free gems and coins
free gems and coins
free gems and coins
free gems and coins
free gems and coins
free gems and coins
free gems and coins
free gems and coins