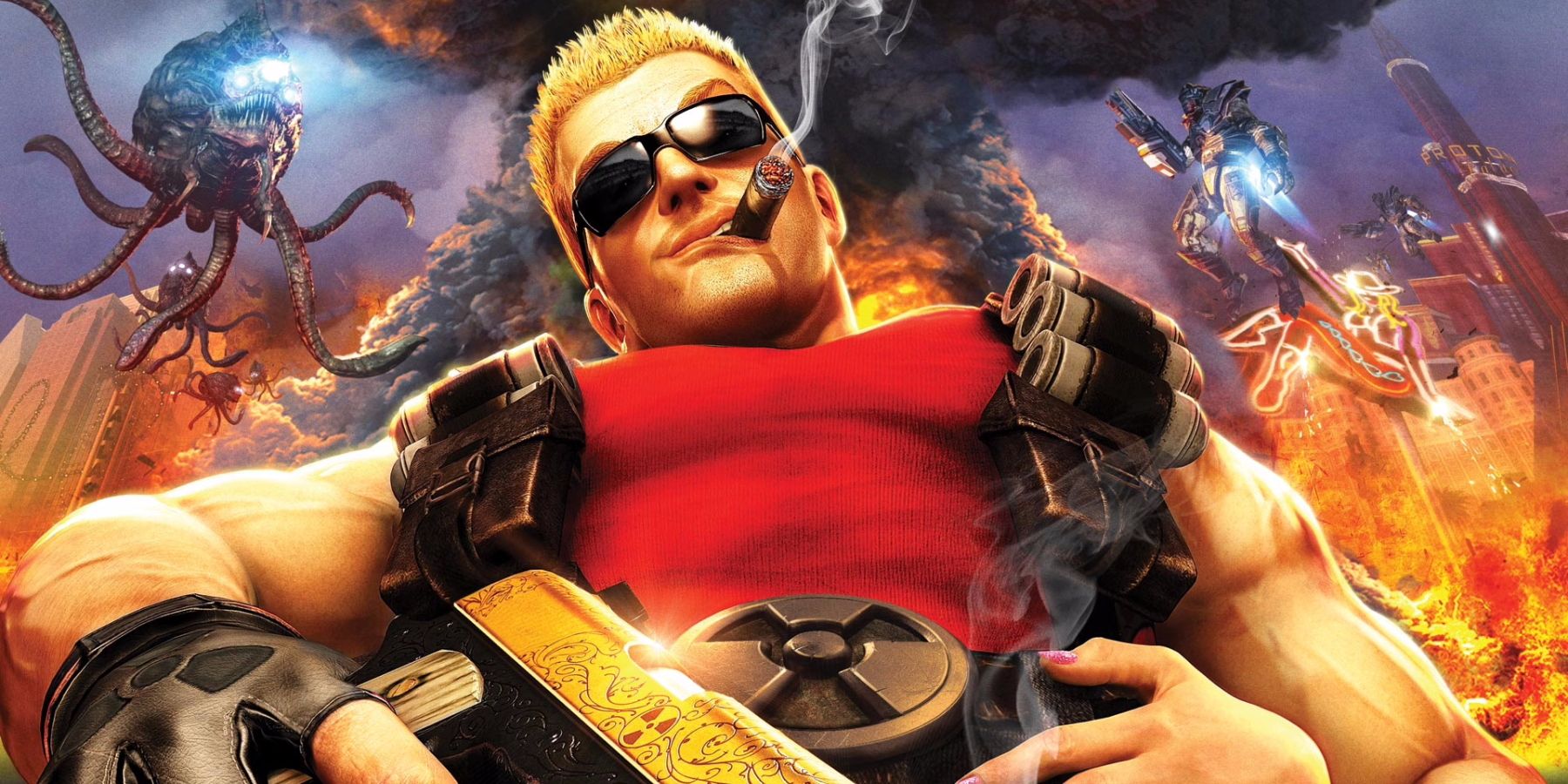 A picture posted online shows an ad in a gaming magazine from 1998 promoting the imminent release of 3D Realms' then-upcoming shooter game, Duke Nukem Forever. Although Duke Nukem Forever was one of the most highly anticipated games of the late 1990s, it wouldn't be until 2011 that gamers would finally be able to get their hands on the long-awaited title.
First announced in 1997 by developer 3D Realms, Duke Nukem Forever was the follow-up to 1996's commercial hit shooter Duke Nukem 3D. Duke Nukem 3D was the third entry in the PC series of Duke Nukem games, and the series' first foray into the rapidly growing field of first-person shooters. Praised for its skewering of pop culture and the high level of interactivity of its game world when compared to contemporaries like Doom and Quake, Duke Nukem 3D was a hit with fans who soon began clamoring for a sequel. But due to a mix of feature creep, technical issues, and rumors of studio mismanagement, Duke Nukem Forever would eventually become one of the most-delayed AAA games in history.
RELATED: Duke Nukem Forever Studio Founders Discuss What Went Wrong
User xrayhearing shared a post on r/Gaming showing a magazine ad from 1998 for the PC release of Duke Nukem Forever, and it serves as a perfect time capsule of the sometimes-bizarre game ads of the era. Showing a cutout of Duke Nukem alongside a gun-toting granny and others in Duke attire, the ad proclaims that gamers should "Accept No Substitute" when it comes to the real Duke Nukem and praises the then-upcoming Duke Nukem Forever alongside the PlayStation 3rd-person shooter Duke Nukem: A Time To Kill. Many commenters joked that they'd love a Duke Nukem game where players could take on the role of the Duke impersonators from the ad.
Several commenters on the post stated how disappointed they were with Duke Nukem Forever when the game finally released in 2011 after being handed over to Gearbox Software from original developer 3D Realms. Met with largely negative reviews from critics and series fans upon release, Duke Nukem Forever was criticized for dated gameplay mechanics and cringe-worthy humor that often felt like a relic from the 90s. As a result of the game's critical and commercial failure and legal troubles with the franchise, a planned Duke Nukem origin story game in pre-production around the same time was never released.
A pitch-perfect blend of innovative gameplay and biting humor made Duke Nukem 3D one of the most beloved shooters of all time, creating a legacy that Duke Nukem Forever wholly failed to live up to. As witnessed with the rise, fall, and meteoric rise again of real-world figures like Robert Downey Jr., though, people love a comeback story. Maybe one day soon Duke will get the proper return that fans of the wise-cracking, alien-blasting bad boy have been waiting for.
Duke Nukem Forever is available on PC, PS3 and Xbox 360.
MORE: The Future of Gearbox Game Series That Aren't Borderlands
free gems and coins
free gems and coins
free gems and coins
free gems and coins
free gems and coins
free gems and coins
free gems and coins
free gems and coins
free gems and coins
free gems and coins
free gems and coins
free gems and coins
free gems and coins
free gems and coins
free gems and coins
free gems and coins
free gems and coins
free gems and coins
free gems and coins
free gems and coins
free gems and coins
free gems and coins
free gems and coins
free gems and coins
free gems and coins
free gems and coins
free gems and coins
free gems and coins
free gems and coins
free gems and coins