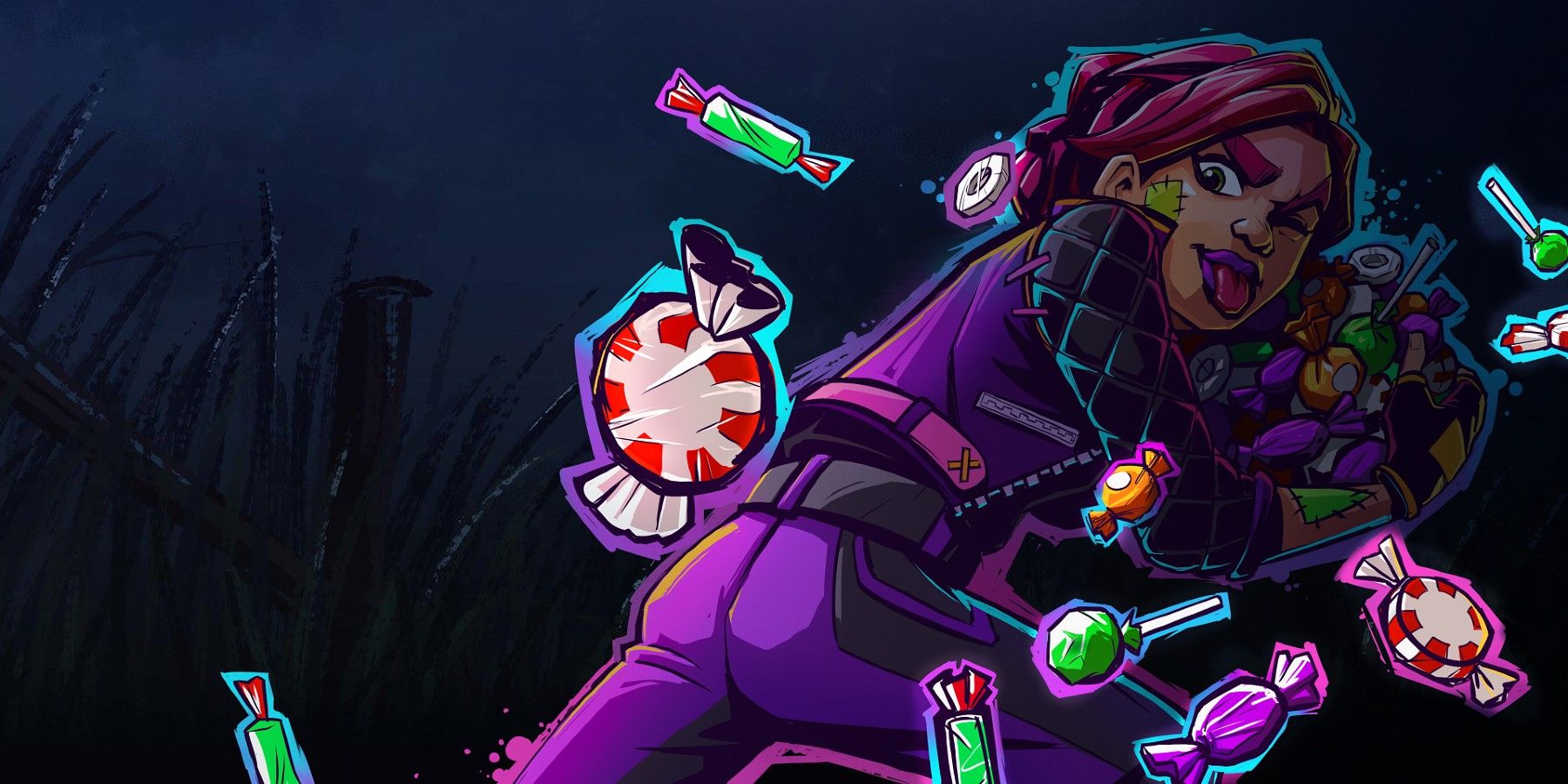 Just in time for the spookiest of holidays, Knockout City will soon be kicking off its latest Halloween event. Next week will see the return of "Holo-Ween" in Velan Studios' dodgeball action game, allowing players to get festive while they try out a new playlist, unlock several new cosmetic items, and work their way through the XP grind.
Now that October is about halfway through, many live-service games are starting to get their Halloween festivities underway in preparation for the actual holiday. From MultiVersus to Grand Theft Auto Online, players will have plenty of ways to get their spook on, and luckily for Knockout City players, they only have to wait a few more days to join in on the fun.
RELATED: Unlocking All MultiVersus Halloween Event Cosmetics Takes Over 780 Hours Without Paying Real Money
Starting Tuesday, October 18, and running until November 1, Holo-Ween 2022 will add multiple limited-time features to the game. The main draw of this new content will be a playlist called Candy Wars: Ultimate Trick. Here, three two-player teams will clash in typical "dodgebrawl" fashion, but the key objective is to collect a certain number of candies that fall from KO'd players, with the first team to collect fifty winning the match. As an added twist, players will fly up into the air as an Ultimate Throw when KO'd, giving them a chance to have some revenge on their way out.
The new playlist in Knockout City will be accompanied by a selection of Spoopy Contracts that players can tackle on the side while fighting for candy. These range from basic tasks like completing a certain number of matches to more specific challenges like using one of the new Haunted Taunts within five seconds of tackling an opponent, passing a ball, etc. Completing each of these will provide XP rewards of 1,000 XP each, and players can also unlock a Legendary Player Icon and Legendary Ultimate Hologram for completing four and eight contracts respectively.
By completing matches and Spoopy Contracts, Knockout City players will be rewarded with Holo-Ween Tickets for use in the event's Haunt Taunt Shop. These can unlock an impressive amount of spooky victory poses and other cosmetic items, including 12 Legendary Taunts with unique animated effects that include ghosts and a demonic summoning circle, to name a few.
Players will be free to keep their cosmetics after the event wraps up, but that won't be the case for Holo-Ween Tickets. Those will disappear once November 2 rolls in, so players shouldn't hesitate to spend them while they can. Furthermore, Velan will be offering a special Holo-Ween Havoc Bundle in the Brawl Shop during the event, which will provide players with a witch costume set to adorn their characters in. They'll need 2,400 of Knockout City's Holobux if they want the full set, though.
Knockout City is available on PC, PS4, PS5, Switch, Xbox One, and Xbox Series X/S.
MORE: Halloween is a Perfect Time to Introduce Splatoon 3's 'Big Run' Mode
Source: Knockout City
free gems and coins
free gems and coins
free gems and coins
free gems and coins
free gems and coins
free gems and coins
free gems and coins
free gems and coins
free gems and coins
free gems and coins
free gems and coins
free gems and coins
free gems and coins
free gems and coins
free gems and coins
free gems and coins
free gems and coins
free gems and coins
free gems and coins
free gems and coins
free gems and coins
free gems and coins
free gems and coins
free gems and coins
free gems and coins
free gems and coins
free gems and coins
free gems and coins
free gems and coins
free gems and coins