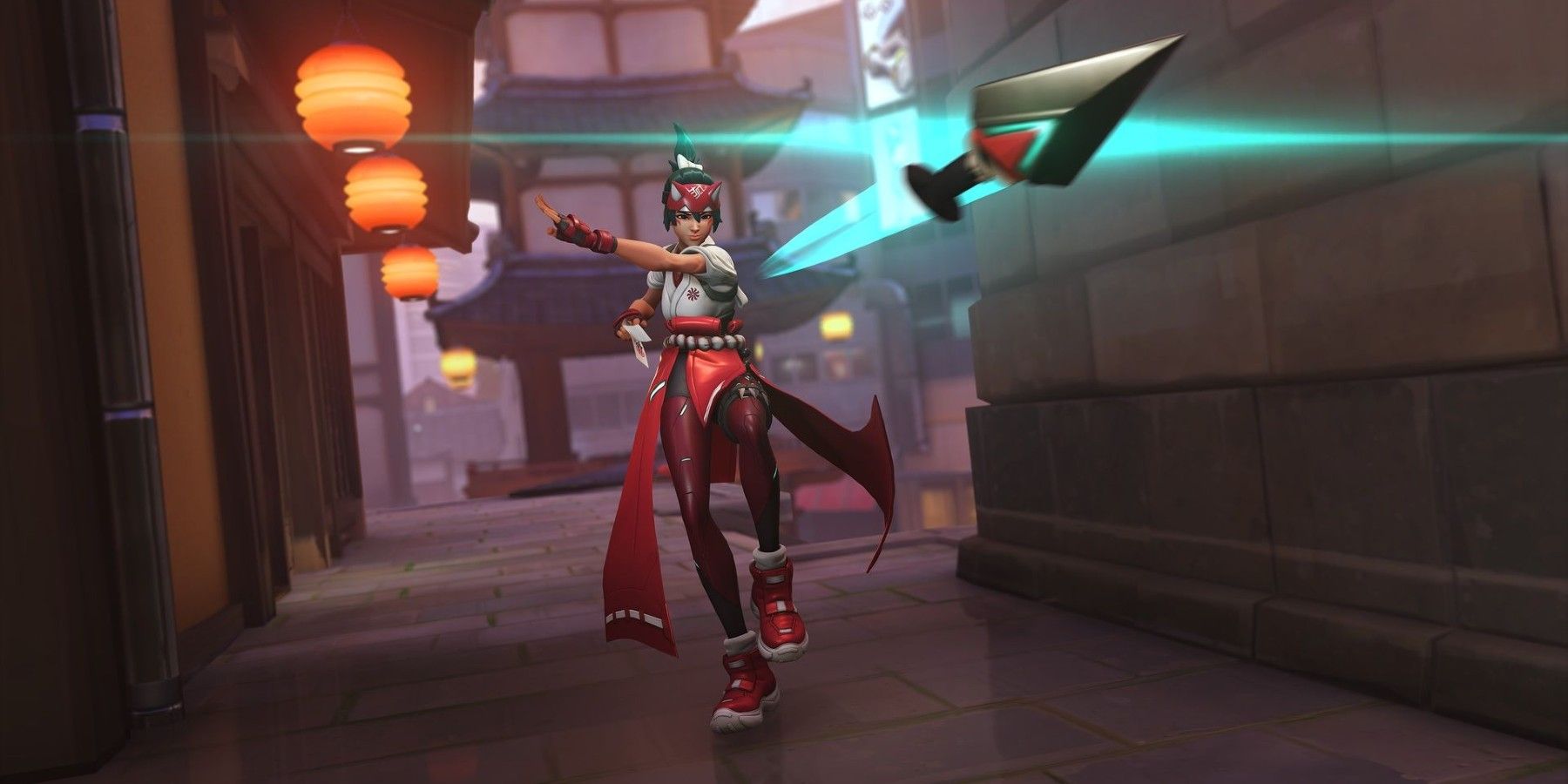 Players have discovered that the most recent addition to Overwatch 2's cast of Heroes, Kiriko, has her hands positioned so close to her face that they can block shots from hitting her head's hitbox. Although Kiriko has only been a playable character since the game's release just over a week ago, members of the Overwatch 2 community have quickly become intrigued by the quirks and perks surrounding her character.
As the game's latest Support Hero, opinions on the kitsune-wielding ninja have been varied among the community over the past week. Kiriko, who recently received her own official Overwatch cinematic short, relies on precision Kunai to deal damage and Healing Ofuda to heal allies. Her Swift Step and Wall Climb abilities allow her to escape from danger at a moment's notice, and her Protection Suzu ability even allows Kiriko to make her teammates invulnerable for a brief time. Complete with her Ultimate Ability, Kitsune Rush, players have found her to be a useful support character for pushing against the enemy team.
RELATED: Overwatch 2 Kiriko Legendary Skin Changes Her Fox's Appearance
In addition to her useful kit, however, Reddit user SinisterSundown7 found that Kiriko has another unintended perk — her hands can sometimes prevent enemy shots from hitting her in the head. This was demonstrated in a video proving that the positioning of her character model's hands can block headshots from Cassidy's Peacekeeper at a certain angle. Though it generally goes unnoticed during gameplay, some players suggest that this small feature could improve Kiriko's survivability in certain situations.
Of course, issues with hitbox obstructions extend to Heroes beyond Kiriko, too — it is known that large-shouldered tank heroes such as Reinhardt and Sigma can make it difficult for players to hit headshots from the side as well. Even Ana's head is partially protected from behind due to her slightly hunched-over posture. Although this doesn't significantly affect typical gameplay in any way, it doesn't stop particularly keen-eyed players from pointing it out.
Kiriko remains to be a relatively hot topic for debate among the Overwatch 2 community. While some argue that she provides an underwhelming amount of healing and that her Kunai deal far too much damage considering her role as a Support Hero, some others believe that it's these changes that set her apart from the other healers and give Kiriko more of a unique role. Some members of the community have even complained that Kiriko's large hands take up too much space on the screen when playing as her.
While Kiriko's hands continue to develop as a meme within the Overwatch 2 community, players shouldn't expect their adjustment to be at the top of the developers' to-do list. With two heroes currently disabled in Overwatch 2 competitive play and a long list of reported bugs to respond to, it's likely that Blizzard has other priorities as it provides further fixes following the launch of its latest title.
Overwatch 2 is available now on PC, PS4, PS5, Switch, Xbox One, and Xbox Series X/S.
MORE: Overwatch 2: Junker Queen Has an Interesting Advantage Over Other Heroes
free gems and coins
free gems and coins
free gems and coins
free gems and coins
free gems and coins
free gems and coins
free gems and coins
free gems and coins
free gems and coins
free gems and coins
free gems and coins
free gems and coins
free gems and coins
free gems and coins
free gems and coins
free gems and coins
free gems and coins
free gems and coins
free gems and coins
free gems and coins