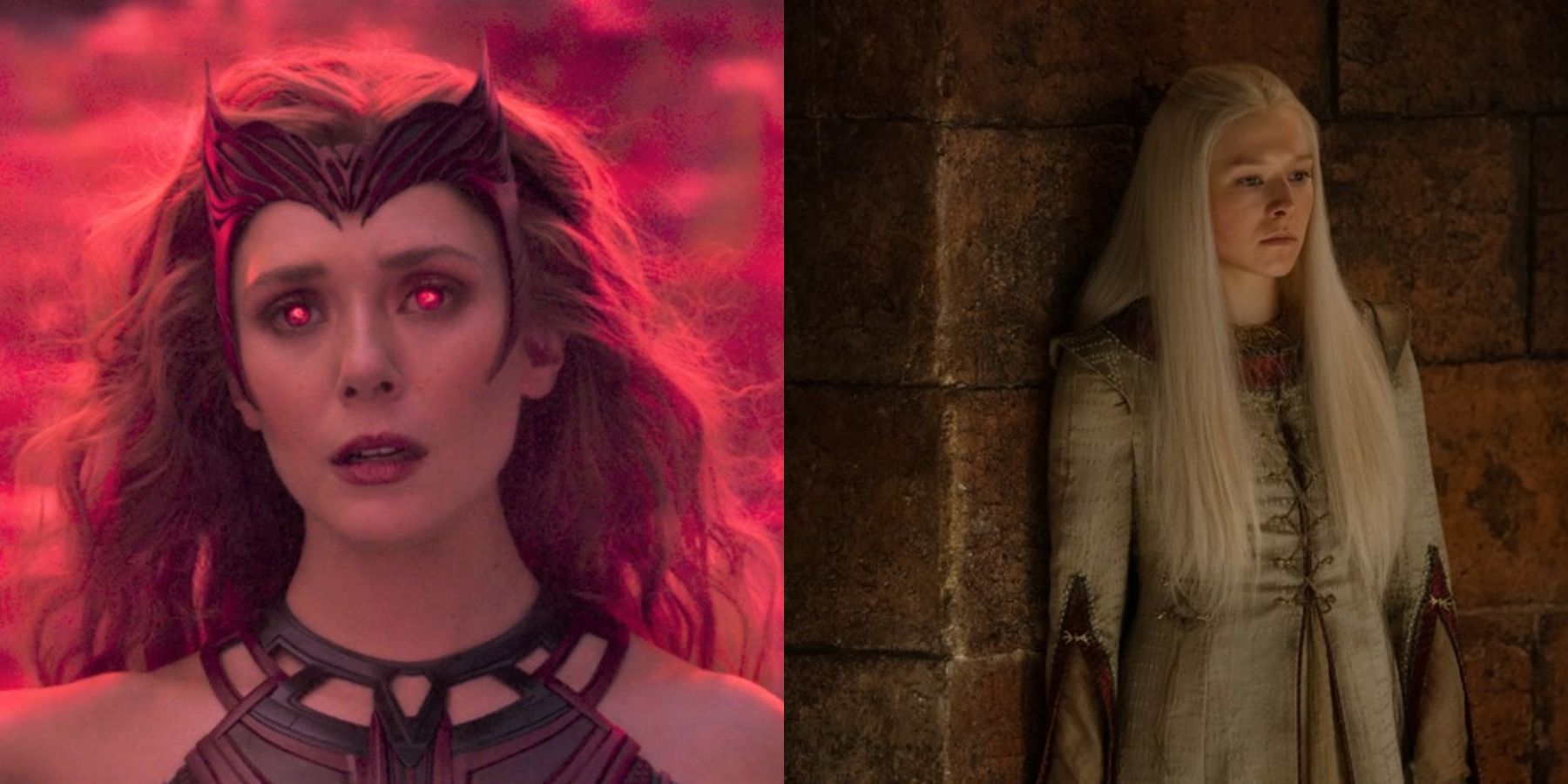 Elizabeth Olsen may be casting a spell over audiences as the Scarlet Witch, but she's not coming over to one of the big fantasy shows on the air anytime soon. Olsen clarified recently that the persistent rumor that she has been cast in House of the Dragon season 2 is false.
Various websites – both fan-run and otherwise – have been claiming that Olsen was in talks (some went so far as to say that she had been officially cast) for House of the Dragon. This occurred as early as House of the Dragon's renewal for a second season. Naturally, fans have wanted to know more about who would be brought on to the cast when it returns, as several key characters who play a large part in the Dance of the Dragons have yet to appear.
RELATED: House of the Dragon Has One More Time Jump Left
While on the red carpet, Olsen was stopped for an interview by Entertainment Tonight. The interviewer questioned Olsen about the rumors and asked if there was any validity to them. Olsen seemed amused and denied them, saying, "I don't know how rumors like that get started and people think they're legitimate." She stated that she was just as surprised as fans were by the rumors.
Apparently, she found out about the rumors from a verified account on Twitter posting the story as fact. It's not the first time that Olsen is connected with the universe, as she previously auditioned for the role of Daenerys Targaryen during the original Game of Thrones casting process, but did not get the role (Daenerys was played by Emilia Clarke). Olsen said that, on her end, joining the universe would be a great time, and seemed completely up for it, if the opportunity arises.
While the rumors of Olsen joining House of the Dragon were nebulous, she's a popular fan cast for a mysterious woman known as Alys Rivers, a possible bastard of House Strong and sister to Harwin Strong. The character is shrouded in mystery in Fire & Blood, with some characters claiming she's a sorceress who's much older than she appears.
Given the character's supposed magical inclinations, it's no surprise that Olsen, who plays the Scarlet Witch, is one of the top fan choices to portray the character. Olsen has a large, committed fanbase who would no doubt be pleased to see her on a weekly series again. Perhaps the buzz surrounding Olsen's possible entrance into the series has landed on the crew's radar.
House of the Dragon airs Sundays at 9 PM EST on HBO and HBO Max.
MORE: How Scarlet Witch Revealed Doctor Strange's True Colors
Source: Entertainment Tonight/Twitter

free gems and coins
free gems and coins
free gems and coins
free gems and coins
free gems and coins
free gems and coins
free gems and coins
free gems and coins
free gems and coins
free gems and coins
free gems and coins
free gems and coins
free gems and coins
free gems and coins
free gems and coins
free gems and coins
free gems and coins
free gems and coins
free gems and coins
free gems and coins
free gems and coins
free gems and coins
free gems and coins
free gems and coins
free gems and coins
free gems and coins
free gems and coins
free gems and coins
free gems and coins
free gems and coins